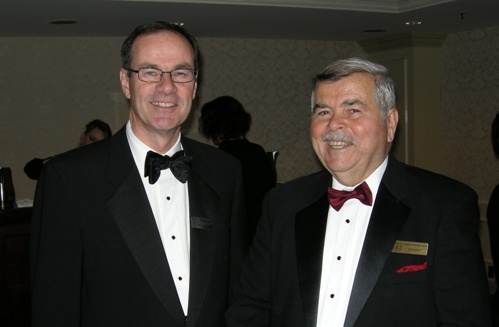 There was a somewhat subdued feeling by many in the mining sector at the 21st annual Canadian Mining Hall of Fame dinner, last Thursday, at the Fairmont Royal York Hotel in Toronto.
As Master of Ceremonies, David Harquail, President and CEO of Franco-Nevada said, "…base metals are in the tank, good projects can't get financing and Hy's steakhouse is now serving crying towels with those martinis!"
However, the four inductees for 2009 – two entrepreneurial engineers, Grenville Thomas, Bernard Michel, a geologist, Roman Shklanka, and a mineralogist professor, Donald Gorman, – seemed to symbolize the industry's amazing ability to create enormous wealth and employment as well as the importance of training the next generation of skilled technicians that have made this country a mining superpower.
Mr. Harquail added, "…if there's one thing a miner knows, it's a commodity cycle. And when times are bad, opportunity knocks. Many of those at our head table tonight got here by not only surviving many downturns but by capitalizing on them."
That head table included individuals such as Ian Pearce, CEO Xstrata Nickel, Jim Gowans, President and CEO De Beers Canada, Terry Bowles, President and CEO Iron Ore Company of Canada, and Jack McOuat, Director of the Canadian Mining Hall of Fame, just to name a few.