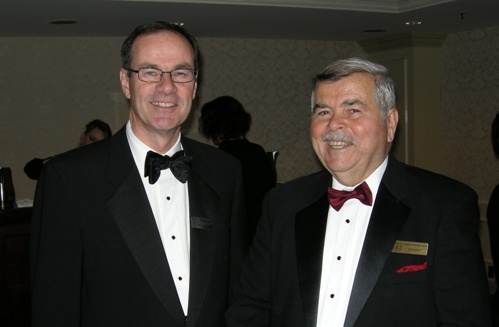 There was a somewhat subdued feeling by many in the mining sector at the 21st annual Canadian Mining Hall of Fame dinner, last Thursday, at the Fairmont Royal York Hotel in Toronto.
As Master of Ceremonies, David Harquail, President and CEO of Franco-Nevada said, "…base metals are in the tank, good projects can't get financing and Hy's steakhouse is now serving crying towels with those martinis!"
However, the four inductees for 2009 – two entrepreneurial engineers, Grenville Thomas, Bernard Michel, a geologist, Roman Shklanka, and a mineralogist professor, Donald Gorman, – seemed to symbolize the industry's amazing ability to create enormous wealth and employment as well as the importance of training the next generation of skilled technicians that have made this country a mining superpower.
Mr. Harquail added, "…if there's one thing a miner knows, it's a commodity cycle. And when times are bad, opportunity knocks. Many of those at our head table tonight got here by not only surviving many downturns but by capitalizing on them."
That head table included individuals such as Ian Pearce, CEO Xstrata Nickel, Jim Gowans, President and CEO De Beers Canada, Terry Bowles, President and CEO Iron Ore Company of Canada, and Jack McOuat, Director of the Canadian Mining Hall of Fame, just to name a few.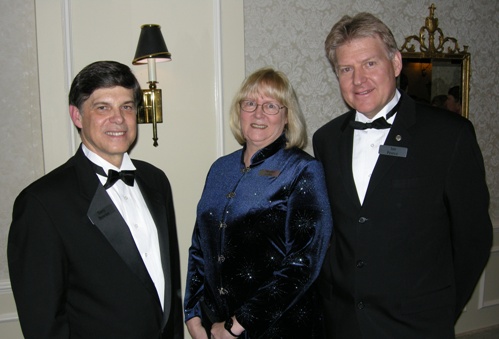 Jack McOuat gave a morale boasting speech about the new home of the Canadian Mining Hall of Fame. "I'm sure I'm not the only person in the room happy to see the back end of 2008," Jack McOuat began. "However in spite of that generally miserable year, there was at least one bright spot for the Canadian Mining Industry. One month ago, the Teck Suite of Earth Science Galleries was opened at the Royal Ontario Museum."
In January 2007, Teck Cominco Limited President and CEO Donald R. Lindsay donated $10 million to the Royal Ontario Museum (ROM) in Toronto to create three galleries highlighting minerals and the fascinating history of Canadian mining. This was the largest corporate donation ever made to the ROM.
The three gallaries are; the Vale Inco Gallery of Minerals, the Gold and Gem Gallery and the Canadian Mining Hall of Fame Gallery. The original Teck donnation also included the creation of an endowed chair in mineralogy, as well as a Digital Education Module at the ROM for thousands of school children from across the province.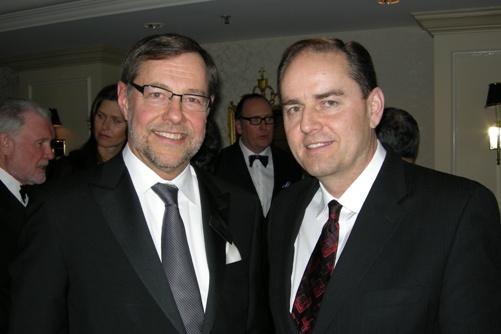 Mr. McOuat also acknowledged the tremendous contributions of the Hall of Fame's own staff who "worked many, many devoted and long hours making certain the Inductee and metals and mining stories were correct, and that the stories and photos matched."
"Nean Allman, please get on your feet. She was the leader of a very small band of part time assistants including Ed Freeman, Virginia Heffernan and Margaret Werniuk," said McOuat, to loud applause from the audience.
The ROM agreement allows for the placement of duplicate Hall of Fame Galleries at any location in the country which the Hall of Fame Board chooses. The first of these will be installed at the B.C. Museum of Mining at Britannia Beach, which is located on the road to Whistler and will be ready for the 2010 Winter Olympics. Let's hope Sudbury's Dynamic Earth will be one of those future locations.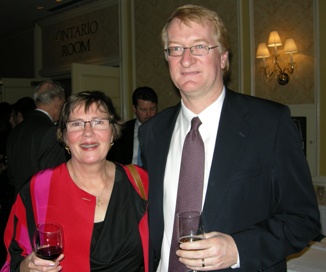 The Mining Hall of Fame is an integral part of Canada's history. Stories of intense courage, guts, greed and glory. Stubborn, passionate and tenacious characters who pushed themselves to the edge with many of the resulting discoveries becaming legendary – including the Sudbury Basin, the Timmins, Kirkland Lake, and Hemlo gold camps, the uranium district in Northern Saskatchewan, Voisey's Bay and the diamond discoveries in the Northwest Territories.
These are the people who helped populate our isolated north, helped build corporate empires and provided jobs for hundreds of thousands if not millions of Canadians. And as highlighted by two of this year's inductees, the mining sector is also making a significant impact in alleviating Aboriginal poverty in many regions of the country through employment and business opportunities. The new Teck Suite of Earth Science Galleries at the Royal Ontario Museum will significantly help change the perception of mining among our largely urbanized populations.
Donald H. Gorman
The first inductee was Professor Donald Gorman who has served the Canadian mining industry with distinction for more than half a century as a renowed mineralogist and superly talented educator. Starting in 1957, "Digger" Gorman taught minerlogy with unflagging enthusiasm for the next 41 years at the University of Toronto. In addition to being a gifted educator, he was also a sought-after industry consultant, applied reseacher and an entertaining advocate for his science at popular public events.
Mr. Harquail said, "Both in the classroom and in the field, he inspired thousands of geology and engineering students to pursue careers in mining and exploration. To his protégés, minerals were not chemical formulae and crystal structures, but rather living things that reveal the past and shape our future."
Mr. Gorman said that he was humbled that his name will be forever associated with Canada's mining greats in the Hall of Fame and that a successful teacher is always measured by the success of his students. Mr. Harquail was one of "Digger's" students in the 1970s as were a few other individuals at the head table.
Bernard M. Michel
Bernard Michel was born and educated in Paris, France and is a graduate of the prestigious Ecole Polytechnique. He came to Canada in 1967 as a mining engineer to contribute to the design, construction and start-up of a large potash mine in Lanigan, Saskatchewan.
In 1988, he moved to Cameco, where for the next fifteen years he steered the company through a merger, a restructuring, privatization, global expansion and diversification into gold. He positioned Cameco as one of the world's few integrated nuclear energy company. In addition, he encouraged the entry of First Nations peoples into its workforce, making Cameco one of the most significant private sector employers of Aboriginal people.
Michel said that when you look at Canada from abroad, people always associate this great country with this fantastic industry. He also humorously quipped that the two Saskatchewan minerals that he has worked with all his life – potash and uranium – do not get enough respect by the mining industry.
Roman Shklanka
Roman Shklanka is one of only a handful of Canadian mining greats who have helped create immense mineral wealth on several continents, most notably for the benefit of developing nations. He entered the University of Saskatchewan in his home province at the young age of 15. Many degrees followed, finally culminating in an MA in geology in 1956 and went on to Stanford University and obtained his doctorate in 1963.
In 1978, he was transferred to Australia, where he spent more than three years searching for new projects for Placer Dome. During this period, he helped secure the Porgera and Misima deposits in Papua New Guinea, which became significant gold mines. In the late 1980s he identified and negotiated the acquisition of the Omai and Bulyanhuhu gold projects in Guyana and Tanzania, respectively.
In 2003, Shklanka became chairman of Canico Resources Corp., which secured and advanced the Onca Puma nickel deposit in Brazil. Vale purchased the project for $941 million in 2005.
During his acceptance speech, Mr. Shklanka highlighted one of his most interesting but shortest negotiations of his career. In Ecuador, in the mid-eighties, he landed in the middle of a jungle. After the helicopter left, the natives burned the landing pad and to help encourage his quick departure, started pelting him and his colleagues with stones and spears. It took him two seconds to conclude negotiations and quickly left through the jungle on foot. He thought that was his scariest moment in his life until he stood  at the podium to accept the Mining Hall of Fame honour.
D. Grenville Thomas
Grenville Thomas began his career as a 16-year-old coal miner in his native Wales, moving to Canada after graduating from University College, Cardiff, in 1964. He found his passion  in the vast untapped mineral potential of northern Canada. Working in unforgiving terrain, under extreme conditions, he honed his prospercting stills over several decades and built up an extraordinary track record of discoveries.
Mr. Thomas' most famous discovery in the early 1990s was the diamond deposits that ultimately developed into the world-class Diavik mine in the Northwest Territories.
He began his Canadian career with Falconbridge in Sudbury and then moving to the Giant gold mine in Yellowknife, NWT. He left in 1975 and founded his first junior company to explore the North, which led to the discovery of the Thor Lake rare metals deposit. In 1980, he founded Aber Resources which eventually discovered the economical diamond deposits.
In his acceptance speech, Mr. Thomas pointed out that the diamond discoveries ensured that Yellowknife would continue to be one of the great mining towns of the north, even after the closing of its gold mines. In addition, he was extremely proud of the effort of the diamond sector to provide employment and business opportunities to the region's Aboriginal communities allowing them to enter the wage economy. Diavak is one of the largest employers of First Nations people in Canada.
For a more detailed summary of the 2009 inductees, go to the preceding posts. In addition, please visit the Canadian Mining Hall of Fame: http://www.halloffame.mining.ca/halloffame/ for additional profiles of the many mine finders and developers who helped develop our northern and rural regions, created enormous wealth for the country and helped make Canada a global mining powerhouse.