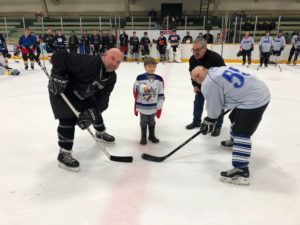 Sudbury, January 29, 2019 – Members of Miners for Cancer announced on Friday at their annual Allan Epps Memorial Hockey Challenge a $20,000 donation towards the Northeast Cancer Centre's (NECC) Pediatric Unit.
"Cancer is one of the leading cause of death by disease for children in Canada," said Wayne Tonelli, Miners for Cancer President. "If we can help even one child's chances of survival with our fundraising efforts, all the hard work behind our events is worth it."
The donation will support the pediatric oncology unit's unique equipment required to support the NECC's youngest patients.