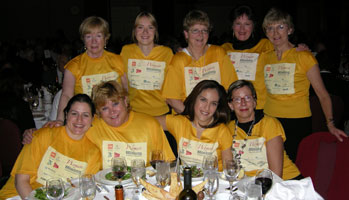 Among the many attendees to the 20th Hall of Fame dinner, one table had much to be proud of. The Women in Mining team who participated in last fall's Weekend to End Breast Cancer in Toronto were also celebrating their status as the top fundraising team achieving a record total of $200, 707 for this worthy cause.
During the September 7-9, 2007, weekend, over 5,300 women and men joined forces in Toronto to walk 60 kilometres in a bold display of courage and commitment. It was a weekend of hope, as they honoured lives lost, celebrated survivors, and helped bring in funds for breast cancer research as well as care to those who so desperately need it.
The Women in Mining team successfully tackled the offices of Canada's biggest mining companies, consultants and suppliers for donations to fight breast cancer and succeeded beyond their wildest dreams considering their late start.
In 1969, professional women in the mining industry were few and far between. In fact, The Northern Miner newspaper found the subject so fascinating that it assigned Nean Allman, the newspaper's first female reporter and geologist on staff, to do a story.
Allman said, "The editor liked my story so much that he suggested I take the women I interviewed for lunch. The four of us who met on that occasion had such a great time that we decided to continue the lunches which gradually included more and more women as more began working in the industry."
As time went by, the women organized themselves to the extent of having a mailing list but there has always been a strong emphasis on keeping the group informal and unstructured with just a couple of volunteers to arrange the gatherings. Today, with its membership consisting of more than 250 well-connected women working in all aspects of the mining sector, the Toronto chapter of Women in Mining is a powerful networking organization.
"It wasn't called Women in Mining in the early days," Allman said. "At the start it was just a lunch with some of the other women geologists in town, a chance to meet like-minded souls since there weren't very many women in the industry and most were relatively isolated and junior, and they never met others across a table doing business." Allman is now a communications consultant to the mining industry.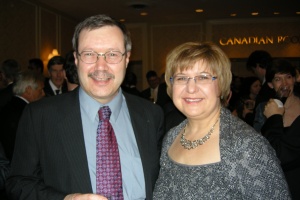 Two of the four who sat down for that original lunch have since succumbed to cancer. One of those women was Mary-Claire Ward who became chair of Watts, Griffis & McOuat, consulting geologists and was a very active director of the Prospectors and Developers Association of Canada (PDAC) before her untimely death in 2004. The Mary-Claire Ward Geoscience Award was established by PDAC in her honour.
So it is particularly appropriate that the Toronto Women in Mining's first collective fund-raising effort was to enter a team in the Weekend to End Breast Cancer walk that benefited Princess Margaret Hospital – one of the top five cancer research hospitals in the world.
Their challenge last fall was (and still is) that mining today is male-dominated, and is often very quiet about its charitable works. The women were out to change that, fueled by donations from the scions of Canadian mining to support a dominantly female cause.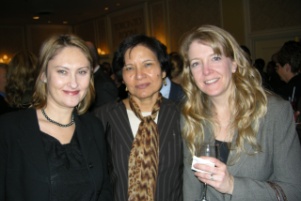 MaryAnn Mihychuk, who at the time was director, regulatory affairs at the PDAC said, "We hope to demonstrate the mineral industry's generosity and community awareness, and show that it's a modern, inclusive sector that has a place for strong, independent women who can make things happen."
Team members include Allman and Mihychuk as well as Saley Lawton and Teresa Barrett (the last two on the staff of the PDAC), communications consultant Kate Armstrong, Monica Ospina of the Council of Great Lakes Governors, investment advisor Cathy Fletcher, and Canadian Mining Journal editor Jane Werniuk with her daughter Margaret Werniuk.
"I believe that Women in Mining was the right group to put together the resources of the mining industry with the expertise of cancer researchers," adds Jane Werniuk, who has won her own battle against breast cancer. "In the last weeks of our fund-raising campaigne, we asked mining company people to "help us launch a missile directly at breast cancer". They responded with a tidal wave of support, with almost 400 donors pushing us past our $200,000 goal and into first place. We have collectively advanced the work to end breast cancer in our lifetime."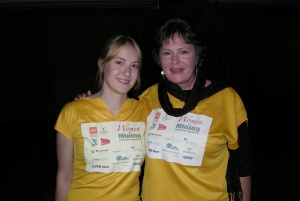 Thank-You Letter From Princess Margaret Hospital Foundation
December l5, 2007
Mr. Don J. Worth
Chairman
The Canadian Mining Hall of Fame
Dear Don,
On behalf of The Princess Margaret Hospital Foundation, Dr. Tak Mak and the team at The Campbell Family Institute for Breast Cancer Research, I would like to thank all of the mining organizations and mining individuals who stepped forward to financially support the Women in Mining Team that walked in The Weekend to End Breast Cancer in Toronto in 2007.
The 9 extraordinary women on the Women in Mining Team, led by the wonderful and energetic Kate Armstrong and Jane Werniuk, were late starters but to everyone's amazement became the top fundraising team when the final count was made. They achieved a record fundraising total of $200,709.
This, of course, could not have been possible without the generous donations from a long list of sponsors from the mining, resource and related industries. The list of which is attached.
The Princess Margaret is one of the top 5 cancer research hospitals in the world and with your generous support and that of others, we now have a team of over 130 people focused on breast cancer research. Dr. Tak Mak and his team are working on world leading research on breast cancer and cancer metabolism. We have also been able to make clinical enhancements at the hospital and open up an innovative survivorship program, the first of its kind in Canada located in a hospital. With your help we will conquer breast cancer in our lifetime.
Again, your support for The Weekend To End Breast Cancer and the work going on at The Campbell Family Institute is sincerely appreciated
Sincerely,
Mr. Paul Alofs
President & CEO
Princess Margaret Hospital Foundation gratefully appreciates all the support of the following organizations and individuals:
AGNICO-EAGLE MINES LIMITED
AKER KVAERNER
BAFFINLAND IRON MINES CORPORATION
BARRICK GOLD CORPORATION
BREAKWATER RESOURCES LTD
CANADIAN MINING HALL OF FAME
CENTERRA GOLD CORPORATION
CHF INVESTOR RELATIONS
CANADIAN INSTITUE OF MINING, METALLURGY AND PETROLEUM (CIM)
CHRISTINET CONSULTING INC
COUNCIL OF GREAT LAKES GOVERNORS
CVRD INCO
DE BEERS CANADA MINING INC
ERESEARCH
EXCELLON RESOURCES INC
FASKEN MARTINEAU DUMOULIN LLP
FNX MINING COMPANY LTD
GARTNER LEE
GLACIER VENTURES/BUSINESS INFORMATION GROUP – Bruce Creighton
GOLDCORP INC
GOLDER ASSOCIATES MINING GROUP
GOLDER PASTE TECHNOLOGY
GOWLING LAFLEUR HENDERSON LLP
HAYWOOD SECURITIES
HUDBAY MINERALS INC
IAMGOLD CORPORATION
INMET MINING
INTREPID MINERALS CORP
KNIGHT PIESOLD & CO
MACLEOD DIXON LLP
MARKETWIRE – in kind support worth $2000
MCMILLAN BINCH MENDELSOHN LLP
MOUNTAIN PROVINCE DIAMONDS
NORTHWEST MINING ASSOCIATION – individual member donations
NOVADAN CAPITAL
PARADIGM CAPITAL
P J MARS INVESTMENTS
PRICEWATERHOUSECOOPERS
PROSPECTORS AND DEVELOPERS ASSOC CANADA
RECAPTURE METALS LIMITED
RESEARCH CAPITAL
RICHMONT MINES INC
ROB MCEWEN
SCOTT WILSON ROSCOE POSTLE AND ASSOC
SHERIDAN PLATINUM GROUP
SHERRITT INTERNATIONAL CORP
SNC-LAVALIN INC
SOLEX RESOURCES CORPORATION
SRK CONSULTING
STORNOWAY DIAMONDS
TECK COMINCO LIMITED
THE NORTHERN MINER
TORONTO STOCK EXCHANGE
TOURNIGAN GOLD CORPORATION
US GOLD CORPORATION – donations from employees
TYE BURT
U S SILVER CORPORATION
WATTS GRIFFIS & MCOUAT
WELLINGTON WEST CAPITAL MARKETS INC
WESTWIND PARTNERS INC
WOMEN IN MINING – Toronto Branch – donations from members
XSTRATA COPPER
XSTRATA NICKEL
ALSO,
BETH KIRKWOOD AND OLGA KOSAREWICS – WIM NETWORK TORONTO
LARRY SMITH, – CIM TORONTO BRANCH
JANE SPOONER – MES
CHRISTINA WILTON – CHRISTINA WILTON CONSULTING INC.
JUDY BAKER – NEVSUN RESOURCES
ANN CARPENTER – WIM NETWORK, RENO
NEVADA
DIANE CORDERO – PAPERGIRL DESIGN
JOSHUA BENEZRAH – DIGITAL PLUS GROUP
SAM – RUBEN'S
AND OF COURSE: VERY SPECIAL THANKS TO THE WOMAN IN MINING TEAM FOR FUNDRAISING AND WALKING 60 KMS.
KATE ARMSTRONG
NEAN ALLMAN
TERESA BARRETT
CATHY FLETCHER
SALEY LAWTON
MARYANN MIHYCHUK
MONICA OSPINA
JANE WERNIUK
MARGARET WERNIUK