PDAC 2017 Thayer Lindsley Award: Peter Megaw from PDAC on Vimeo.
http://www.pendaproductions.com/ This video was produced by PENDA Productions, a full service production company specializing in Corporate Communications with a focus on Corporate Responsibility.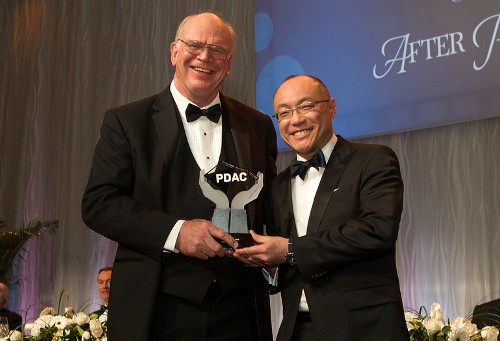 This award recognizes an individual or a team of explorationists credited with a recent significant mineral discovery anywhere in the world.
Peter Megaw, MAG Silver Corporation: For the 2003 discovery of the 200 million ounce Juanicipio silver deposit in the Fresnillo District, Mexico, ultimately leading to a further 600 million ounces being identified in the immediate area.
In 2003, Peter Megaw, a Professional Geologist and co-founder of MAG Silver, made a blind discovery known as the Juanicipio silver deposit that contains more than 200 million ounces silver. The discovery resulted from an understanding of structural controls and mineral zoning patterns of epithermal vein systems and persistent application of field-based exploration methods.
The Juanicipio silver deposit was discovered in the 500 kilometre-long Fresnillo epithermal belt in Mexico, which extends from the Guanajuato district (1.3 billion ounces silver) through Zacatecas (1.0 billion ounces silver) and Fresnillo (1.2 billion ounces silver) to the San Martin-Sabinas district (800 million ounces silver). The belt overlies a regional structural zone and is the most productive silver deposit trend in the world, yielding more than 10% of the silver mined in human history. All but two of the major silver deposits in the Fresnillo silver belt were discovered in outcrop during Colonial times.
Peter recognized that there should be more under the alluvium that mantles two thirds of the belt. He noted that most of the intrusive centres and ore deposits occurred at structural intersections and suggested that exploration should focus on understanding the structural fabric of exposed areas and then apply the results to covered areas. Thus, the structural and alteration patterns of historic mining areas were projected into nearby covered ground, with target depths indicated by using the results of detailed studies by others of paleo groundwater levels.
Peter first recognized the potential of the Juanicipio area in 1995, but it took three years to acquire the ground. Mapping, sampling and geophysical surveys began in 1998 with target definition and drill permitting completed in 2001. A hiatus set in until MAG Silver was established in July 2002 and began drilling in May 2003, shortly after going public. The first hole intersected the Juanicipio vein, demonstrating that Megaw's model was right. A joint venture with Fresnillo plc commenced in 2005, and the really big vein was hit by the JV on the sixteenth drill hole.
Megaw's other discoveries in Mexico include the La Platosa silver deposit in Durango (Mexico's highest grade silver mine), and Cinco de Mayo in Chihuahua. Both lie in the Mexican carbonate replacement belt, and further demonstrate Megaw's systematic, disciplined and long-term exploration approach.
As a result of Peter's Juanicipio discovery, renewed exploration of neighbouring ground led to new veins being identified with a further 600 million ounces defined and developed into mines. The Juanicipio mine is expected to start production in 2018 with silver grades in excess of 500 g/t and significant by-product gold, lead and zinc. The access decline is nearly complete and stope development will begin in 2017.