PDAC 2017 Distinguished Service Award: Neil Gow from PDAC on Vimeo.
http://www.pendaproductions.com/ This video was produced by PENDA Productions, a full service production company specializing in Corporate Communications with a focus on Corporate Responsibility.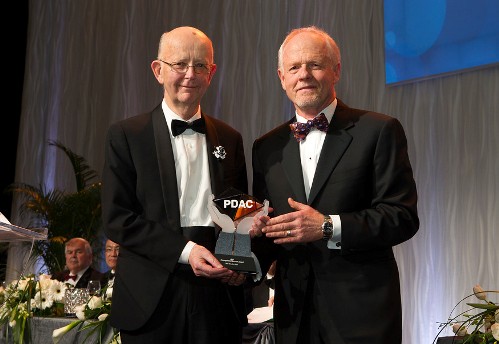 This award recognizes an individual who has achieved one or more of the following: made a substantial contribution to mineral exploration and mining development over a number of years; given considerable time and effort to the PDAC; made outstanding contributions to the mineral industry in the field of finance, geology, geophysics, geochemistry research, or a related activity.
Neil Gow: For using his vast knowledge and experience as a geologist to volunteer for the betterment of the mineral exploration and mining industry.
Neil Gow is a geologist who served the mineral exploration and mining industry in an exemplary fashion. He started his career in Australia before making his way to Canada in 1982. For the most part since then he has been an independent Consulting Geologist based just outside Toronto in Burlington.
Neil is well-known for his work in lead-zinc, laterite and gold deposits, which included valuation reports for potential investment by clients and independent qualifying reports. Yet, it's his many generous volunteer commitments that make him a standout in his field.
For the past 12 years, Neil has volunteered on the PDAC Convention Planning Committee, and chaired numerous Technical Sessions at the PDAC Convention. For around 15 years he was Secretary-Treasurer of the Toronto Geological Discussion Group, where he organized bi-weekly presentations on various economic and exploration topics.
And it doesn't stop there. Serving as Chairman of the Mineral Resource and Reserves Committee at the Canadian Institute of Mining, Metallurgy & Petroleum (CIM), Neil was part of the team that wrote the Estimation of Mineral Resources and Mineral Reserves Best Practice Guidelines to assist in the planning, supervision, preparation, and reporting of Mineral Resource and Mineral Reserve (MRMR) estimates, which were adopted in 2003. He was also a panel member of a committee for the Ontario Ministry of Northern Development and Mines to identify guidelines for areas having the most likely potential for mineral discovery.
The extensive volunteer contributions of this one individual over the last 30 years are invaluable to the ongoing development of the industry.