PDAC 2017 Environmental & Social Responsiblity Award: Teranga Gold from PDAC on Vimeo.
http://www.pendaproductions.com/ This video was produced by PENDA Productions, a full service production company specializing in Corporate Communications with a focus on Corporate Responsibility.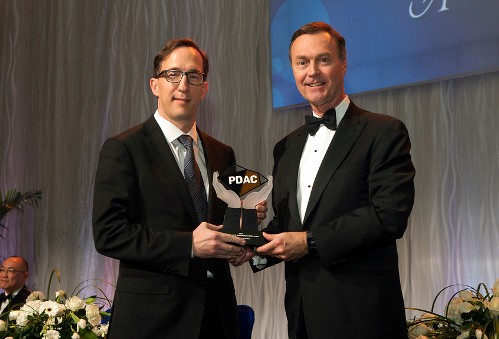 This award honours an individual or organization demonstrating outstanding initiative, leadership and accomplishment in protecting and preserving the natural environment and/or in establishing good community relations during an exploration program or operation of a mine.
Teranga Gold Corporation: For outstanding community relations and making proactive, lasting contributions to the communities and surrounding regions of its Sabodala Gold Mine in Senegal, West Africa.
The Sabodala Gold Mine is the first and only gold industrial mine in Senegal. Teranga Gold Corporation (Teranga) has operated the mine since 2009, and has established itself as a leader in community relations and responsible mining practices.
In its 2015 Sustainability Report, Teranga acknowledges that it is operating as a guest in Senegal, and the right to be there must be earned. This is reflected in the company's approach to mining, which begins by creating a culture of risk mitigation and shared long-term value with host communities.
Teranga employs more than 1,000 people from Senegal, most of who are from the two regions near the mine, and delivers more than 40 training programs to develop employee skills, literacy and numeracy. Women comprise 9% of the workforce at the Sabodala mine site, and are represented across all departments.
Through the creation of a Regional Development Strategy, Teranga identified ways to further contribute to sustainable growth and development. The company launched initiatives aimed at the growth of small businesses and service providers to feed its local supply chain, and proactively sought partnerships with government, international and local NGOs, and other organizations with similar interest in supporting the long-term, socio-economic development of the region.
One such partnership, the Canadian Cooperation Roundtable, was supported by Teranga and gathered together 30 Canadian industry and civil society actors with an interest in the region where the Sabodala mine is located.
The Roundtable aimed to facilitate collaboration and information-sharing and contributed to the advancement of 20 different development projects. One such project was a partnership between Teranga and the Paul Gérin-Lajoie Foundation, which aims to provide 50 youths in the region with hands-on vocational training in agricultural skills and technical maintenance.
Teranga is working closely with the Government of Senegal as it introduces its Emerging Senegal Plan, which includes implementing the Extractive Industries Transparency Initiative. Furthermore, support from Teranga and the Embassy of Canada in Senegal has enabled the creation of three long-term land use management strategies and development plans in partnership with department-level governments in the area of the mine.
Teranga also employs a Social Fund, managed in partnership with local administration and community representatives, to support small-scale, sustainable community development projects. In 2013, more than US$1.37 million was invested through the Teranga Social Fund. By 2015, it was over $3.43 million, with an annual commitment of US$1.2 million going forward.
Looking ahead to 2017, Teranga aims to replicate its expansive sustainable development programs within Burkina Faso in conjunction with its recent merger with Gryphon Minerals.