http://www.pendaproductions.com/ This video was produced by PENDA Productions, a full service production company specializing in Corporate Communications with a focus on Corporate Responsibility.
The Canadian Mining Hall of Fame was conceived by the late Maurice R. Brown, former editor and publisher of The Northern Miner, as a way to recognize and honour the legendary mine finders and builders of a great Canadian industry. The Hall was established in 1988. For more information about the extraordinary individuals who have been inducted into the Hall of Fame, please go to their home website: http://mininghalloffame.ca/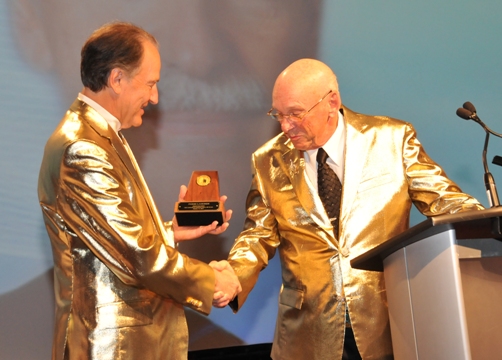 Pierre Lassonde has long believed that a nation's natural resources are not its commodities, but its people. He proved this true during his own exemplary career as a professional engineer, astute investor, innovative financier, etrepreneurial company builder, dedicated philanthropist, and senior statesman of Canada's mining and investment industries. He also invested in human resources through generous contributions to universities that continue to produce enduring and incalculable returns, including a new generation of industry professionals.
Born in Saint-Hyacinthe, Quebec, Lassonde earned a degree in electrical engineering from the École Polytechnique de Montréal, followed by a MBA from the University of Utah in 1973. After a stint with Bechtel in San Francisco, he joined Beutel Goodman & Company and managed its successful gold investment fund for more than a decade. He launched Franco-Nevada Mining in 1982, after teaming up with Seymour Schulich.
Their goal was to create a cash-generating royalty company based on the model used in the oil-and-gas industry, but
focused instead on gold, which to their surprise hadn't been attempted before. In 1986, they paid $2 million to acquire royalties in a small heap-leach mine in Nevada, later developed into the world-class Goldstrike mine by Barrick Gold.
Production from Goldstrike and other royalty properties grew to over three million ounces annually, and the strength of the new business model could be seen in the exceptional 36% annualized rate of return it provided shareholders over a 20-year period.
The new royalty business model was extended to base metal exploration properties with Euro-Nevada and Redstone Resources. As the mining industry slowed down in the late 90s, all three companies were merged into Franco-Nevada. In 2002, at the bottom of the gold cycle, Franco spearheaded a three-way merger between Normandy Mining of Australia, Newmont Mining of Denver and itself to create the world's largest gold mining company at the time. In 2007, Lassonde, along with David Harquail and the Franco team who had followed him at Newmont, acquired Newmont's royalty portfolio and revived Franco-Nevada as the largest gold royalty company on the Toronto Stock Exchange. The $1.2 billion IPO was, at the time, the largest mining IPO ever offered on the TSE.
As a philanthropist, Lassonde has made generous donations to many educational institutions, including École Polytechnique, York University and the University of Utah. He established the Lassonde Chair in Mining Engineering at the University of Toronto in 1996, followed by theLassonde Mineral Engineering Program and the Lassonde Institute for Engineering Geosciences in 2000. He is author of the acclaimed investors' guide, The Gold Book, first published in 1990. He
also served as Chairman of the World Gold Council from 2005 to 2009. A passionate supporter of Canadian art, Lassonde served as Chairman of the Musée National des Beaux Arts du Québec, and has a large personal collection of work by Canadian artists.
Lassonde has received many awards, including Mining Man of the Year (1997) and Developer of the Year (1999) with Seymour Schulich, the Inco Medal (2001), several honorary doctorates in Canada and the USA, and the Order of Canada in 2002.