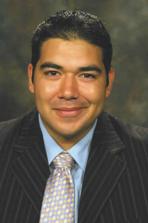 Juan Carlos Reyes is the organizer of the annual Learning Together conference and an aboriginal consultant with Efficiency.ca. He is passionate about human rights and works tirelessly to help improve the lives of Canadian aboriginal people.
During a recent teleconference call with associates in Central America, someone made a comment regarding the imprisonment of aboriginal leaders from Kitchenuh¬maykoosib Inninuwug (KI) and how this showed that the government of Canada will go to any length to advance its industrial agenda, even if it means the oppression of aboriginal people. This individual went on to compare the policies of our government to those of China imposed in Tibet. I found that I couldn't really counter these comments because, although extravagant, they were partially factual.
On March 18, 2008, six KI band members, including the community's Chief and Deputy Chief, were sentenced to six months in jail over an ongoing dispute between the community and Platinex, an exploration company conducting work in the region. This decision did not take place overnight. I have been closely following this case since 2005 when KI First Nation and other communities in the region first declared a moratorium on mining exploration in the Far North.
Around the same time as the moratorium was announced, Platinex made a deal with Inco to acquire a number of mine leases in the Big Trout Lake region, which is in the traditional territory of KI. Even though there was a moratorium in effect, Platinex carried on with its exploration work, claiming its rights under the Ontario Mining Act, which provided the permission required to carry out this exploration. KI community members and leadership began peaceful protests that escalated to the point where the workers had to leave the exploration site. This continued until Platinex launched a $10 billion lawsuit against the community and an injunction to prevent KI from interfering in the company's exploration program. Initially, the court sided with the community, noting that the company knew the risks involved in carrying out work in the region and mandated both parties back to the negotiation table.