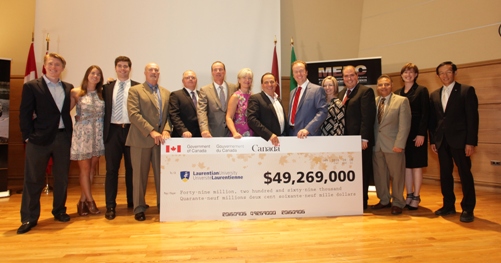 http://www.thesudburystar.com/
Tuesday was a $114-million day at Laurentian University and that had Laurentian president and vice-chancellor Dominic Giroux grinning ear to ear. Two multi-million donations, one in the morning and one in the afternoon, contained more zeroes than most people will see in a lifetime of pay cheques.
Mining entrepreneur David Harquail announced in the morning his family's Midas Touch Foundation was donating $10 million to Laurentian University's Department of Earth Sciences and its Mineral Exploration Research Centre (MERC). The department is being named the Harquail School of Earth Sciences in recognition of the contribution from the Franco-Nevada Corporation chief executive officer and his family.
Monday afternoon, Sudbury Liberal MP Paul Lefebvre and Nickel Belt Liberal MP Marc Serre announced their government was investing almost $49.3 million in the Metal Earth project at the university. The money comes from an unprecedented investment of $900 million by the federal government through the Canada First Research Excellence Fund.
Both the private and public donations will be added to another $55 million in cash and in-kind donations already made to Laurentian, making for a $114-million effort.
Laurentian faculty, researchers and students are launching what the university calls an unprecedented investment in research that will help the mineral industry lower the risk of exploration investing in Canada and abroad. It will also reverse current lower discovery rates of new mineral deposits.
The federal money, which will be allocated over seven years, is the largest funding allocation in Laurentian's 56-year history, Giroux told a standing-room-only audience of about 150 people at the Willet Green Miller Centre.
Metal Earth will involve research from Laurentian and other universities for which 35 post-doctoral fellows, research assistants, technicians and support staff will be hired. More than 80 graduates, more than 100 undergraduate students and several sub-contractors will also be employed.
For the rest of this article, click here: http://www.thesudburystar.com/2016/09/06/record-114-million-day-at-laurentian