PDAC 2016 – Bill Dennis Award – Bruce Channel from PENDA Productions on Vimeo.
http://www.pendaproductions.com/ This video was produced by PENDA Productions, a full service production company specializing in Corporate Communications with a focus on Corporate Responsibility.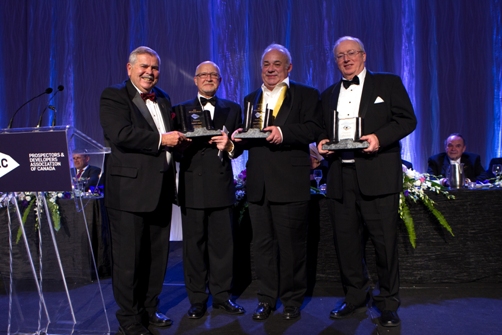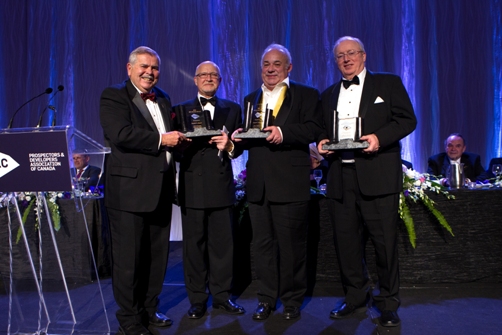 This award, named for a former president of the association, honours individuals who have accomplished one or both of the following: made a significant mineral discovery; made an important contribution to the prospecting and/or exploration industry.
Bruce Channel Discovery Team: For the discovery of gold at Bruce Channel in the Red Lake Gold Camp, Ontario.
Robert Cudney, Stephen Roman and John Whitton receive this award for their Bruce Channel discovery in the heart of the well-explored Red Lake Gold Camp in northwestern Ontario. It was discovered by Exall Resources Limited, which later became Gold Eagle Mines Ltd. after merging with Southern Star Resources Inc. With strategic input from professional geologist John Whitton, the deposit was estimated to contain approximately 14.1 to 16.5 million tonnes of gold, at a grade of roughly 20-25 grams per tonne. grams per tonne.
The impressive discovery was located in the middle of Ontario's third largest precious metals camp, with almost all of the required transportation and power infrastructure at its doorstep.
An exploration program began, including a hole drilled vertically from the ice in the middle of the Bruce Channel in the winter of 2004—the first indication of a new deeper gold deposit. The main discovery hole was completed in August 2005, indicating a potentially high-grade gold deposit. To allow year-round drilling, it was moved to the north and south shores, with drill holes longer than 2,000 meters and as many as 15 wedges off each hole. These technical challenges created a story of their own.
In June 2006, the Northern Miner profiled the project and highlighted the geological complexity of the Bruce Channel discovery. It wrote that the deposits around the Bruce Channel are probably the most structurally complex in the Red Lake camp, sitting, as they do, at the junction of three deformation zones—one trending westward, another northeast, and the third southeast.
This discovery was given the "Discovery of the Year Award" by the Ontario Northwestern Prospectors Association in 2008, the same year that Gold Eagle Mines was taken over by Goldcorp Inc. for $1.5 billion.
Stephen Roman Speech at the PDAC Awards Night "Bill Dennis Award…Prospector of the Year" Royal York Hotel (March 7, 2016)
Good evening Ladies and Gentlemen…what an honour to be here receiving this award on behalf of Robert Cudney, John Whitton and myself for the Bruce Channel discovery in Red Lake Ontario.
After initially acquiring the property through the acquisition of Exall Resources Limited, which, by the way, was incorporated in 1934 as Gold Eagle Mines Ltd…this is a 70 year, overnight success story…I tirelessly pounded the pavement for a number of years…finally achieving financing success through the fortitude of Robert Cudney who backed an exploration venture that everyone else dismissed as having no potential. The property had lied dormant since the Gold Eagle Mine ceased production in 1941 from a small surface vein on McKenzie Island, after producing 40,000 ounces.
After many years of promoting this property as having the right address and geology, in the heart of the Red Lake camp, it was a meeting to explain it to Pat Sheridan Jr., who enthusiastically introduced it to Rob, that finally got the whole ball rolling. We need more financiers like Rob out there…willing to roll the dice and take a chance on risky ventures. It seems our industry has finally bottomed out but we desperately need continued resource exploration financing and successes to stimulate the market.
With new capital coming in from Rob, we revved up the exploration program and started hitting the targets we identified on McKenzie Island. We got nothing but sniffs and started getting apprehensive on the property's potential. After a huddle with the team, we decided to wait for the channel to freeze and try a "blind" test hole in the middle of the channel, a large body of water over a kilometer wide!
John Whitton, our honoured geologist, spotted the hole and late in the season we started drilling. We could see the old and shuttered Cochenour head frame off to the northeast and this was really our last big shot at finding something significant on our claims, having tested most of our other targets.
As the ice was melting, we completed the hole and started pulling up about 900 meters of rods with the ice bending like a trampoline and water around our ankles, we packed it in and hoped for some good assays! They came in! We hit gold mineralization which eventually proved to be the top of the orebody about 800 meters down! Wow…now everybody got excited! Then hold on…the bad news!
We had to figure out how to follow it up…the Ministry said "no more drilling off the ice! What? How are we going to do this?? This was the next big challenge. Eventually they gave us permission to continue drilling, however with the short annual ice season we decided to drill off the banks so we would have no interruptions. To drill into the middle of the channel from either bank meant hitting a target between 1 ½ and 3 kilometers away!
It was like hitting an aircraft hangar on Toronto Island from the top of the CN Tower! We did it with the help of Chibougamau Diamond Drilling…who managed the task and on August 29, 2005, we announced the discovery hole "28.47 g/t over 11.7 meters (0.83 oz/t over 38.39 feet) cut by DDH BC10-1 New High Grade Gold Structure Discovered at Gold Eagle Mine Property, Red Lake, Ontario" which changed the world's view of the Gold Eagle property!
Financing was no longer an issue as significant raises were completed putting about $100 million of new capital into the Company and allowing us to drill and develop a potential new orebody. We even went so far as acquiring a hoist and starting an exploration shaft on McKenzie Island before the call came in from our neighbour…Goldcorp…to negotiate a friendly buyout.
The Bruce Channel orebody is currently undergoing advanced exploration. The Cochenour infrastructure has been rehabilitated and a 5 kilometer drift has been developed to access the orebody and eventually haul Bruce Channel ore to Goldcorp's main milling facility in Balmertown.
On behalf of my colleagues Robert Cudney and John Whitton, without whom this discovery would not have happened, I would also like to thank the other critical members of our team including Chester Kuryliw, Dennis Forgeron, Simon Lawrence, Derek Rance, John Tait, Brent Peters, Maina Rambali, Tracy Josephs and of course Pat Sheridan Jr. for their valuable contribution to this success. I would also like to acknowledge and thank our many supporters who wrote letters of recommendation…and lastly, Mr. Bill Ballard, whose good humour, bag of sandwiches and financial backing was always a boost to team morale. Unfortunately, neither Chester or Bill are with us to enjoy this moment but they won't be forgotten.
All of us express our sincere thanks to the PDAC selection committee and the Board of the PDAC for recognizing our team and presenting us with this prestigious award. Thank you, thank you we are greatly honoured.
END
Articles
Wait time for permits frustrates gold miner Harte Gold (Northern Ontario Business – March 23, 2016)
http://www.northernontariobusiness.com/Industry-News/mining/2016/03/Wait-time-for-permits-frustrates-gold-miner.aspx
Stephen Roman's Harte Gold makes transition to production (Sudbury Mining Solutions Journal – February 22, 2016)
http://www.sudburyminingsolutions.com/harte-gold-makes-transition-to-production.html
Harte Gold – Sweet Smell of the Sugar Zone (InvestorIntel.com – February 11, 2016)
http://investorintel.com/gold-precious-metals-intel/harte-gold-sweet-smell-sugar-zone/
Harte Gold has eyes on 2016 production (Northern Ontario Business – April 7, 2015)
http://www.northernontariobusiness.com/Industry-News/mining/2015/04/Harte-Gold-has-eyes-on-2016-production.aspx