PDAC 2016 – Distinguished Service Award – Patricia Sheahan from PENDA Productions on Vimeo.
http://www.pendaproductions.com/ This video was produced by PENDA Productions, a full service production company specializing in Corporate Communications with a focus on Corporate Responsibility.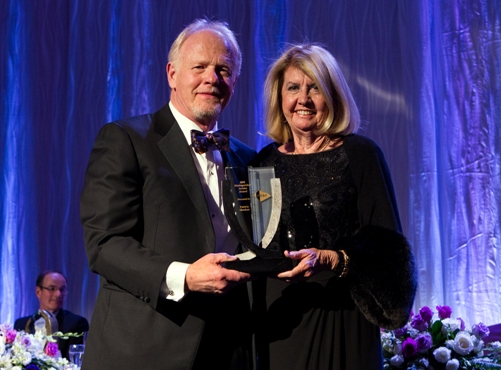 This award recognizes an individual who has achieved one or more of the following: made a substantial contribution to mineral exploration and mining development over a number of years; given considerable time and effort to the PDAC; made outstanding contributions to the mineral industry in the field of finance, geology, geophysics, geochemistry research, or a related activity.
Patricia Sheahan: For her unique and outstanding contribution and dedication to Canada's minerals industry.
Patricia Sheahan, or Pat as she is better known, has a long and unique career in the minerals industry. As a leader and entrepreneur, she founded a worldwide technical information service for exploration companies focused on diamonds, base and precious metals. The subscription service, which began in 1972, has been indispensable for those in the field looking to make the next diamond discovery.
In 1972, Sheahan started her own consulting firm that provided a flow of information about the diamond boom in Canada, which ultimately paved the way for junior mining companies to enter the industry. By 1993, she had organized the PDAC Convention's first short course on diamonds that attracted more than 400 people. Diamonds have since become a popular annual session at the PDAC Convention.
Sheahan has been a Director of seven junior companies, including ones that put into production the River Ranch diamond mine in Zimbabwe, Holloway gold mine in Ontario, Jericho diamond mine in Nunavut, and Kelsey Lake diamond mine in Colorado. She has served as Chairman on various committees, written five books, and contributed peer reviewed papers and articles.
Sheahan has strong ties to the PDAC. She has volunteered as a Director for 14 years, been a long-standing member on the Convention Planning Committee, served as Chair of the Communications Committee, and is a member of the Public Affairs Committee. A big believer in volunteering, she has edited and/or indexed conference pub¬lications, a thesaurus of geological terms published by the American Geosciences Institute, association newsletters and more.
The extensive library of technical materials and references collected by Sheahan, around 70,000, was donated to the University of British Columbia Mineral Deposit Research Unit in 1999.
For a previous profile of Pat Sheahan in the November 11, 2011 issue of Mining Markets, click here: http://bit.ly/1WiCE4m