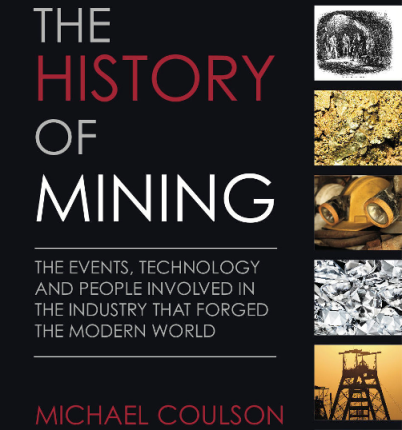 To order a copy of The History of Mining please click here: http://www.harriman-house.com/products/books/23161/business/Michael-Coulson/The-History-of-Mining/
Canadian J. AUSTEN BANCROFT (1882-1957) Zambian copperbelt
The name of Joe Austen Bancroft, a Canadian born in North Sydney, Cape Breton, is synonymous with the exploration and development of what is now known as the Zambian copperbelt. The exploration programme that he oversaw in then Northern Rhodesia in the 1930s was probably the most extensive scientifically-based programme seen anywhere up to that time and from it was born one of the largest copper mining provinces in the world. Bancroft pioneered the science of economic geology in the first part of the 20th century; at the time such a term would have been considered an oxymoron but now it is the driving force behind most commercial geology.
He was born in 1882 one of eight children and his father was a Methodist minister. The early part of Bancroft's adult life, after graduating first in his class from Acadia University, Nova Scotia in 1903 and being awarded a Yale fellowship, was spent studying and then teaching geology. He joined the faculty of McGill University in Montreal in 1905 and took post-graduate courses at Leipzig University, Georgius Agricola's alma mater, and Bonn University between 1908 and 1910.
It was here that he met his French wife, Jeanne Poirier, who he married in 1911; they had no children. Bancroft also gained his PhD from McGill in 1910. Three years later he became Professor of Geology at McGill and then Head of Department, but he continued to keep his practical geological skills up to date during the university breaks, mapping for the Geological Survey of Canada.
As the years went by Bancroft began to develop a strong interest in the economic aspects of geology, then a much neglected part of the science, and took leave from his university duties to act as Consulting Geologist for Granby Consolidated, a copper miner in British Columbia. In 1929 he finally left McGill to organise a massive exploration programme in Northern Rhodesia. Although considered a fine teacher and an exceptionally gifted academic, Bancroft found his real niche in heading this extremely ambitious venture.
Following the British South Africa Company's success in acquiring huge tracts of land in central southern Africa for mineral exploration in the latter part of the 19th century, a somewhat disorganised effort was undertaken by individual prospectors to uncover copper, gold and other deposits. Few significant mines were developed, but the prospectors did frequently stumble across very old native workings suggesting that the region was highly prospective for minerals. This aspect of these early efforts intrigued Bancroft and in his seminal book Mining in Northern Rhodesia he makes extensive and approving comments on the evidence gathered together by many explorers and prospectors as to the relatively sophisticated mining and, in particular, treatment methods used by the natives over a very long time span to produce finished copper.
Bancroft's team consisted of almost 170 geologists and 30 prospectors drawn from around the world, and he organised a systematic observation and mapping exercise covering no less than 160,000 square miles of Northern Rhodesia. Whilst there were mutterings that Bancroft had involved himself too deeply in what was something of a technical exercise, the reality was rather different with the Nkana, Nchanga and Bancroft mines being discovered as a direct result of Bancroft's team, and this laid the foundation for the modern Copperbelt.
This success led to Bancroft becoming Consulting Geologist for Anglo American in Johannesburg, where he not only continued to be responsible for the Copperbelt but also oversaw De Beers' diamond interests and the development of the Orange Free State gold field after the Second World War. He forged a close relationship with Anglo's founder, Sir Ernest Oppenheimer, and in 1957, just before he died, was honoured with the Bancroft Mine being named after him.
Bancroft was a man who was able to get along with people at all levels, from mine worker to mine magnate, and who was respected and liked by all who worked with him. These are major advantages when carrying out an exploration programme as large as his Northern Rhodesian project. In 1956, a year before his death, Bancroft received the Gold Medal of the Institution of Mining and Metallurgy in London in recognition of his central role in advancing the science of economic geology. Before Bancroft, it was prospectors who found mineral deposits, but after Bancroft the task of finding new mines fell increasingly to geologists.