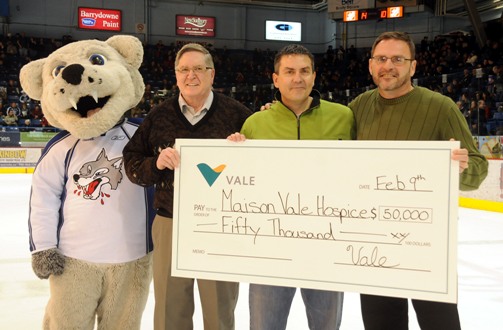 For Immediate Release
SUDBURY, February 11th, 2013 – Vale celebrated another Sudbury Saturday Night on February 9th with a $50,000 donation to Maison Vale Hospice for programs and services.
"Vale is pleased to offer continued support for Maison Vale Hospice" said Kelly Strong, Vice-President, Ontario & UK Operations, Vale. "We are proud to be associated with such a compassionate and caring organization, which has touched the lives of so many in our community."
Maison Vale Hospice provides vital support and quality care to individuals and families in a homelike environment. The Hospice assists residents in their final stages of life by attending to their physical, psychosocial, spiritual, and practical needs.
"Maison Vale Hospice is fortunate to have developed such a mutually rewarding partnership with Vale," said Léo Lefebvre, Chair of the Board of Maison Vale Hospice. "The company's continued support is truly appreciated and benefits every resident and family who journey with us at the Hospice."
Vale's donation was announced at centre ice at the company's 8th annual Sudbury Saturday Night hockey game, which saw the Sudbury Wolves square off against the Mississauga Steelheads. The company invited its employees and members of the community to enjoy the game. The Wolves won the game in an exciting 3-2 shoot out.
"Vale's annual Sudbury Saturday Night brings our employees and hockey fans in our community together to support the Sudbury Wolves," said Strong. "We look forward to continuing this great tradition of great hockey and ongoing community support."
Contact:
Danica Pagnutti
Corporate Affairs Specialist
Vale
705) 682-5202
danica.pagnutti@vale.com
Nathalie Depatie
Fund Development Coordinator
Maison Vale Hospice
(705) 674-9252 x226
nathalie@maisonsudburyhospice.org