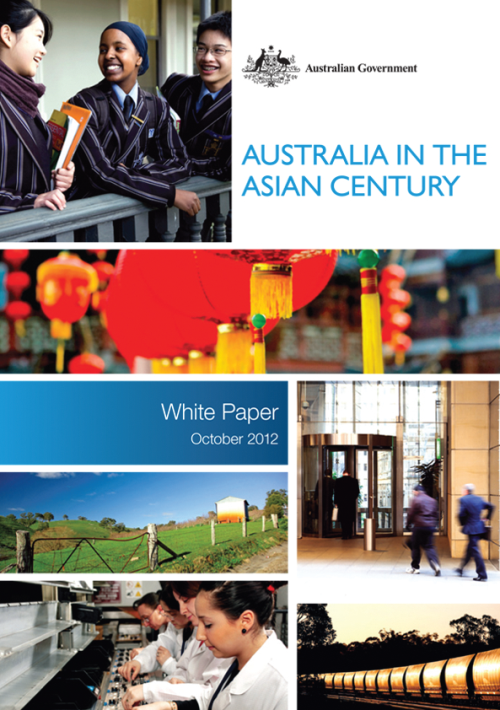 Executive Summary
Asia's rise is changing the world. This is a defining feature of the 21st century—the  Asian century. These developments have profound implications for people everywhere.
Asia's extraordinary ascent has already changed the Australian economy, society and strategic environment. The scale and pace of the change still to come mean Australia is entering a truly transformative period in our history.
Within only a few years, Asia will not only be the world's largest producer of goods and services, it will also be the world's largest consumer of them. It is already the most populous region in the world. In the future, it will also be home to the majority of the world's middle class.
The Asian century is an Australian opportunity. As the global centre of gravity shifts to our region, the tyranny of distance is being replaced by the prospects of proximity. Australia is located in the right place at the right time—in the Asian region in the Asian century.
For several decades, Australian businesses, exporters and the community have grown their footprint across the region. Today, for Australia, the minerals and energy boom is the most visible, but not the only, aspect of Asia's rise. As the century unfolds, the
growth in our region will impact on almost all of our economy and society.
An increasingly wealthy and mobile middle class is emerging in the region, creating new opportunities. They are demanding a diverse range of goods and services, from health and aged care to education to household goods, and tourism, banking and financial services, as well as high-quality food products.
Beyond economic gains, there are many valuable opportunities for building stronger relationships across the region, including through closer educational, cultural and people-to-people links.
Our nation also has the strength that comes from a long history of engagement with countries in Asia. Australia's relationships in our region are strong and robust, including with Asian nations like China, Japan, India, Indonesia and the Republic of Korea (South Korea). But in this Asian century we must enter a new phase of deeper and broader engagement.
This White Paper provides a roadmap for the whole of Australia—governments, business, unions, and the broader community—in this next phase. Our goal is to secure Australia as a more prosperous and resilient nation that is fully part of our region and open to the world.
Australia starts from a position of strength. Just as our region has a lot to offer us, we have a lot to offer our region. We have strong, world-leading institutions, a multicultural and highly skilled workforce, and a productive, open and resilient economy, which is one of the strongest in the world. These assets have been reinforced by a series of economic reforms and good decisions made over past
decades, including Australia's world-beating actions to avoid the worst impacts of the Global Financial Crisis.
Our strengths have long been reflected in Australia's interaction with countries in Asia. Over the past 50 years, Australia's trade with Asia as a share of our total trade has risen dramatically. Our financial, political and cultural links have deepened. We have strong relationships and close friendships with countries across the region. But Australia's success will be based on choice, not chance. In order to succeed, we must sustain the policy settings and pathways that have served us well. We need to reinforce our strong social foundations, including our national institutions, our cultural diversity and our outward-looking society.
We will need to do more than this—we all need to respond to the rapid changes occurring in our region.
Australians need to act in five key areas in order to succeed in the Asian century.
First, irrespective of how the Asian century evolves, Australia's prosperity will come
from building on our strengths. We need to reinforce the foundations of our fair
society and our prosperous, open and resilient economy at home. We need to build
on areas where we already perform well, in order to extend our comparative
advantage. Critical to this will be ongoing reform and investment across the five
pillars of productivity—skills and education, innovation, infrastructure, tax reform and
regulatory reform.
Second, as a nation we must do even more to develop the capabilities that will help
Australia succeed. Our greatest responsibility is to invest in our people through skills
and education to drive Australia's productivity performance and ensure that all
Australians can participate and contribute. Capabilities that are particularly important
for the Asian century include job-specific skills, scientific and technical excellence,
adaptability and resilience. Using creativity and design-based thinking to solve
complex problems is a distinctive Australian strength that can help to meet the
emerging challenges of this century. As a nation we also need to broaden and deepen
our understanding of Asian cultures and languages, to become more Asia literate.
These capabilities are needed to build stronger connections and partnerships across
the region.
Third, Australia's commercial success in the region requires that highly innovative,
competitive Australian firms and institutions develop collaborative relationships with
others in the region. Australian firms need new business models and new mindsets to
operate and connect with Asian markets. We will work to make the region more open
and integrated, encouraging trade, investment and partnerships. Firms will adapt
their business models to seize the opportunities created in our region.
Fourth, Australia's future is irrevocably tied to the stability and sustainable security of
our diverse region. Australia has much to offer through cooperation with other
nations to support sustainable security in the region. We will work to build trust and
cooperation, bilaterally and through existing regional mechanisms. We will continue
to support a greater role for Asian countries in a rules-based regional and global
order. Australia's alliance with the United States and a strong US presence in Asia will
support regional stability, as will China's full participation in regional developments.
Fifth, we need to strengthen Australia's deep and broad relationships across the
region at every level. These links are social and cultural as much as they are political
and economic. Improving people-to-people links can unlock large economic and social
gains. While the Australian Government plays a leading role in strengthening and
building relationships with partners in the region—with more intensive diplomacy
across Asia—others across a broad spectrum spanning business, unions, community
groups and educational and cultural institutions also play an important role. Stronger
relationships will lead to more Australians having a deeper understanding of what is
happening in Asia and being able to access the benefits of growth in our region. In
turn, more of our neighbours in the region will know us better than they do today.
Success in the Asian century requires a whole-of-Australia effort, with businesses,
unions, communities and governments being partners in a transformation as
profound as any that have defined Australia throughout our history.
It is in the interests of all Australians—and therefore in the national interest—to
develop the capabilities and connections that Australia will need, so that we can
contribute to, and learn from, the region, and take full advantage of these
opportunities.
The challenges ahead require sustained effort; Australians cannot build stronger
relationships or learn new skills overnight, or even over five years, especially given the
diversity of the countries in our region. Some actions can be taken immediately, but
others require further conversation among communities across the nation, detailed
planning and careful implementation over a generation.
For the rest of "Australia in the Asian Century" white paper, please go to:
http://asiancentury.dpmc.gov.au/sites/default/files/white-paper/executive-summary.pdf