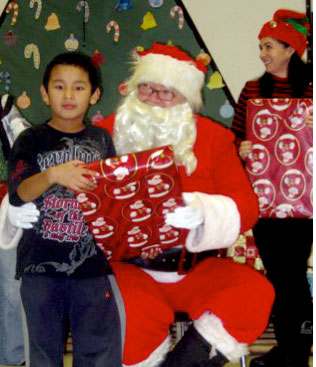 The staff of Noront Resources, in cooperation with North-South Partnership for Children, is proud to present the Fourth Annual Ring of Fire Christmas Fund. Thanks to the support of the Noront Board of Directors, suppliers, employees, and friends, we raised over $55,000 during the first three years, giving children under 12 in the communities of Marten Falls and Webequie First Nations a wrapped Christmas gift. This year, we have extended the Christmas Fund to the Neskantaga First Nation!
In addition to wrapped gifts, previous years' funds introduced a mentorship initiative, which brought two former NHL hockey players to Webequie First Nation. We are hoping to continue this initiative by bringing a Canadian mentor to the communities again in 2012.
All donations made online at www.northsouthpartnership.com will receive tax receipts.
Please visit www.northsouthpartnership.com and click on "Donate Now through CanadaHelps.org" on the left side of the screen. Use the "Fund/Designation" drop down menu to pick number "5. Christmas gifts for children of Marten Falls and Webequie" to ensure your donation goes to the Ring of Fire Christmas Fund, then hit "Continue".
Your donation might give even one special child a magical Christmas.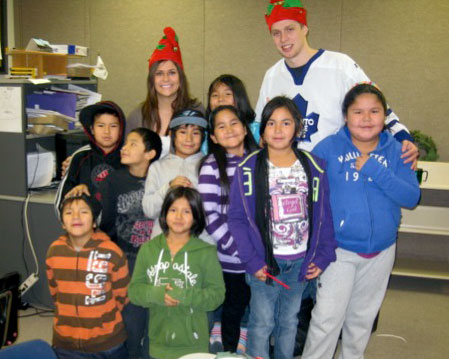 North-South Partnership for Children
In remote northern communities in Ontario, an imposed history of colonialism, residential schools, inequitable distribution of resources and geographical isolation have all contributed to a depth of impoverishment not seen elsewhere in the province. First Nations communities have historically suffered a loss of land, education, language, culture and identity. In many instances, children are descendents of residential school survivors who were frequently abused and alienated from their culture.
Mamow Sha-way-gi-kaywin: North-South Partnership for Children represents a coalition of individuals and oganizations from southern Ontario who have partnered with thirty First Nations communities. The collective goal of the Partnership is to learn from one another while addressing the needs of these First Nations. Southern partners are dedicated to following the direction of northern partners in identifying issues, priorities and potential solutions. The work of the Partnership exemplifies the respectful relationships needed to improve the conditions of First Nations communities.
The strengths of Mamow Sha-way-gi-kay-win are its unique partnership with First Nations, its ability to bring a broader public awareness to the conditions of their communities, its long term commitment to these communities, its non-partisan approach and its independence from governmental systems.
Click here for the North-South Partnership for Children annual report: http://www.northsouthpartnership.com/pdfs/2009%202010%20Annual_Report%20lowres.pdf