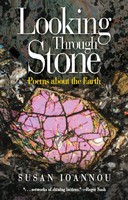 Susan Ioannou of Toronto first became interested in geology as a theme while her son was completing a PhD. Exploring the science of rocks and minerals from a poet's perspective was a fascinating and refreshing change from writing personal lyrics. Ioannou's fiction, articles, and poetry have appeared across Canada. Winner of the 1997 Okanagan Short Story Award and twice a finalist in the CBC Literary Awards, in 2002/2003 she received an Ontario Arts Council Works in Progress grant to complete Looking Through Stone.
 The following book review was done by Adge Covell.
"Enough iron to make a nail, potassium for…." well, you probably know most of the rest. It's one of the favourite quotes to be found in those "Did you Know?" lists which are everywhere these days, and which describes the cocktail of elements which make up the human body.
In the same vein, the Bible has a quote with which we are all undoubtedly acquainted and which goes, "Ashes to ashes, dust to dust…."
Basically, and repeated here in my own crude fashion, these quotes tell us that we are a mixture of natural elements and that when our lives are over we will return those elements to the universe from which they came.
In her book Looking Through Stone, award winning Canadian poet Susan Ioannou repeats this theme, but in a way that only an accomplished poet and wordsmith can.
In her poem "The Link" she asks;
"For what are we,
but the calcium of bones,
the brines of underground seas
awash with magnesium, potassium, iron…"
and she ends by reminding us,
"that like volcanic ash
earth is what we came from
and will become again"
Looking Through Stone is divided into four parts.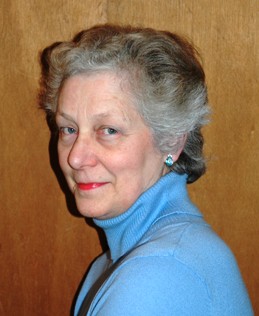 Part 1 is "Petra", which, as the first poem in this section informs us, is ancient Greek for "rock". In this section the author manages to convey through her poetry something which I have struggled to explain in my own writings many times; that the earth is in continual torment and
motion and of the inexorable and unending forces which are continually changing the world we know.
Part 2 is "Metallica", in which we discover historical facts used to portray the relationship between man and metal, from the prehistoric mining of copper and minerals to make beads and everyday utensils, to the inherent qualities of platinum and its present day use in everything from
surgical instruments to deadly missiles.
Part 3 is "Gem Lure". Here the author uses her skill as a poet to describe the fascination people have always had with stones and crystals. In this section she looks at the way gem stones have been used for everything from magical healing to simple beauty enhancements.
Part 4 is, I admit, the first section I looked at. Titled "Going Under", this section uses geological and mining facts, blended with history and folklore which is then shaped and moulded into easy to read poetry.
At first glance one could be forgiven for thinking that Looking Through Stone was some sort of New Age anthology of poetry about rocks and crystals, but Susan Ioannou has accomplished much more than simply combining mysticism, geology, mineralogy and poetry. She has
managed to take all of those things and blend them with scientific facts which go beyond mere amateur observations, with history and myths which are surprising and enlightening, and with passion and beauty, which draws the reader eagerly onward for the next poem.
During the ten years since the MinersAdvice site has been on the Internet, I have read a great deal of mining related poetry which has been sent to me from poets all over the world. I've read of mining disasters, political oppression, human struggles against tyrannical mine owners, and just about everything else you can expect from such an emotive subject.
Susan Ioannou's book Looking Through Stone is actually a breath of fresh air. The way she puts her ideas across to the reader is very new to me and I enjoyed reading her book immensely.
To order a copy of Looking Through Stone, go to Your Scrivenor Press