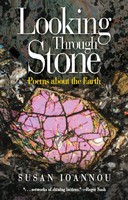 Susan Ioannou of Toronto first became interested in geology as a theme while her son was completing a PhD. Exploring the science of rocks and minerals from a poet's perspective was a fascinating and refreshing change from writing personal lyrics. Ioannou's fiction, articles, and poetry have appeared across Canada. Winner of the 1997 Okanagan Short Story Award and twice a finalist in the CBC Literary Awards, in 2002/2003 she received an Ontario Arts Council Works in Progress grant to complete Looking Through Stone.
 The following book review was done by Adge Covell.
"Enough iron to make a nail, potassium for…." well, you probably know most of the rest. It's one of the favourite quotes to be found in those "Did you Know?" lists which are everywhere these days, and which describes the cocktail of elements which make up the human body.