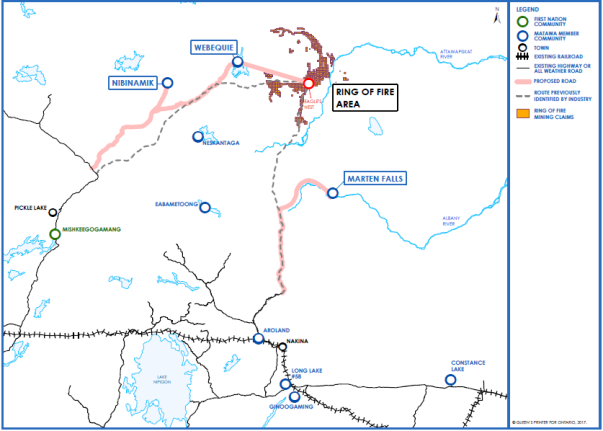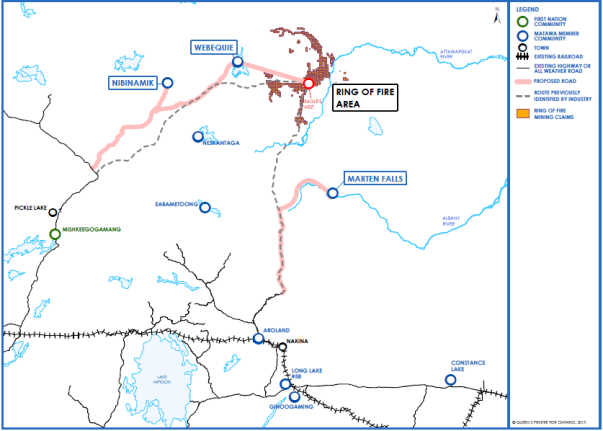 http://www.cbc.ca/news/canada/thunder-bay/
Eabametoong and Neskantaga not included in Aug. 21 announcement, say jurisdictional issues not settled
Two northwestern Ontario First Nations near the Ring of Fire say an announcement by the provincial government that it has a deal in place to construct all-season roads into the mineral-rich area is "premature."
On Monday, Premier Kathleen Wynne was in Thunder Bay to announce that the province had reached a deal with three Matawa First Nations — Webequie, Nibinamik and Marten Falls — that would see roads linking their communities to the provincial highway system and continuing into the Ring of Fire.
But in a joint statement issued late Thursday afternoon, two other communities not included in that deal — Eabametoong and Neskantaga — said those projects will "hit a dead end," if there is no "real and concrete jurisdiction agreement with First Nations." ""The reality is that all the roads to the Ring of Fire traverse the territory of our Nations, and nothing is happening without the free, prior and informed consent of our First Nations," Neskantaga Chief Wayne Moonias was quoted as saying in a written release.
The area in the James Bay lowlands, about 575 kilometres north of Thunder Bay, which holds large amounts of chromite, nickle and copper, among other metals, has been called "a game-changer for Canada," but has yet to live up to that promise.
In 2014, the province and the nine member Matawa First Nations signed a regional framework agreement to work together on things like environmental monitoring, resource revenue sharing and infrastructure.
But in May, Wynne sent a letter to chiefs saying she wanted to see progress in "weeks, not months," that they "should not squander" her commitment to spend $1 billion and that she would work individually with any chief who will work with her.
For the rest of this article: http://www.cbc.ca/news/canada/thunder-bay/ring-of-fire-road-premature-1.4261877