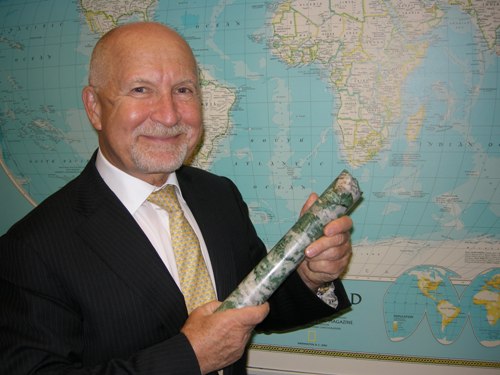 Harte Gold Corporation is one of those "under the radar" junior explorers that is now well on its way to developing a high grade underground gold mine adjacent to northern Ontario's world-class Hemlo camp where roughly 22 million ounces of gold have been produced to date since 1985.
Back in September 2008, when Stephen G. Roman and his partners sold their Gold Eagle Mine project in Ontario's Red Lake gold camp, to Goldcorp for $1.5 billion, it took just one month for him to start investigating another project.
By early 2009, Roman took charge of Harte Gold, an underperforming gold exploration company that was on the verge of being de-listed. It took him about a year and half to put the corporation's finances in order and acquire Corona Gold Corp's 51% ownership of the property. When he finally raised the finances to begin drilling in 2010, he quickly doubled the resource estimate of the promising Sugar Zone deposit to roughly 500,000 ounces of gold at 10g/t according to a July 2012, N.I. 43-101 report.
"The Sugar Zone is a near surface Archean lode discovery in a shear zone, hosting a mesothermal gold- quartz vein deposit at roughly 10 grams per tonne," says Roman. "While our resource estimate is only based from surface to 400 metres, mesothermal gold deposits are well known for their large size and continuation to depth. In 2012, we confirmed this with a single test drill to 1000 metres that hit gold ore at over 10g/t. And let's not forget that the initial Hemlo discovery – drill hole number 76 – did not hit commercial grade gold until the 600 metre level."
With a confirmed half million ounces of gold in 2012, the decision was made to start with a 70,000 tonne bulk sample. The construction of the mine ramp towards the deposit started in November, 2015 and is being done by Technica Mining of Sudbury for a fixed price of $20 million dollars. Harte Gold has negotiated an agreement with Barrick Gold for toll-milling the bulk sample at their facilities 80 kms away.
They expect to produce over 20,000 ounces of gold from the bulk sample – which will be finished by February, 2017 – with the profits reinvested in the project. Earlier this year Harte Gold acquired the necessary Phase 1 Commercial Permit from the Ontario government allowing them to continue to mine an additional 30,000 tonnes as well as continue underground development in preparation for full scale commercial production expected in Q2 2018.
"By doing a large bulk sample and confirming grade continuity and mineability, we have de-risked this project and proven the deposit is economically viable," says Roman. "We are currently mining 500 tonnes a day and have opened 2 ½ kilometers underground on five levels."
He continues, "the gold deposit's metallurgy is 75% recoverable with simple gravity methods and is non-refractory so no cyanide circuit is needed which will make the construction of a future mill very economical and easier to permit."
Located on the largely unexplored 10 by 30 kilometre Dayohessarah Greenstone Belt, that the company completely controls, this region was largely overlooked during the nearby Hemlo gold rush of the early 1980s. Just 60 kilometers to the south two gold producers, Richmont Mines (Island Gold mine) and Westdome Gold Mines (Eagle River mine) operate some of the country's highest grade underground gold operations (about 9 grams per tonne) and road, rail and hydro infrastructure are nearby while the region has a skilled workforce to draw upon.
In addition, they have also signed an exploration agreement with the nearby Pic Mobert First Nation who are very supportive of the project and are currently working on an Impact Benefits Agreement that should be completed by the second quarter of this year.
Northern Ontario is one of the most significant gold producing regions in the world – in the same "geological league" as South Africa's Witwatersrand district, Northern Nevada's Carlin type deposits and the various gold regions of Western Australia.
The province's most famous gold mining camps are Timmins, Kirkland Lake, Red Lake and Hemlo which alongside a variety of smaller districts as well as by-product from the massive nickel-copper mines of the Sudbury Basin have historically produced almost 200 million ounces to date.
In addition to the Sugar Zone, a number of other potential deposits to the west (Contact and West Contact Zones) and north (Wolf Zone) and adjacent (Footwall Zone) have been found. The promising Wolf Zone, initially discovered in 2010, is located approximately two kilometers to the north-east of the Sugar Zone. A 2016 geophysical survey – deep Induced Polarization – identified a number of promising large anomalies. Recent drill results were very encouraging on both a newly discovered Middle Zone, located between the Sugar and Wolf Zone and on targets north of the Wolf Zone.
"The strike length between the Sugar and Wolf Zones has great resource expansion potential as well as a number of other locations and we have contracted for a minimum of 35,000 meters of drilling which began in January," said Roman. We are also starting High definition airborne Magnetometer, EM and VTEM surveys that will cover the entire Harte Gold land package as part of a large scale regional exploration program to generate new high priority targets."
In an August 2016 research note, Cantor Fitzgerald analyst Mike Kozak stated, " In our view, resource upside to approximately 1 MMoz is achievable over the next 12-18 months for Harte Gold and given the strong continuity of mineralization, we expect grades to remain in the 8-10g/t Au range (top-cut)."
Halyard Inc. has been engaged to design and build an on-site mill to process ore at a rate of 525 tonnes per day which will be commissioned in Q1 2018. Last November, Harte Gold had secured $25 million financing – $15 million from Cantor Fitzgerald Canada Corp. and $10 million from Appian Natural Resources Fund which will accelerate mill construction, tailing development, resource expansion and underground development.
Commercial production should start with an initial production of approximately 50 thousand ounces of gold a year for about 10 years.
"In 2017 we have a three priority goals. The first is to prepare the Sugar Zone for commercial production and that includes the construction of the mill," says Roman. "The second task is to aggressively focus on promising drill results on strike to expand gold resources and third is to find further exploration targets with our regional geophysical surveys."
Roman continues, "With those activities, along with our N.I. 43-101 resource update by yearend which is expected to show a significant increase in resources, we should be able to significantly enhance shareholder value and attract further investor attention. We strongly believe we will find multiply deposits and transform the Sugar Zone property into a new mining camp."
Stephen G. Roman Background
For over 40 years, Stephen G. Roman has explored for, financed, developed and run mining and oil/gas projects around the world. He has completed roughly $2.5 billion worth of financing and M&A transactions over his career.
He is well known in Canada's close knit mining community as his father was the legendary Stephen B. Roman who founded the original Denison Mines in the 1950s on the discovery of the largest uranium deposits in the world, in Northern Ontario and built the community of Elliot Lake during the height of the cold war when the U.S. was building its nuclear missile stockpile.
Last year, Roman and his two colleagues Robert Cudney and John Whitton were awarded the Prospectors and Developers Association of Canada Bill Dennis Award as "Prospector of the Year" for their discovery of gold at Bruce Channel in the Red Lake gold camp which they subsequently sold to Goldcorp for $1.5 billion.
Roman is also Chairman, President & CEO of Global Atomic Fuels Corporation which owns strategic uranium deposits in the Republic of Niger where drilling indicates some of the highest grades found in the last 50 years on the African continent.
Stan Sudol is a Toronto-based communications consultant, freelance mining columnist and owner/editor of the www.republicofmining.com
An edited version of this article was publishing in the Mining Journal: http://www.mining-journal.com/world/north-america/insight-a-new-gold-camp-in-the-making/