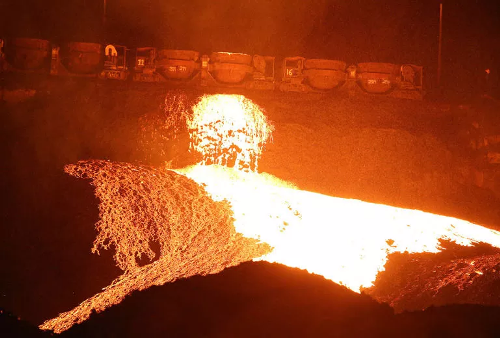 http://www.thesudburystar.com/
Dave Patterson, who led members of USW Local 6500 through the second longest
strike in its history, from Sept. 15, 1978 to June 7, 1979, remembered the
parking lot overlooking the slag dump was called "the passion pit" and that
it drew people from all over the city to watch slag pouring. "Yeah right,"
said Patterson.
A sight that once drew Sudburians and visitors like moths to a flame is now caught in rare glimpses when travelling in the Big Nickel Road-Highway 144 area.
Lance Melnek lives in the Valley and spies it some days when driving to work in Copper Cliff about 6 a.m. There's a spot on Big Nickel Road, near the entrance to a Fisher-Wavy property, where Melnek sometimes sees slag being poured at Vale's No. 4b slag dump, depending on weather conditions.
Melnek is transportation manager at Vale Ltd., where he has worked for 25 years. He has seen molten material dumped hundreds of times, but seeing it from the highway still excites the mechanical engineer.
The detritus of concentrate smelted in flash furnaces, after ore is milled at Clarabelle, slag is what remains after the nickel, copper, silver, zinc, gold and some precious metals are removed.
The pouring of molten metal, at temperatures up to 1,300 C, used to be a common sight in the west end of Sudbury. It is still done 24/7, every day of the year, said Melnek, but most people never see it.
Inco and Vale have mined in the Sudbury Basin for more than a century, dumping countless millions of tons of slag near its smelter operations.
Furnaces at the Copper Cliff Smelter Complex consume about 1.1 million tons of concentrate a year, generating about a million tons of slag.
The dumping of that slag isn't the public spectacle it used to be. For those who lived in the Nickel Capital in the 1950s and decades after, watching streams of red-hot liquid slithering down hills was one of the perks of living in a mining town.
To the 20,000 employees of Inco back in the day, their families and others, the red, yellow, orange and white rivers of molten metal held an endless fascination.
Families used to pack into their sedans, kids in the backseat, and travel to see the light show that turned the sky red for miles around. While it was the end result of a mining process that was damaging to the environment and, to a degree, to people, mining jobs put food on the table so no one complained much about the environmental impact.
Certainly, the Sudbury landscape wasn't something locals could brag about then, instead suffering barbs and jokes from people outside the community who called Sudbury a wasteland, the armpit of Canada, a moonscape.
Sudburians could proudly drive visiting family members and out-of-town guests to park in the area of what is now Big Nickel Road and take in the colourful spectacle. The crimson glow of a burning slag pile was something to behold.
For the rest of this article, click here: http://www.thesudburystar.com/2016/10/21/accent-lore-of-the-pour