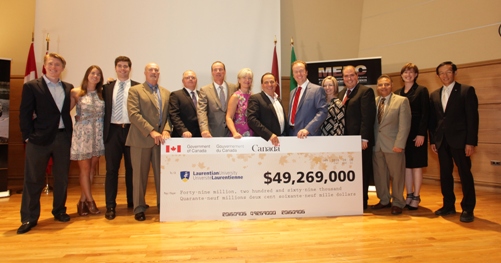 Funding is the largest single investment in University's history.
SUDBURY, ON (September 6, 2016) – Laurentian University is launching an unprecedented research effort to help the mineral industry make lower risk exploration investments in Canada and abroad and reverse the current lower discovery rates of new mineral deposits.
This seven-year initiative named Metal Earth received a boost of $49,269,000 over seven years from the Canada First Research Excellence Fund (CFREF). The announcement was made today by Sudbury Member of Parliament, Paul Lefebvre and Nickel Belt Member of Parliament, Marc Serré on behalf of the Minister of Science Kirsty Duncan. Twenty-two partners from academia, industry and government are providing $55 million in cash and in-kind contributions to this $104 million effort.
"Laurentian University is already #1 in Canada in economic geology research funding and among the best in the world," said Sudbury MP Paul Lefebvre. "We are proud to support Laurentian and its Mineral Exploration Research Centre at the Harquail School of Earth Sciences in becoming the undisputed global leader in mineral exploration research," added Lefebvre.
"This investment will result in increased exploration expenditures and investments in Canada, higher discovery rates, and the development of new mines," explained Nickel Belt MP Marc Serré. "Findings from Metal Earth will be transferable around the world and position Canada as an authoritative leader in the global quest for metals. It will attract even more talent and partnership opportunities to Sudbury," said Serré.
CFREF helps Canadian postsecondary institutions excel globally in research areas that create long-term economic advantages for Canada. The inaugural competition led to five awards totaling $350 million in 2015. The federal government announced today $900 million to 13 universities out of 51 applicants. Each institution could only submit one application. A third competition is expected to be launched in 2021-22. Funding decisions were made by a high profile selection board following peer review based on scientific merit and demonstrated capacity to lead on an international scale, strategic relevance to Canada, and the quality of the implementation plan.
"This is the largest funding announcement in Laurentian's 56-year history and the largest exploration research program ever undertaken in Canada We thank the federal government for its growing commitment to science and innovation," said Laurentian University President and Vice-Chancellor Dominic Giroux who pointed out that Laurentian is the only primarily undergraduate university among the 16 competitively-selected universities since the inception of CFREF.
Earlier today, Laurentian University also announced a $10 million gift from the Harquail family towards its Department of Earth Sciences which is being renamed as the Harquail School of Earth Sciences. David Harquail is the President and CEO of Franco-Nevada Corporation, a gold-focused royalty company listed on the Toronto and New York stock exchanges.
"This CFREF result is a testament to the excellence of faculty, staff and students at the Harquail School of Earth Sciences and its Mineral Exploration Research Centre," added Giroux.
"Global metal reserves are being depleted due to increased demand and decreased global discovery rates over the past 10 years," explained Dr. Harold Gibson, Director of the Mineral Exploration Research Centre (MERC) at the Harquail School of Earth Sciences and lead of Metal Earth. "Spending on exploration has increased while discovery rates have decreased. Without a means to discover and extract metals, modern societies will be faced with a crisis that will detrimentally impact social, technological, and industrial development. Canada has untapped mineral deposits," added Gibson.
Metals are a key driver of Canada's economy: 19.6% of Canada's exports and 4% of the Gross Domestic Product (GDP). Metal Earth will provide industry and government with the new knowledge, highly qualified personnel, protocols, and tools to focus exploration and infrastructure dollars in areas with the highest metal endowment. "Metal Earth is a new approach, it goes beyond traditional research at deposit or district's scale. It will transform how we explore for metals and our understanding of Earth's early evolution", concluded Gibson.
Metal Earth will involve researchers from Laurentian and its partner institutions and the recruitment of over 35 post-doctoral fellows, research assistants, technicians and support staff, over 80 graduate and 100 undergraduate students and numerous subcontracts. It will lead to the hiring at Laurentian of a Research Chair in Exploration Targeting and three additional faculty members in Precambrian Geology, Earth Systems Modelling and Exploration Geophysics.
Laurentian University's partners in Metal Earth include the geological surveys of Canada, Ontario, Quebec, Manitoba, Northwest Territories and Nunavut, the Northern Ontario Heritage Fund Corporation, TMAC Resources, the Carnegie Institute, Noront Resources Ltd, the University of Western Australia, Université Laval, the University of Tasmania, the University of Toronto, the Harquail family, the Université du Québec à Chicoutimi, the University of Ottawa, Vale, MIRA Geoscience Ltd, the Centre for Excellence in Mining Innovation and MIRARCO.
About Laurentian University
Laurentian University offers an outstanding university experience in English and French, with a comprehensive approach to Indigenous education. Laurentian University, situated on the traditional territory of the Anishinabe peoples of Atikameksheng First Nation, prepares students as agents of change and empowers them to create innovative responses to local and global challenges. Laurentian's students benefit from small class sizes and exceptional post-graduation employment rates.
With nine Canada Research Chairs and eighteen research centres, Laurentian is a recognized leader in its specialized areas of research strength, which include mining innovation and exploration, stressed watershed systems, particle astrophysics and rural and northern children's health. Laurentian University has secured over $100 million in research income in the past five years.