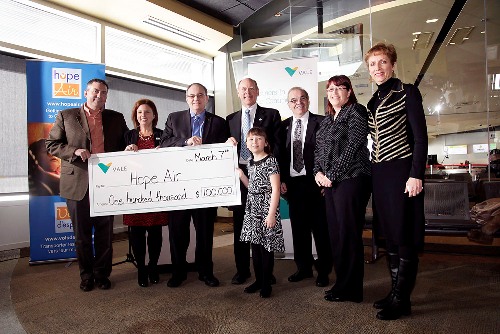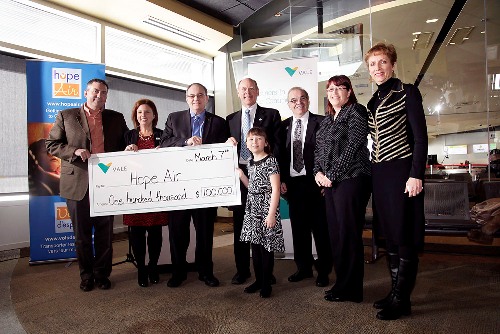 Sudbury, ON – March 9, 2015 – Today, Vale announced an investment of $100,000 in Hope Air over the next two years. This meaningful new partnership will provide free flights to residents of Greater Sudbury in financial need that require vital healthcare services that are not available locally.
"Although we are blessed with a broad range of quality healthcare in our community, anyone that has ever had to travel from Sudbury to Toronto or Ottawa for specialized medical care knows that it can be a significant emotional and financial strain – and for low income families, this burden can be overwhelming," said Kelly Strong, Vice-President of Vale's Ontario & U.K. Operations. "The hope is that our support for this organization will improve access to healthcare and remove some of the financial stress associated with travelling out of town for much needed care."
Hope Air arranged more than 200 flights for residents of Greater Sudbury last year and the need for Hope Air's services continues to grow. Vale's multi-year community investment will be directed to a fund called "Vale Flights of Hope", which will provide approximately 300 flights to assist even more area residents who often travel to cities like Toronto and Ottawa to receive specialized medical care.
"Vale is a strong and important partner to Hope Air," said Hope Air Executive Director Doug Keller-Hobson. "With Vale's support, Hope Air is one step closer to ensuring that no resident of Greater Sudbury will miss their appointment because of the cost of a flight ticket. We applaud Vale as a shining example of a corporate partner which is investing in the health and well-being of its community's residents."
About Hope Air: Hope Air is the unique national charity which arranges free flights for Canadians who must travel to healthcare and are in financial need. Clients need to meet some eligibility requirements, which can be checked at www.hopeair.ca. Since its start in 1986, the charity has provided over 91,000 flights with the generous support from commercial airlines, corporations, foundations and individual donors.
-30-
Media Contact Hope Air:
Morgan Bailey
416.222.6335, ext. 201
mbailey@hopeair.ca
Media Contact Vale:
Angie Robson
(705) 682-5202
angie.robson@vale.ocm