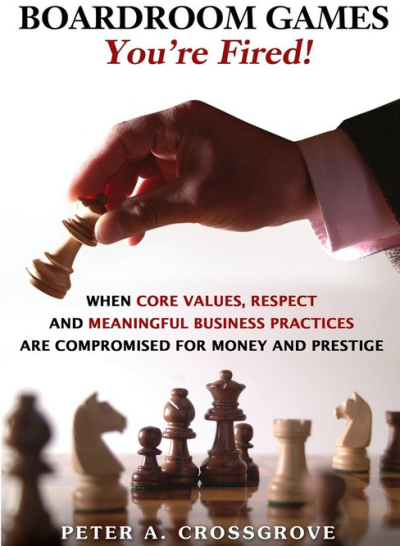 To order a copy of From Boardroom Games: You're Fired, click here: http://amzn.to/1pA7i7q or here: http://bit.ly/OYexer
For a three part BNN interview with Peter Crossgrove, click here:
http://watch.bnn.ca/#clip1071973
http://watch.bnn.ca/#clip1071974
http://watch.bnn.ca/#clip1071978
Sudbury-born Peter A. Crossgrove and another partner invested in Interior Door, a private company that became Masonite, a public company sold to KKR for $3.2 billion in 2004. Peter's mining and boardroom experiences are indelibly etched real-life scenarios—humorous and thought provoking. Having served on close to seventy mining, corporate, and not-for-profit boards, armed with a sense of humour, dignity, dogged determination, and humility, Peter has challenged boardroom antics and relationship intricacies with the skill-sets and values he was raised with.
Excerpt from "Boardroom Games: You're Fired!" – University Choices and Practical Mining
I loved accounting, I loved commerce, and I loved those business courses. At the end of the second going into my third year, my father was pushing me hard to return home, and in doing so to work in the purchasing department at Inco. I had worked a couple summers in the warehouse and Mac Forsythe, the purchasing agent who quite liked me, thought I should work under him and perhaps inherit his job that was a big job at Inco in those days.
My father was convinced that I would work for Inco, so I switched to Sir George Williams Concordia University for a year with the permission of Eric Kierens, Dean at McGill, to take a purchasing course that McGill did not offer. I quite liked Concordia and thought I'd like to stay, but I knew I wanted to go to Western and take an MBA. I contacted Western to ask if it mattered where I graduated from—either McGill or Concorde. I would have to get permission to go back to McGill for my fourth year and graduate from there. I was told no and that it didn't matter at all. I continued at Concordia for my fourth year and graduated from there at the top of the class and then left Montreal. By that time I was married and went to work at my father-in-law's company Edwards Sudbury Limited.
While at McGill and Concordia, as Phi Delta Theta House Manager, with free room and board, I always found ways to try to make some money on the side. Others also used their imagination and ingenuity to get by. This reminds me of the story of Bob Gougeon who went to Upper Canada College and then on to the University of Western Ontario. Being a relatively small person, he knew he would never make the football team. So he decided to try out for the University of Western Ontario band. When he showed up, he was told all the positions were full.
He asked the bandmaster if there were any instruments he didn't have that he would like to have. The bandmaster said he needed a snare drum. Bob went to a used instrument store and bought one. The store manager arranged for a couple of lessons for him and he painted the drum purple and white—the university colours. Bob became a member of the band and was then able to travel on the train together with the football team and cheerleaders to McGill, Queens, and the University of Toronto—all expenses were paid and it was a bundle of fun.
During my time there I also took a year off and worked underground up at Creighton Mine—about ten miles west of Sudbury. I became a fully qualified miner and gained valuable mining experience, working on bonus at a mine stope, which is the excavation in the form of steps to remove ore from vertically or steeply inclined veins in the rock. I ran a slushing machine as well as a jackleg drill and worked on timbering the mine stopes. I was away prospecting another year trying to make money, since my father believed it was a total waste of time going to graduate school. He didn't understand why I couldn't come back to Inco and become an assistant purchasing agent, because "they'd look after you for the rest of your life."
Inco had a hospital in Copper Cliff. One summer while I was home from university and working during the summer vacation for Inco, I had to have a hernia operation, which I had at the Copper Cliff Hospital. The company kept on paying me as if I was still at work. In those days it took about two weeks to recover from that type of operation, which was before Dr. Bob Jackson developed laparoscopic surgery at the Toronto Western Hospital. Inco were wonderful to their employees and their families.
Laurentian University
In the summers if I was home from university, I attended classes in the evening in courses at Laurentian University that I was interested in. The classrooms were situated over a movie theatre downtown while they were just building the university. The courses were quite different from what I was taking elsewhere. For example, I took a course in industrial relations from Roy Pella, head of Industrial Relations at Falconbridge. He was a well-known athlete because he had represented Canada in the Olympics as a javelin thrower. He was an all-around athlete and had been a football star at Queens.
Laurentian University is a federation of Huntington College—the United Church and Thorneloe College—of the Anglican Church and the University of Sudbury—French Catholic. When I returned to Sudbury many years later in 1971, I was a Huntington College representative on the Board of the Laurentian University. And then I represented the Laurentian University on the Board of the Senate. After a couple of years I resigned from the board because they spoke French at the Senate meetings. I could not keep up, and they would not speak English or provide translation. The Senate had a lot of professors who felt an English speaking person should not be on the Senate.
However, I worked hard with every Premier of the Province and the Ministers of Health to get a medical school in Sudbury because, in my view, it was the only way to get enough doctors in northern Ontario. Once you get them there, they stay because of the lifestyle. I was extremely pleased and gratified to be invited to the first graduating class of the medical school.
Laurentian University has a very dynamic President and Vice-Chancellor—Dominic Giroux. They have approached me to help them raise funds. However, with all my other commitments and running a mine in Mexico I don't have the time. I did arrange to have lunch with Dominic Giroux and introduce him to Ned Goodman. Ned has now funded the Goodman School of Mines at Laurentian University, and is determined to make it as well known as the Colorado School of Mines.
I am sure he will. Ned commented the day the Goodman Family Foundation announced the historic gift to the Laurentian University, "Greater Sudbury has the best orebody and largest concentration of expertise in mining supply, products and services in the world. We want to be associated with the Laurentian University because it's undoubtedly the go-to for university for mineral exploration and mining in Canada."
Executive Director Dick DeStefano is quoted as saying, "I was exceptionally pleased to watch the northern Ontario mining cluster emerge with a clear focus on being a world centre of mining excellence and building on its historical expertise and assets as its foundation. The Goodman School of Mines is another step forward and adds value to the importance of northern Ontario mining activity at all levels." I would like to help Laurentian if and when I get the time. Clearly this region of Ontario is an important asset to the province and to Canada as a whole with respect to the mining industry amongst other considerations.
More on the Mining Industry, Life, and Personalities
As I mentioned, during my stint at university I took a year off school to make some money at Creighton Mine. At the time the mine was about 6,400 feet deep, and I was assigned to work in a bonus stope at the 6,200-foot level. First of all, underground mines are designed with a shaft that goes straight down from surface to the bottom of the mine. They have a container in them called a cage. The cage is pulled up and let down by massive drums located on the surface, and wind up or release these massive cables.
For our first week underground, we were sent to a school stope run by an old miner. The focus was on safety: how to operate the machinery and install mining timbers and wedges. Independent contractors, who are specialists in this type of work, often do the job of installing the shaft. Once this is complete, the next job is to drive drifts to the areas where the mineral is located. In my time, this was about every 200 feet. Some drifts following the ore could be a couple of miles long. Between the drifts were raises every so far. A raise is a vertical or inclined excavation, leading from one level to another and may also extend to the surface.
The raises served several purposes: first, in the event of an accident it could be an escape route. Secondly, it could also be used to drive forced air into the mine, because mines could be quite hot, and lack oxygen, which is required by the men and the machines.
When you arrived underground, you had to place your brass nameplate in the lunchroom. Miners are paid from portal to portal, which refers to the time you get on the cage until you get back to surface, because it could take forty-five minutes just to get to the work face. This regulation was as a result of the great union battle by John L. Lewis and The United Coal Workers in the United States. The union's lawyer was Edward Lamb who spent his summers at Kagawong on Manitoulin Island. Known as the "portal-to portal-case" and won in the Supreme Court in 1946, it held that workers were entitled to receive pay for required necessary duties
when arriving at the workplace. If workers were made to wait by the employer either before or after shifts, then they were required to be paid as well for time spent traveling as they were from time clocked to their workplace.
Edward was a very interesting man; he wound up owning the Seiberling Rubber Company (one of his largest businesses), a TV Station in Erie Pennsylvania, and a TV station in Toledo Ohio, among fifty-five other manufacturing and financial concerns. Joseph McCarthy took on Edward in the hearings that Senator McCarthy was running with his lawyer Cohn. The premise was that Mr. Lamb was a communist, because he had visited Russia a couple of times to try and encourage trade, believing that was the way to beat communism. He subsequently wrote a book No Lamb for Slaughter. It's a great read. I invited him to come to London and speak to the University of Western Ontario Graduate Business School. Needless to say, he was a big hit.
Back to mining: you dressed and worked in long underwear, pants, safety boots, wire goggles, and gloves. It was very hot, especially working at the 6,200-foot level. There were four men in a team and one was the stope boss. We were basically mining above the drifts, and the ore was pulled to a spot to drop into ore cars in the drift. The process was to drill the face with a jackleg drill powered by compressed air and load the holes with dynamite sticks. They were set to go off from the centre out, so the blast
would not freeze. You could get a severe headache from the chemicals in the dynamite sticks. Blasting was done at the end of the shift or at lunchtime.
Next you would go in and scale. That meant seeing if there was any ore or rock that had not fallen down. The scaling bars were about ten feet long, made of steel, and were heavy. The basic idea was to scale down loose ore. You could actually tell by the sound of the ping if it was loose, and then you would pry it down. The next operation was using the slushing machine to haul the muck over to the hole above the ore car. Mining timbers would then be placed over the area we had just mined. Then the cycle started again. It was hard and dangerous work, but paid well.
The day and afternoon shifts were the production shifts, and night shift was for repairs and to haul materials down. In the middle of the winter you would go underground when it was dark, and when you came up it was dark. You enjoyed your days off. One time we came up and it was dark and foggy, and as we were pulling out of the parking lot our driver decided to be smart, so he allowed someone to pass him and we followed behind them, except they went right into a ditch and we followed them. What bothered me the most was getting into my long underwear, because after work I hung it up on a chain about twenty feet in the air where it dried. The next day it felt like pulling on sandpaper. I was not comfortable until I started to sweat.
Many things have changed in mining today. They now use fertilizer and diesel oil for blasting, unless it's very wet. They use big jumbo computerized drills. If the mine is not too deep, they truck the ore up with trucks and scoop trams.
There are a lot of accidents in mining, primarily because people do not follow safety procedures. One thing that I didn't mention is when I arrived home at about 1:00 a.m. from the afternoon shift, I could hear my mother close her door and go to bed. When I worked underground she always worried about whether I would arrive home safely. Around the world there are many mine accidents and deaths. We do not hear of them as they may be in Australia, China, northern Ontario, Africa, or Peru.
We only hear when there are several fatalities or miners are trapped in a mine. The miners not following the safety rules and taking shortcuts causes most mine accidents. Now they have random drug and alcohol tests. I can recall getting on the cage to go underground when some people smelled like a brewery. Today that would mean immediate dismissal.