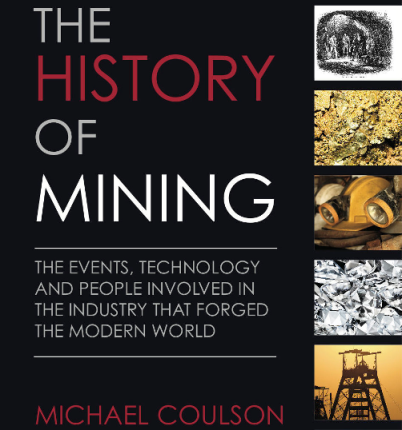 To order a copy of The History of Mining, please click here: http://www.harriman-house.com/products/books/23161/business/Michael-Coulson/The-History-of-Mining/
MINING FILMS
One of the earliest mining themed films was Charlie Chaplin's The Gold Rush made in 1925 and set in the time of the Alaskan gold rush where Chaplin revives his famous Little Tramp role as a gold prospector.
Gold has always had a key role to play in films with mining themes. The classic Treasure of the Sierra Madre directed by John Huston in 1948 and starring Humphrey Bogart and John's father Walter Huston was one of the finest of the genre of prospectors searching for gold to secure them financially for life and falling out with disastrous consequences.
In the following year Glenn Ford and Ida Lupino starred in Lust for Gold, a film about the legendary Lost Dutchman's gold mine in the Superstition Mountains of Arizona. The theme of rumour, search, betrayal and murder common to many gold mining films is particularly to the fore in this film based on possible fact.
Mackenna's Gold made by British director J. Lee Thompson in 1969 with Gregory Peck and Omar Sharif represents the search theme again as a group of neer-do-wells follow the trail to a fabulous store of gold.
In 1974, right in the middle of a boom in gold and South African gold shares, Peter Hunt's adaptation of Wilbur Smith's book Gold Mine, shortened to Gold, starring Roger Moore and Susannah York, was released. Slick and exciting if rather implausible, the film was shot at the West Rand Consolidated mine in a South Africa then in the grip of apartheid. The location made the late Susannah York's participation a curiosity bearing in mind her strong left wing political views.
The gold prospectors versus rapacious landowner theme provided the background story for the 1985 Clint Eastwood film Pale Rider, set at the time of the Californian gold rush, although the slow-burn western was as much a showcase for Eastwood's man with no name gun handling skills as it was a statement on mineowner and prospector disputes.
Coming up-to-date, in 2009 the James Cameron animated 3D film Avatar was released, with its story of a dastardly mining company from Earth attempting to damage the pristine forest of the distant planet Pandora for the mineral, Unobtanium. This ruthlessness is often a trait of business related films, and oil, like mining, has often been portrayed as a despoiler of the environment.
But miners have not always been tagged as bad, as the depiction of happy little diamond miners in Snow White and the Seven Dwarfs (made in 1937) attests.
Labour problems have provided many plotlines for mining films, often associated with coal mining which historically is one of the most volatile parts of the mining industry. Matewan – released in 1987 and directed by John Sayles with Chris Cooper and James Earl Jones in lead roles – recounted the true story of the 1920 coal miners' strike in West Virginia where unions fought for recognition and also struggled to bring together the mine's Italian and black workforce whilst simultaneously combating violence from the owner.
Another strike movie was Herbert Biberman's Salt of the Earth, a cult American film made in 1954 by blacklisted Hollywood filmmakers and based on the 1951 New Jersey Zinc strike in New Mexico.
The theme of environmental despoiling and tough pre-union coal mining is portrayed in the John Ford film How Green was my Valley, set in Victorian Wales as the arrival of the coalmines begins to radically change the pastoral way of life. The picture, which starred Walter Pidgeon and Maureen O'Hara, is one of the greatest mining-related films ever made and won five Oscars in 1942.
Mining has always struggled to earn a good press and in the world of arts and media it is often seen as an environmental menace, allied with a thoroughly dubious morality, as exemplified by the 2006 Leonardo DiCaprio film Blood Diamond, which is concerned with the traffic of conflict diamonds from West Africa. Another example of the greed theme is the 1978 film of Paul Erdman's novel Silver Bears starring Michael Caine.
In an historical context mining entrepreneurs of controversial reputation such as Cecil Rhodes were obvious subjects for film makers from Rhodes of Africa starring Walter Huston in a sympathetic reading of Rhodes life in 1936, to the somewhat more recent and hostile BBC series Rhodes, with Martin Shaw, made in 1996.
More often than not minerals are shown as stimulating greed and giving power to men who cannot but abuse that power in their pursuit of wealth. This can make for exciting film making but these themes hardly improve the industry's image or reputation. On the other hand it is unlikely in the modern world of green issues that mining will be seen as anything other than an unwelcome necessity.
The hagiography of past mining entrepreneurs is, therefore, unlikely to be a feature of future output on mining from the broad world of arts and culture. If mining companies want a basically favourable review of their history then they will probably find that they will have to commission the book or film themselves. One example of this is Gold Fields: A Centenary Portrait published for Consolidated Gold Fields by Weidenfeld & Nicholson in 1987 and written by Paul Johnson, an interesting choice given his left wing past.
CONCLUSION
A professional mining press began to emerge in the second half of the 19th century in response to the growth in the mining industry and the observed need for information on what was going on, at a time when new mines were being developed to feed the appetite of industrialisation and when exploration, particularly for gold, was accelerating. There were three key areas that publishers identified as needing coverage: exploration, production and allied issues such as financial results; technical aspects; and the pricing of metals.
The latter presented early editors with problems, especially as many suppliers of metals were not always keen on having prices publicly displayed where customers could make reliable comparisons, and could put pressure on the owners who sought advertising revenue. The technical advances made by the mining industry and the design and manufacture of the machinery and equipment required created a keen demand for technical articles. But perhaps the strongest demand was for news of operating, exploration and financial activities as the shareholder base of mining companies widened. It is important to remember that until the 1960s capital and securities markets, in the Anglo Saxon world in particular, were dominated by private investors, and information on what were often speculative investments was much sought after.
The mining press also had an important role to play in encouraging the industry to pay attention to issues of safety, the coal mining industries of the US and the UK being particularly accident prone in the past. As to whether the mining industry appreciated having an increasingly professional specialist press keeping an eye on it is a moot point, especially in the 19th and earlier 20th centuries when mining fortunes could be made by stretching the truth, and when to that end inside knowledge was often critical. We also should not forget the long periods when economic cycles and fashion move against the mining industry – the period from the Korean War until the mid-1960s and then the longer period of the 1980s and the 1990s are two examples when interest in mining was low and mining publications had to fight for their lives and many had to close or merge.
It has to be said that publishing specialist journals on mining is not a guaranteed route to great wealth despite the fact that subscriptions are usually not particularly cheap, certainly today. Even so, the industry has generated huge quantities of news, articles and even entertainment over the years. It does, however, face a challenge from the rise of online information suppliers and in particular specialist mining sites where staffing costs can be kept low. The face of mining media has changed over the years, sometimes as a result of regulatory changes, sometimes as a result of needed economies, and this trend is certain to continue. What is also certain is that without a vigorous and honest media the industry will suffer, as doubts about the industry's ethics undermine investment confidence.