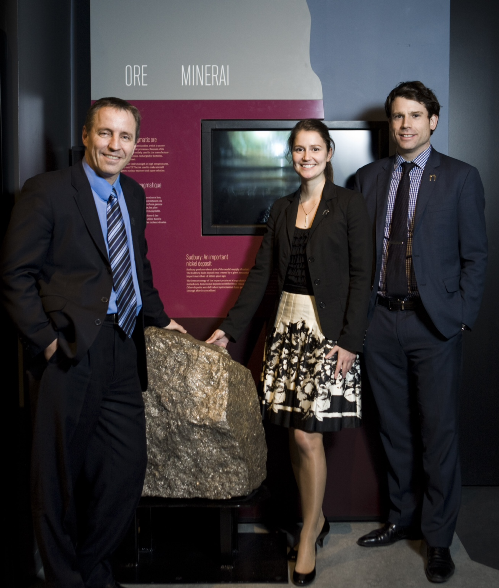 Ottawa, November 28, 2012─Canada's mineral treasures and the geological forces that shape the country are featured in a renewed and expanded gallery opening November 30 at the Canadian Museum of Nature.
The Vale Earth Gallery presents a fascinating journey through geological time that relates how the Earth formed, how powerful forces have changed and shaped our planet, and how geology and mineralogy connect with everyday life. The new attraction is the result of two years of planning and three months of renovations to a smaller phase of the Vale Earth Gallery that had opened in 2010.
"This new gallery returns the museum's best geological and mineral specimens to permanent display in an expanded setting that includes new content and engaging interactives," says Meg Beckel, President and CEO of the Canadian Museum of Nature. "We are extremely grateful for Vale's support that has allowed us to complete this project that will inspire and connect visitors with our collections and the mineralogy research of our scientists."
Instructive panels, interactive games and simulations explore the complexities of geology and the three main types of rock that make up the planet—sedimentary, magmatic and metamorphic. Visitors will learn that the Earth is made of rock, rock is made of minerals, and minerals are made of elements. The science of plate tectonics is explored, as well as the rock cycle and how minerals form.
The Vale Earth Gallery's showstoppers include 14 oversize mineral specimens (weighing from 45 to 225 kg!) that share space with approximately 1,000 superlative mineral, rock and gem specimens (most from the museum's national collections). Meteorites, diamonds, gold and minerals of many shapes and colours reveal the beauty and diversity that result from the earth's geological processes.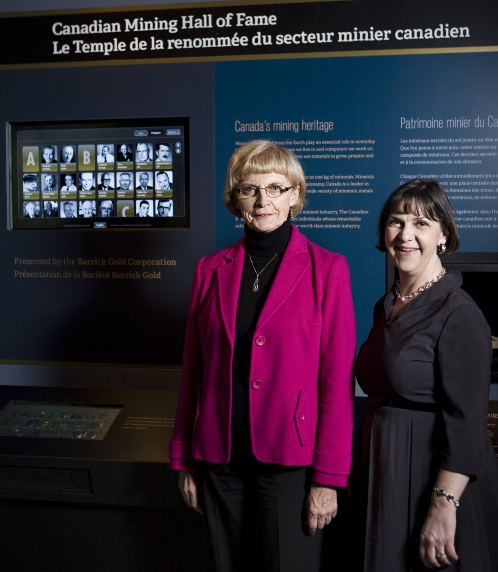 "Vale is thrilled to be the title sponsor of the Canadian Museum of Nature's Earth Gallery," stated Peter Poppinga, Chief Executive Officer of Vale Canada Limited. "We are very proud to partner with one of Canada's leading cultural champions to educate visitors about all facets of the earth's resources. Everyday, as we work to transform these resources into prosperity and sustainable development; we are fortunate to see the earth's magnificence in all its splendor. We were inspired by the opportunity to share this magnificence with all Canadians."
There's much to experience in the gallery: build a volcano, cause an earthquake, explore a limestone cave with a dripping waterfall, observe animations that explain how rocks and minerals form, manipulate a two-metre globe, and make different kinds of rock by simulating geological forces. There's even a piece of Saskatchewan on display—a replica of a sedimentary rock face with embedded fossils from around 65 million years ago.
Special sections include the Mineral Lab, which explores the properties of minerals, displays unique minerals from Canadian mine sites and presents videos of the museum's research staff at work in the lab and in the field.
Another feature in the gallery is the addition of the Canadian Mining Hall of Fame, an interactive display that presents 153 biographies of Canada's mining and geology pioneers. The new feature was brought to the museum through the generous support of the Canadian Mining Hall of Fame and Barrick Gold Corporation. The Mining Association of Canada supported the development of a section called Earth's Precious Resources. A multimedia presentation highlights society's reliance upon products containing mined resources and evokes though on what this may mean for our world.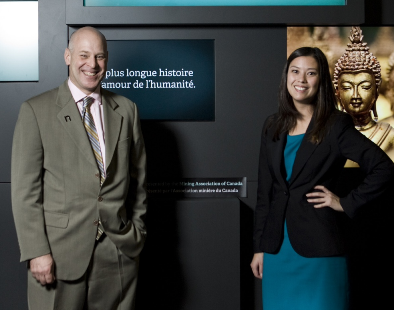 Entry to the Vale Earth Gallery is included with regular museum admission. The Canadian Museum of Nature is located at 240 McLeod Street, Ottawa. Until May 1, the museum is open Tuesday to Sunday from 9 a.m. to 5 p.m., as well as extended hours on Thursday until 8 p.m. (Also open Mondays during holiday periods). For full details, including fees and hours, visit nature.ca. Follow the Museum on Twitter (@museumofnature) or become a fan on Facebook.
About the Canadian Museum of Nature:
The Canadian Museum of Nature is Canada's national museum of natural history and natural sciences. It promotes awareness of Canada's natural heritage through signature and travelling exhibitions, public education programmes, ongoing scientific research, a dynamic website and the maintenance of a 10.5 million-specimen collection. Among the museum's scientific staff are mineralogists that pursue fundamental research into the origins, identification and classification of minerals. A founding member of the Alliance of Natural History Museums of Canada, the museum is working with partners to expand its national service and presence.
About Vale:
Vale Canada Limited is one of Canada's largest mining companies, with operations in Sudbury and Port Colborne, Ontario; Thompson, Manitoba and Voisey's Bay and Long Harbour, Newfoundland and Labrador. Vale's Base Metals unit, with its headquarters in Toronto, is the world's second largest nickel producer and a leading producer of copper, platinum group metals and cobalt. In Canada, Vale has a community investment program that has helped fuel local and national initiatives, impacting the lives of thousands of Canadians. Vale Canada Limited is part of Vale (NYSE: VALE), the world's largest producer of iron ore and pellets. Vale is also a leading producer of manganese, ferroalloys, thermal and coking coal, and fertilizer nutrients. Present in 38 countries, Vale employs around 134,000 people. For further information, please visit www.vale.com.