The following is from the National Film Board of Canada Press Kit
THE FILM
"Don't know much about mines? Not many people do. Mines don't talk. Especially about their history." Richard Desjardins and Robert Monderie explore this history in their latest documentary, The Hole Story. Produced by the National Film Board of Canada, the film continues in the same provocative vein as their earlier Forest Alert.
The history of mining in Canada is the story of astronomical profits made with utter disregard for the environment and human health. It's also a corrupt and sometimes sinister story. For example, during the First World War, nickel from Sudbury was sold to the German army to make the bullets that ended up killing soldiers from Sudbury in the Battle of Vimy Ridge. In Cobalt, a town in Ontario that once had no garbage collection, people were dying of typhoid.
Meanwhile, the first Canadian mining magnates were growing filthy rich selling silver to England from the 40 mines surrounding the town.
Timmins has its own shameful mining story. In the woods,50 kilometres west of the railroad, prospectors quickly staked their claims before heading to the government office to register their hectares and take ownership of the subsoil.
Because of the gold there, each claim made for a few cents was resold for a few thousand dollars to mine owners in Cobalt. Timmins was brimming with gold. In fact, seven times more of the precious metal was dug up there than in the entire history of the Klondike, an amount that would be worth $100 billion today. It was a rich, prosperous time.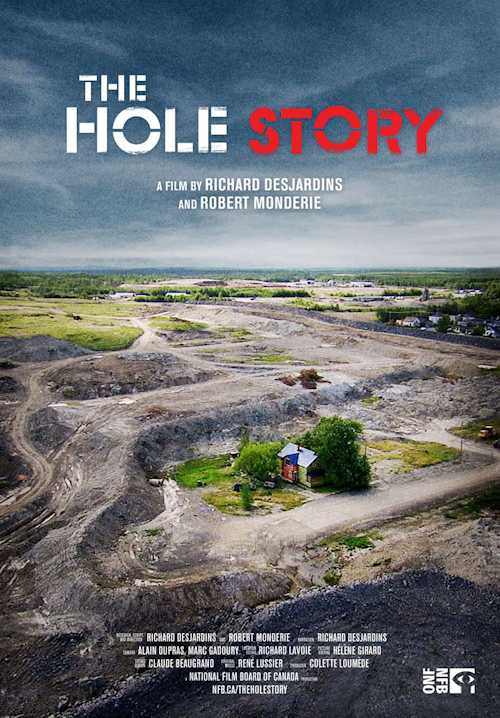 Nevertheless, in 1912, Hollinger Mines cut miners' wages, a move soon followed by the 12 surrounding mines. As a result, 5,000 workers went on strike. Armed thugs fired at demonstrators. To stop scabs from taking their jobs, the miners blocked the railroad, which also prevented food from arriving. By the end of the winter, the starving miners had gone back to work.
Lax regulations made Quebec an easy place to operate a mine back in 1926 when companies were preparing to extract a large copper deposit from the Rouyn region. Through amendments to the Mining Act, Noranda Mines controlled Rouyn's subsoil, soil and sky. The company had no problems with the law because it was the law.
With the Second World War came unions and better working conditions. But miners' health and a mining company's responsibility to the community were questions that remained unresolved. After a century of mining operations, problem sites are still releasing their acid and cocktail of heavy metals into our water supply, polluting our streams, lakes and even rivers like the Ottawa River and St. Lawrence River. This is how arsenic from Abitibi gold mines ends up in Montreal.
Lax regulations also mean that foreign companies can take control of Canada's major mining companies. The sale of unprocessed ore is an issue that is back in the spotlight. With globalization, miners' working conditions are deteriorating. If miners complain too much, companies threaten to pick up and leave. But where will they go since they can't take deposits with them?
The Hole Story underlines the need to fight for change at a time when Jean Charest is pushing his Plan Nord and parts of the town of Malartic are being expropriated for an open-pit mine. We must amend archaic laws that make mining claims unassailable and that allow environmental vandalism. We must take back the subsoil.
Using striking images, rare archival footage, interviews and their trademark humorous social commentary, Desjardins and Monderie expose the history of Canadian mining with clarity and conviction,heightening our awareness of this issue through their courageous stance. The Hole Story is a film that sounds the alarm about mining. In a country rich in mineral resources, mining companies have historically paid little tax, while local municipalities bear the financial burden of building and maintaining the roads they use to
truck their wealth out to other countries. Some films are essential viewing—The Hole Story is one of them!
THE FILMMAKERS RICHARD DESJARDINS AND ROBERT MONDERIE
They were both born in 1948, Robert Monderie in Rouyn and Richard Desjardins in Noranda. Back then, the two cities hadn't yet merged and neither had the professional paths of the two friends,who met in 1963 at the college in Rouyn. In the early 1970s, they became filmmaking partners even though they both already had careers, Monderie as a photographer and Desjardins as a singersongwriter.
Robert Monderie was the first to become passionate about filmmaking. After opening a photography studio in the late 1960s, he served as second assistant to Gilles Carle for the shooting of the film Les corps célestes in Abitibi in 1973. The experience affected him so much that he founded a production company, Abbittibbi Blue Print, with help from Daniel Corvec. Richard Desjardins was also a co-founder, though he was often on the move during this period.
Desjardins had a busy life. He wrote ads for radio, played piano in movie theatres in Rouyn, travelled throughout Latin America and self-published his poetry. He was working at a James Bay construction site when Monderie contacted him to suggest they make a film marking the 50th anniversary of the municipality of Rouyn.
The film they made, A Raging Disaster (1977), is a hard-hitting piece. It evokes the painful beginnings of the colonization of Abitibi, denounces the stranglehold that big companies had on local development and examines environmental problems in the region. Robert Monderie had never forgotten a lecture by his college chemistry professor on the deadly effects of mine waste released into the atmosphere by the smokestacks of the company Noranda. Environmental concerns would become a leitmotif for the budding filmmaker.
A few years after this powerful debut, the two friends came out with Firefly (1983), a portrait of an immensely gifted guitarist named Ken Wallingford, a Métis who, after his release from jail, played in hotels throughout Abitibi. Richard Desjardins took on a smaller role as a researcher and composer for the film Noranda (1984), which Monderie co-directed with Daniel Corvec. In the same vein as A Raging Disaster, this new documentary focused on the ravages of pollution caused by big companies in the city of Noranda in Abitibi.
Although Desjardins left the director's chair for over a decade, he remained active in cinema. He composed music for such films as La nuit avec Hortense by Jean Chabot (1988) and À double tour by Marie Cadieux (1994). He also acted in Pierre Falardeau's Le party (1990), playing a prisoner who sings to one of his guards. After his surprising triumph at the Festival d'été de Québec in 1990, the former leader of the 1980s group Abbittibbi saw his career as a singer-songwriter take off. He set off on several tours of Quebec and Europe and launched many successful albums (Tu m'aimes-tu?, Les derniers humains, Boum Boum, Kanasuta, L'existoire).
The career paths of Desjardins and Monderie crossed again in the late 1990s after the singer's father mentioned that a forest company's activities were encroaching on the woods behind the family cottage. When the filmmakers discovered the ravages caused by clear-cutting, they couldn't stand idle. Their research into practices by forest companies spawned the documentary Forest Alert (1999). Not only did the film pick up many awards, including a Jutra for best documentary, it also triggered a passionate debate on how Quebec's natural resources are managed. Beyond the popular acclaim, the two men are proud of having compelled the Quebec government to set up a commission to examine the condition of Quebec forests. Its recommendations are contained in the Coulombe Report, published in 2004.
After forestry, Robert Monderie decided to investigate an equally urgent matter: how fresh water is managed in Quebec at a time when multinationals have their eyes on our "blue gold." He presented his damning findings in a remarkable film, La loi de l'eau (2001).
Eight years later, the two friends from Abitibi roused us from our indifference to the suffering of the Algonquin people with the film The Invisible Nation, which earned them a second Jutra for best documentary.
In 2011, with their film The Hole Story, Desjardins and Monderie are focusing again on the mining industry, a topic addressed in both A Raging Disaster and Noranda, although this time they take a Canada-wide look at the issue.