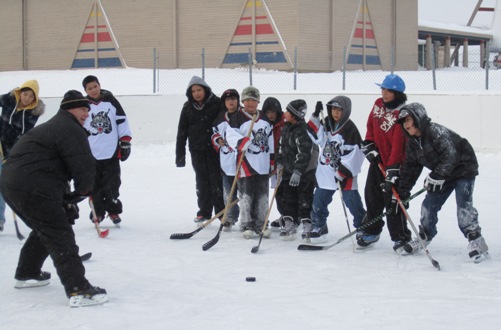 This article was provided by the
Ontario Mining Association
(OMA), an organization that was established in 1920 to represent the mining industry of the province.
For an extensive list of articles on this mineral discovery, please go to: Ontario's Ring of Fire Mineral Discovery
Ontario Mining Association member Noront Resources employed a little magic to fly in Santa bearing gifts and two former National Hockey League stars to Webequie last week.  Webequie, which has no year round road connections and a population of 800, is located 540 kilometres north of Thunder Bay.
"This is the second year for the Noront Christmas Cheer Event in which every child in the community under the age of 12 receives a gift," said Leanne Hall, Vice President Human Resources and "special assistant" to Noront's Santa.  "We started in 2009 giving gifts to children instead of sending cards to help make the children feel special and this year we provided 200 gifts in Webequie."
It is estimated that $155 million have been invested in mineral exploration in
the Ring of Fire area. In Canada, mining is the largest private sector employer
of Aboriginals, who comprise 7.5% of the mining workforce — up from 3.6% in 2006.
– Ontario Mining Association – December 22, 2010
Former NHL players Todd Harvey and Todd Hlushko came with Santa on the flight from Thunder Bay.  They spoke with students and stressed the "stay in school and believe in yourself" message, signed autographs and showed evidence of their sporting success.  Mr. Harvey, who was born in Hamilton, won gold medals in 1994 and 1995 at the World Junior Hockey championships and Mr. Hlushko, who was born in Guelph, won the Olympic silver medal in hockey in 1994.  As well as playing for different NHL teams, Mr. Hlushko played for a number of years for teams in Germany.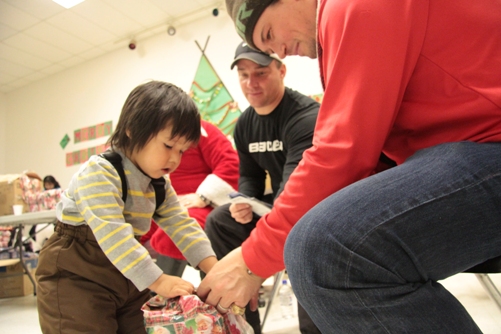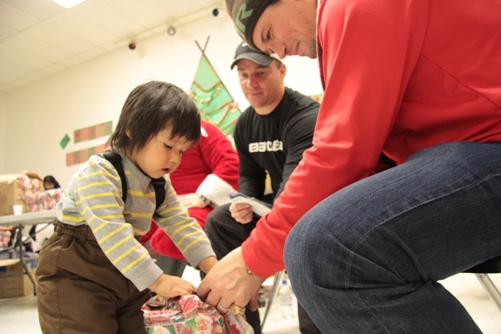 "I had never visited a community like Webequie before," said Mr. Harvey.  "It was an outdoor rink and we had to shovel off the snow before skating.  It was old school, like pond hockey, and through the day we probably had a couple of hundred kids on the ice.  We ran clinics concentrating on skating, stick handling and shooting and also had a community skate."
"The kids were a bit shy in the beginning but at the end of the day, they didn't want us to leave and I told them I would go back up in the summer," said Mr. Harvey.  "It was a great experience and I think Noront is going about things in the right way in working to build relationships with the community."
"It was special to have these hockey stars donate their time to come to this community and hockey provides a common link with other Canadian communities," said Ms Hall.  "It is introducing culture to culture and we are trying to make a positive difference.  The rink is a cultural and social centre of the community and this time of year we wanted to create a memorable day."
Noront also took its Christmas Cheer caravan a little further south to Marten Falls, population 300, where Santa distributed another 200 gifts.  The company made an extra effort in distributing gifts to members of these First Nations who are living off the reserve.
Mr. Harvey and Mr. Hlushko are the president and general manager, respectively, of Hockey Loft, a skill development facility in Cambridge, Ontario.
Noront Resources is an exploration and development company with an estimated 12,000 square kilometre land position in the Ring of Fire area in Northern Ontario.  The company has identified significant resources of nickel, copper, platinum and palladium and chromite on its properties.  Noront has signed agreements with the Webequie First Nation and the Marten Falls First Nation, which is located 170 kilometres north of Nakina.
Miners and mining companies are responsible, solution-providing partners in society.  They do more than find, extract and process minerals essential to our modern lifestyle.  These companies are economic enterprises operated by men and women who are members of society and community builders.  As volunteers and donors, they add great value to the quality of life in their communities and beyond.