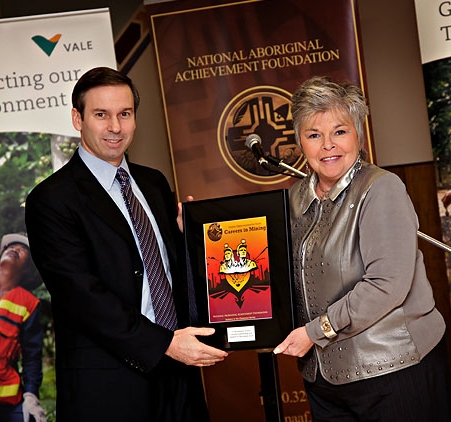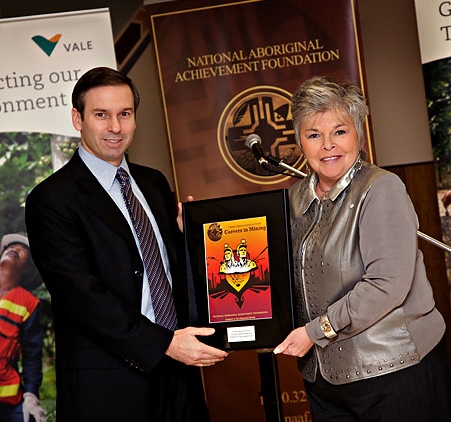 November 12, 2010 – Sudbury — The National Aboriginal Achievement Foundation (NAAF), in partnership with Vale, launched a mining education curriculum module designed to inspire Aboriginal students to pursue careers in the mining industry. The launch event took place today at the N'Swakamok Native Alternative School at the Sudbury Friendship Centre.
As part of the launch, Vale announced a $525,000 contribution to NAAF to support the ongoing evolution of the program. The funds will support the research, development, design, DVD production and initial distribution of the module.
The innovative curriculum includes informative, relevant material that is being made accessible to high school teachers seeking to inspire students about possible career options in the mining sector.
"The Foundation's partnership with Vale is invaluable. Together we are providing Aboriginal high school students with a unique opportunity to see what their future could be if they decide to pursue a career in the mining industry," said Roberta Jamieson, President and CEO of the National Aboriginal Achievement Foundation. "By showcasing fantastic role models and providing key information, our youth are being inspired to recognize their full potential. Thank you Vale for your vision and commitment!"
"Vale is pleased to partner with the NAAF on this important initiative to attract aboriginal youth to a career in mining," said John Pollesel, Chief Operating Officer of Vale Canada and Director for Base Metals Operations, North Atlantic Region. "We hope our contribution allows many high school aboriginal students to learn about all that our industry has to offer and that it inspires them to achieve their full potential through a rewarding career in our industry."
NAAF joins with industry partners, like Vale, to present career options in specific growth sectors, through a series of short documentaries and supporting curricula, with the aim of engaging and recruiting Aboriginal youth and assisting them to obtain rewarding and productive careers through education.
Other modules include Television, Radio Broadcasting, Health, Railway, Transportation, Justice and Environmental Health Officer. Some modules are produced in French and Inuktitut.
 For more information, please contact: 
Jamie Monastyrski
Director of Communications & Media
National Aboriginal Achievement Foundation
cell: 416-903-4331
416-926-0775 ext: 238
jmonastyrski@naaf.ca
Angie Robson
Manager, Corporate Affairs
Ontario Operations
Vale
705-682-5202
angie.robson@vale.com
 
The National Aboriginal Achievement Foundation (NAAF) is a charitable organization dedicated to raising funds to deliver programs that provide the tools necessary for Aboriginal peoples, especially youth to achieve their potential. To date the Foundation through its Education Program has awarded more than $37-million in scholarships and bursaries to more than 9,800 First Nations, Inuit and Métis students nationwide. NAAF's key initiatives include: The National Aboriginal Achievement Awards (NAAA) a national annual broadcast celebrating 14 achievers in a multitude of career areas including a special youth award and an award for lifetime achievement; Taking Pulse joins NAAF with industry to present career options in specific growth sectors through a series of short documentaries and supporting curriculum materials with the aim of recruiting First Nations, Inuit & Métis youth; and Blueprint for the Future (BFF) a series of one-day career fairs that motivate and inspire  First Nations, Inuit and Métis high school students with valuable resources and information on career opportunities. Over 33,000 students have attended these exciting youth oriented events to date nationwide.
Vale is the world's second largest diversified mining company based on market capitalization. Present in over 30 countries, Vale is the world's largest producer of iron ore and pellets, key raw materials for the steel industry, and one of the largest producers of nickel, which is used to produce stainless steel, batteries, special alloys, chemicals and other products. The company also produces copper, manganese, ferroalloys, potash, bauxite, alumina, aluminum and coal, among other raw materials important to the global industrial sector and present in people's daily lives.