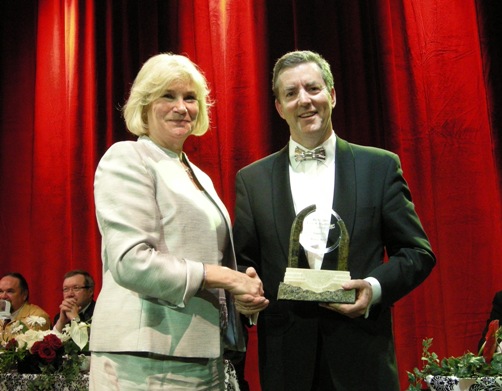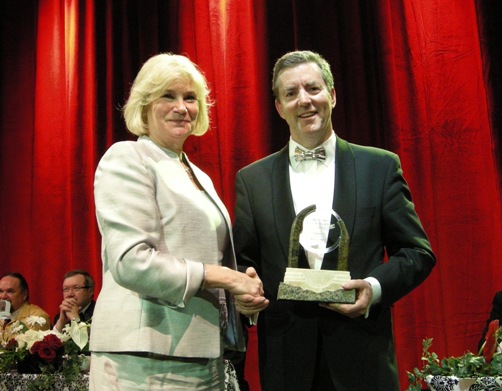 The PDAC Viola R. MacMillan is named after the PDAC's longest serving president. It honours a person who has demonstrated leadership in management and financing for the exploration and development of mineral resources.
Ross J. Beaty is honoured for successfully founding and operating nine resource companies, including Equinox Resources, Pan American Silver Corp., Northern Peru Copper Corp., Global Copper Corp., and Magma Energy Corp.
Beaty, who is foremost a geologist, says his ilk may be the only profession "paid to fail." Of course, there are exceptions.
Since 1994, Beaty has raised more that $1 billion in capital and created shareholder wealth in excess of $4 billion.
Beaty, with a master's degree in geology and a law degree, launched an empire in 1980 with the eponymous Beaty Geological, a contract geological services company that was later bought for shares in Beaty's first public company, Equinox Resources. Equinox's initial public offering, in 1985, netted $110,000.
Equinox acquired two gold mines – Buckhorn in Nevada, and American Girl in California – and found the promising Rosebud gold-silver property in Nevada, which would eventually be mined. Hecla paid $110 million for Equinox in 1994.
Many would have rested there but not Beaty.
That same year, he leveraged his experience with Equinox to found two more companies, Da Capo Resources (meaning "from the beginning") and Pan American Silver Corp.
Two years later, Denver, Colorado – based Granges acquired Da Capo and its Bolivian gold properties for $57 million to form Vista Gold Corp.
Beaty remained Pan American's helmsman, steering the junior toward undervalued silver properties with significant reserves in South America. The first such property was Peru's Quiruvilca silver mine.
In 2007, Pan American Silver achieved its initial goal of becoming the world's largest primary silver producer, only to be succeeded the following year by Fresnillo, a pure silver spinoff of Mexico's Industrias Penoles.
Pan American still operates Quiruvilca as well as seven other mines in Mexico, Peru, Bolivia and Argentina. In 2009, the company unveiled further plans for Argentina when it acquired Aquiline Resources and the mammoth Navidad silver deposit in Chubut province.
Pan American Silver produced almost 21 million ounces of silver in 2009. At the end of January 2010, the company boasted a market capitalization of $2.5 billion.
When Beaty wasn't transforming silver into gold he was turning copper plays into takeover targets.
He formed Lumina Copper in 2003 and acquired for less than $15 million ten promising undeveloped copper projects in Chile, Canada, Peru and Argentina. The red metal was under a dollar per pound and Beaty suspected it would rise.
About a year later, after spending $65 million developing the projects, Lumina divided the properties into four regions and placed them in Regalito Copper, Lumina Resources, Northern Peru Copper, and Global Copper.
Regalito was sold in May 2006 to Japanese firm Pan Pacific Copper Co. Ltd. for $137 million; Lumina Resources, which held the company's Canadian assets, was sold to Western Copper Corp. in September 2006 for $28 million; Northern Peru Copper, formed to develop the Galeno copper-gold-molybdenum project near Cajamarca, Peru, was sold to China Minmetals in January 2008 for $425 million.
Global Copper harvested the best return – an impressive $450 million from Teck Resources Ltd. Global held the prized Relincho copper-molybdenum project in Chile, and the Taca Taca copper-gold-molybdenum and Sam Jorge copper-gold projects in Argentina.
In total the four spinoffs netted $1.04 billion.
Beaty's Lumina brand extends to Lumina Capital, which buys interests in promising junior exploration companies. Beaty is Lumina's largest shareholder.
With the world going "green," Beaty founded Magma Energy Corp., a geothermal energy producer and developer, in January 2008.
Magma, which had a market capitalization in late January of $400 million, has raised $184 million and owns interests in the Soda Lake geothermal plant in Nevada and two large operating plants in Iceland. Magma's property portfolio contains 23 geothermal exploration properties, many of which are based in the U.S.
Beaty says he is a "closet environmentalist" who wanted to launch a company that would outlive him. Perhaps, but his legacy will live on in other ways too.
Beaty founded the Beaty Biodiversity Centre and Beaty Biodiversity Museum at the University of British Columbia. The museum is set to open its doors in 2010.
And when the University of British Columbia needed a new geology building, Beaty ran a campaign to raise $75 million and was its lead donor.
Many geologists may fail; Ross Beaty is clearly an exception.