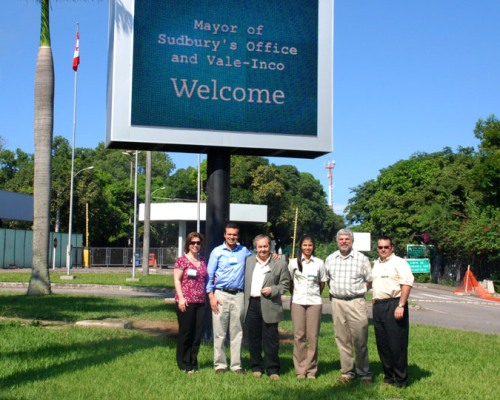 Madame Chairperson, fellow Councillors, Ladies and Gentlemen.
 
I want to thank you all for coming this afternoon and I want to thank the Chamber for giving me the opportunity to speak to you today.  I want to also express my appreciation to George Revie and his team at Persona Communications, who are here today to tape this event for broadcast this Thursday evening.  As you know, Persona also broadcasts City Council meetings, and their efforts make it easier for citizens to understand our city and how it operates.
 
As I stand here today, I am mindful of the fact that I am blessed to be Mayor of this wonderful city, and doubly blessed to be Mayor at such an exciting time in the history of our community, our country, and our world.
  
Ten days ago, we celebrated a birthday to mark the 125th Anniversary of the founding of the community we now know as Greater Sudbury.  It was a tremendous event!
I reflected that day upon how far we have come as a community and what a debt we owe to our forbearers.  In our community's history, thirty-three men – and one woman – have served as Mayor of Sudbury or Greater Sudbury, and many, many more have served as mayor or reeve of our constituent municipalities.  
Our 125 year relationship with this land is but a blip in the history of our aboriginal cousins.  It is important that we acknowledge the strong relationships we have with our aboriginal community and the strong ties we all share with the land we live on.  Aboriginal peoples are the fastest growing segment of our community and it is fitting that one of the signature events in this anniversary year was the first ever Northern Aboriginal Festival.  I congratulate the organizers and our partners at Laurentian University and Cambrian College.
Now, as we mark this anniversary year with a series of celebrations, we note the confluence of many factors that demonstrate a revival of our city's spirit, a rebirth if you will, and a taking of our rightful place as Northern Ontario's Leading City and a significant Canadian city.
Last September, we made the cover of Canadian Business magazine as the 13th best place to do business in Canada, ahead of Barrie, London, Calgary and 23 other municipalities across the country.  This ranking – based on our strong economy and reasonable costs for business operations and associated travel – brought national attention to the great things happening here in Greater Sudbury.  Our numbers continue to be strong.  At 5.7%, our rate of unemployment remains below the national average of 6.1% and almost a full percentage point below the provincial average.
Building activity in Greater Sudbury continues to surge and the value of construction permits issued to the end of May totals more than 52 million dollars.  We are on track to have 760 new homes built in 2008, a 20 percent increase over last year and the highest number since 1992.  Significantly, for the first time in many years, we are seeing activity in multiple unit buildings with 174 units projected to be built this year.
Activity in the Industrial, Commercial and Institutional sector is also very strong, and the total value of permits matches the residential sector at 52 million dollars.  Significant projects here include a six-storey office tower on Paris Street, a 195,000 square foot Walmart in the south end and an eight million dollar office and dry complex at Xstrata's Nickel Rim site. 
Recently, I met with representatives of the development community to discuss these changes and address their concerns.  Following this construction season, we will meet again to evaluate our performance and determine if additional changes are required.  The city is committed to ensuring that we provide the services people need in a timely and efficient manner.
Affordability remains a key question for residential development, especially as our vacancy rate dips below one percent.  Housing is also an important element for attracting talent and future economic development.  The Greater Sudbury Development Corporation has been working with local developers and has examined models in other communities.  A promising proposal that will bring new options for home ownership is now being considered and I hope we will be able to announce details later this summer.
The Sudbury Basin is arguably the most valuable geologic structure in the world.  John Lill, CEO of FNX, recently estimated that at today's prices, the value of ores already mined combined with proven reserves total more than One Trillion Dollars.  As they have for most of our history, mining, mineral processing and mining supply and services remain the cornerstones of the Greater Sudbury economy and important keys to our future.    We are truly one of a handful of global mining centres and the only one that offers a fully urban environment right at the mine site.
Over the past year, in conjunction with the Greater Sudbury Development Corporation, I have worked to better understand these sectors, to meet with key individuals within them, and to determine how we can best assist individual companies to sustain and strengthen their success.  Our goal is to help to ensure that this industry remains strong and vital for our next 125 years.
Earlier this spring, I attended the Prospectors and Developers Conference in Toronto and traveled to Santiago, Chile to attend Expomin, South America's largest mining trade fair.
The purchases of Inco by CVRD, now Vale, of Brazil, and of Falconbridge by Xstrata of Switzerland, have thrust our city into the heart of the globalized mining and mineral processing industry. No longer are the head offices and boardrooms of our largest employers in Toronto or even New York.  The centres of power for these companies are now in Rio de Janeiro, in London and in Zug, Switzerland.  Despite this distance, Mike Romaniuk and Fred Stanford have done admirable jobs in representing their respective companies within this community.  Even better, the companies themselves have demonstrated the financial depth of globalized corporations by investing aggressively in their Sudbury operations.  Vale Inco's Coleman 170, Copper Cliff Deep and Totten Mine investments will ensure that the company will be active here for many, many years.  Xstrata Nickel is also extremely busy and about to bring its Nickel Rim Project on stream.
At the invitation of Vale Inco CEO, Murilo Ferreira, I visited the Vale Corporate Offices in Rio to meet with their senior management.  I conveyed our city's interest in being at the forefront of Vale's considerations and we explored ways in which we might work together to improve opportunities for the future.  We talked about recruitment, one of Vale's biggest challenges.   Worldwide, Vale will need 62,000 new people in the next five to ten years.  We agreed that the city could assist by developing information on our outstanding lifestyle and presenting it in a way that would assist the company recruiters.  During our meeting, I extended an invitation to host the Vale Group Board of Directors here in Greater Sudbury so that these decision-makers might see what they now own and understand the vitality of this city and the role that we can play within their company.  I am pleased to report that Vale President and CEO, Roger Agnelli, recently wrote to me to confirm his interest in holding a corporate board meeting here.
I don't want to leave the subject of Vale Inco and Xstrata without acknowledging the enormous contributions each of these companies make to community projects.   The Vale Inco Living with Lakes Centre will stand as testament to the company's interest in lake water quality and rehabilitation.  Similarly, Xstrata's contribution to the Northern Aquatics Centre was critical to ensuring that this exciting project will proceed.  There are many more examples, large and small, across Greater Sudbury but let me sum it all up with two words.  THANK YOU.
At a municipal level, of course, we continue to face significant challenges as we provide services across this enormous city.  We have tackled services such as snowplowing and, working with both our workers and managers, we made reductions to control spending. The public has largely accepted these changes and we hope that they will continue to play a positive role by pointing out where improvement is still required.
In the near future, I hope that we will be able to announce the hiring of a new municipal Auditor General for the City of Greater Sudbury.  This position has been created to assist Council by taking an in depth look at our operations and ensuring that we are receiving value for money.  This position will also assist us to realign resources and streamline processes to maximize our efficiency.
Earlier this year, the Federation of Canadian Municipalities released the results of a survey that showed a strong majority of Canadians believe that municipalities are not getting the funding they need, that increasing property taxes is not the answer and that the Federal government must help pay for local infrastructure. 
Every day, we hear that Mayors like David Miller and Hazel McCallion are having difficulty in assessment rich cities like Toronto and Mississauga. If they are having difficulty in making ends meet, imagine the challenges we face here in Greater Sudbury.  In terms of land area, our city is the largest in Ontario, the second largest in Canada and the fourth largest in North America. We are as large as the State of Rhode Island and two thirds the size of PEI. 
As you can see on the map behind me, the cities of Mississauga, Toronto and twelve other GTA municipalities would easily fit within our boundaries.  Our population density is just 49 people per square kilometer while Toronto has eighty times that number at almost 4,000 per square kilometer. Our population centres are also spread across this vast, rugged geography, resulting in the need for many separate sewer and water systems, more than 3,600 kilometers of municipal roads, 13 libraries and more than 400 parks, playing fields and public playgrounds.
One stark example will further illustrate our situation.  The City of Toronto, with a population of 2.5 million and a geography that encourages everything, and I mean everything, to flow downhill to the lake, has but one sewage lift station.  Greater Sudbury, with a population of 160,000, has 75 lift stations, with the average costing a million dollars to install or replace and tens of thousands to operate each year.
If you look again at the map of Greater Sudbury, you can easily see that successive provincial governments have simply drawn our municipal boundary to encircle the disparate communities that grew up around the mine sites in this area.  In some ways this makes a great deal of sense and we, as citizens of Greater Sudbury, can take pride in our community and its role as Northern Ontario's leading city.  But in many ways, amalgamation has simply offloaded costs from the province to the city.
In February, the Advisory Panel on Municipal Mining Revenues, ably chaired by Dr. José Blanco, issued its final report to Council.  This report, entitled A Refined Argument, clearly delineates the history of municipal mining support grants in Ontario and the fact that since 1995, our city has received no compensation for hosting one of the province's most valuable industries.  The report also describes the factors which led to a 4.5% decline in property taxes paid by Ontario mining companies between 2001 and 2005.  During the same time period, federal mining tax revenues grew by 77.6% and provincial mining tax revenues increased by a staggering 109.8%.
 
They conclude that in order to continue to service the existing industry and to position this city for future development, Greater Sudbury needs help.  Their main recommendation reads:
That the Council of the City of Greater Sudbury invite the Province of Ontario to enter into negotiations with the city to establish a Resource Revenue-Sharing Framework that will ensure a predictable and sustainable revenue stream for the municipality.
They do not suggest that Council should seek additional taxing powers, nor do they recommend that Council should demand that the mining companies pay more.  The Panel believes that there is sufficient money being generated, but it must be shared.  They also recommended that the city seek support from other communities, and we have done just that.
Since the report was received, the Council of the City of Timmins, the Town of Kirkland Lake, and the Municipality of Red Lake have all provided their full support.  They believe that if we can succeed, our agreement could serve as a model for other mining-based communities.  The Federation of Northern Ontario Municipalities passed a resolution of support in late May.
We will continue to build our network and we expect to formally present our refined argument at Queen's Park later in the year.   In doing so, we will ask Premier McGuinty for the same consideration that he asks of the Federal government.  The Premier said that what Ontario needs is a partner to help grow Ontario's economy for the benefit of all Canadians.  He should understand then that Greater Sudbury needs a partner to help grow this city's economy for the benefit of all Ontarians.
If you have not yet read this report, I urge you to pick up a copy or download it from the city website.  It is a compelling case that deserves your support.
 
Last year, the government agreed to upload the Ontario Drug Benefit Program and this resulted in a one time savings of 1.8 million dollars for Greater Sudbury.  We continue to await the results of the Provincial-Municipal Fiscal Review process but I am not hopeful that we will see a great deal of change in the near future.
I do not want to leave you with the impression that the province has done nothing to address our challenges.  This government and our own local Minister, Rick Bartolucci, were re-elected last October and since then they have made several significant announcements, including 7.8 million dollars for the redevelopment of Pioneer Manor and 4 million dollars for road improvements.  The roads money will be used to move forward on critical resurfacing projects like the Kingsway 'S" curve and Notre Dame Avenue.  The Pioneer Manor funding will allow us to build 32 additional state of the art beds for Alzheimer patients as we update and improve this facility following last year's devastating fire.  I can tell you that Rick personally intervened to ensure this Municipal Infrastructure Investment Initiative was approved for our community and he deserves our thanks for it.
We will continue to pursue every opportunity to increase revenues but in the meantime, we must find ways to address the issues that confront us.  Take our roads, for example.  Everyone in this room understands that something has fundamentally changed in the past year.  Whereas last spring we had pothole concerns, this year we have a pothole crisis.  It is as if our roads have all hit their 'best before date" at the same time.  The state of our roads has become an important issue that must be addressed.
Over the past four budgets, this Council and the previous one have more than doubled the municipal share of our roads budget, from 11.1 million to 23.9 million dollars per year.  Yet even as the budget has increased, the cost of road construction has spiraled upward at ten to fourteen percent per year, reducing what we can accomplish, even with a larger budget. 
I believe that the time has come for a booster shot for our city's roads.  We need to accelerate our efforts to get ahead of the decay.  For 2009, I am proposing that Council approve a plan to spend 30 million dollars in a focused effort to return the driving surfaces of our main arteries to a state of which we can be proud.  These dollars would be over and above the existing roads capital budget and they would be allocated specifically to resurfacing projects on our most heavily travelled routes.  This money will be used for driving surface improvements, not road widening, sidewalks or lighting.
We will borrow the funds for this plan, either from our own reserves or on the open market.   With the cost of construction rising at 10% per year and the cost of borrowing at 5%, you don't have to be an accountant to calculate the benefits of getting the work done now.
 
In addition, by addressing the major routes in this way, our regular budget may be used to address lower priorities and local roads.  This plan will allow us to resurface at least 65 lane kilometers of arterial roads on a much accelerated timetable.  The plan is not a panacea, however.  We must continue to find ways to increase our regular budget to maintain and improve our roads network.  And we must also continue to press home our demands for infrastructure funding from Queen's Park and from Ottawa.
There are exciting things happening here in Greater Sudbury.  Driving down Paris Street, you can see cranes on the skyline as work continues on our one-site hospital, on the Dalron Lake Nepahwin condominium development and on the new Hampton Inn and Staybridge Suites hotels on Regent Street.  Just a little further south is the new interchange at Long Lake Road, a massive piece of infrastructure that promises to create a new, safe entrance to our city.
Drive east along the Kingsway and you will see work underway to expand the Millenium Centre and another new hotel under development.  The Kingsway expansion project, which provides a new look to our eastern approach, is almost complete.
In the centre of the city, 80 young animators and producers bring digital animation to life at March Entertainment.  Their most recent creation, Dex Hamilton – Alien Entomologist, has already been sold to networks around the world.  Just down the street at the Rainbow Centre, Robert Charbonneau has created the only permanent television production studio in Ontario outside Toronto.  Here, his talented crew of 40 has filmed 26 episodes of Météo +, a French-language comedy series set in a fictional TV weather station, right here in Sudbury.
In health, the expansion of St. Joseph's Villa, the opening of the Sudbury Hospice, the rebuilding of Pioneer Manor and the plans for Chelmsford Long Term Care are eagerly anticipated projects that are sorely needed. 
The Expert Panel on Health Cluster Development, lead by former Mayor Jim Gordon, continues its efforts to identify and nurture health-related projects that will bring economic benefits to Greater Sudbury and health breakthroughs to the world.  The group has already identified opportunities for synergies in research in the fields of Occupational Health and Safety, Genetics and Pharmacology, and they are developing plans to advance each of these areas.
The panel's work will be integral to Innovation Sudbury, a new initiative that is being developed to harness all of the excellent work already underway in the fields of health, environment and resources, with a view to establishing greater collaboration and support.  It will form the basis of Sudbury's input into the province's Northern Growth Plan and will help our city continue to advance in the knowledge-based economy. This effort is being led by the City and Laurentian University and I want to acknowledge the foresight of Dr. Judith Woodsworth in partnering with us.  This is just a small example of Judith's leadership and why she will be so much missed here in Greater Sudbury.
At Laurentian University, the Field House sports facility is well underway and the English teacher's College building is approaching completion.  Cambrian College is building a new home for NorCat and their groundbreaking Sustainable Energy Centre.  Collège Boréal has recently received official designation under the French Language Services Act, a prestigious award that confirms their ability to deliver French-language programming of the highest possible quality.
Child care in Greater Sudbury is a success story that is seldom told.  In the past 7 years, through the dedicated efforts of municipal staff and community organizations, and with the support of the Ontario Ministry of Children and Youth Services, licensed daycare spaces in this city have risen from just over 2,200 to almost 5,000.  We now have one licensed space for every 4.5 eligible children and have doubled the number of families who receive subsidy assistance.  Francophone daycare spaces now represent approximately 40% of the total and our city's first aboriginal centre will open in August.  Other innovations, including evening care, centralized wait lists and an on-line registry are also provided. 
Transit services play a similar role in our economy, particularly as rising gas prices encourage people to look for alternatives to driving their own car.  Here again our city is constantly improving.  This partnership has resulted in additional bus capacity to the university and the construction of a new terminal at the campus.  The city has also made additional enhancements, including new late night schedules to better serve the call centre industry, improved Sunday service, an intra-community service in Hanmer and the bike rack pilot project.
Our municipal environmental initiatives are not limited to transit.  Our award-winning land reclamation projects continue to raise our global profile.  Last fall, hundreds of scientists from around the world attended the International Conference on Mining and the Environment at Laurentian University.   We flipped the switch on our landfill gas generation project and are now selling 1 megawatt of clean power back into the electricity grid – that's enough for about 1,000 homes.  We have initiated a fleet renewal project with a high regard for efficiency and fuel economy.  You will now see several Prius hybrids on city streets to replace older ex-police vehicles with supercharged V8 engines.  Finally, EarthCare Sudbury continues to lead or support many environmental initiatives.
There is an undeniable buzz in this city.  I felt it at the recent community birthday party and at the Bell Business Excellence Awards.  You could feel it at Le Salon du Livre, the French book fair that attracted more than 20,000 people to Market Square in early May.
There was certainly a buzz on May 22, as the city's advisory panels for our two large community projects presented their complete visions to the public for the first time.  Diane Salo, Darren Stinson, for bringing forward visions that inspire and challenge.  They took the words of American architect, Daniel Burnham, to heart.  Burnham said – 'Make no little plans; they have no magic to stir men's blood…. Make big plans… aim high in hope and work."
I hope that the people of Greater Sudbury will look closely at these conceptual projects and find their place within them, and that citizens will provide their feedback and suggestions.  Staff will be working diligently over the next few months to operationalize these concepts and bring forward realistic proposals for Council's consideration.
In this, our community's 125th year, we are truly a City Reborn.
We have come to grips with our newfound size and we are hitting our stride as one community.  It's not the price of nickel that is making this happen, though it doesn't hurt.  It's not because we have a new Mayor and Council and it's not because of any governmental plan or edict.  It's because of people – individuals and groups – who want to make this community better.
People like Ursula Sauvé, who had the idea for the glorious Bridge of Nations that has transformed the Paris Street Bridge, and people like Dan Lee and Colin Firth who helped her make it a reality.
People like Shawn Day and his Christian Businessmen's organization, who raised twelve thousand dollars to provide colourful benches that have brought new life to Memorial Park.
People like Marguerite and Gerry Lougheed Sr., who not only made incalculable contributions to our community but have given us a living legacy, a dynamic duo of sons to carry on their work and more.
  
People like Maurice Armstrong, who heads the organizing committee for Chelmsford's Western Days, which is happening this week.  These events bring life to our smaller communities and add value to our entire city.
People like Denis Hubert who, with the help of Michael Cullen, Glenn Thibeault, and thousands more, took the Greater Sudbury United Way Campaign into the stratosphere this year, raising 2.214 million dollars.
People like John Fera, President of the Steelworkers Local 6500 and Fred Stanford, President of Vale Inco's Ontario operations, who led their organizations in a drive that made up more than one million dollars of the United Way total.
People like Jeff Fuller, who is taking the mining supply expertise he developed in the Sudbury Basin and exporting it to the world yet still assisting others by serving as President of SAMSSA.
People like Greater Sudbury Police Chief Ian Davidson who, even as we speak, is in Niagara Falls, being inducted as the head of the Ontario Association of Chiefs of Police.  Ian will bring honour to our city in this role.
People like Dr. Virginie Marchadier, Dr. Melanie Squarzolo, Dr. Suman Koka, Dr. Liisa Levasseur, and Dr. Katie Gasparini, who have responded to our new Physician Recruitment Program and committed to practice here in Greater Sudbury.
People like David Lickley, who produces giant-screen IMAX films right here at Science North.  His fourth film, Mysteries of the Great Lakes, just opened and it is amazing.
The new Laurentian Community Track, will be ready to host next summer's events including, we hope, the Ontario Summer Games.
People like Blaine Nichols, the spirit behind the Northern Ontario School of Architecture, an exciting proposal to build an innovative educational institution in the heart of our city.
All of these people and thousands upon thousands more, are working for positive change in this community.  
They will understand and appreciate the words of United States Senator Barack Obama, who said recently – 'Change will not come if we wait for some other person or some other time. We are the ones we've been waiting for. We are the change that we seek."
In Greater Sudbury, we now have 125 years of history; let's go forward to write our future together.
Thank you – Merci – Miigwitch.
Honourable John Rodriguez – Mayor of the City of Greater Sudbury – State of the City – 2008 Speech
June 17, 2008
Check Against Delivery