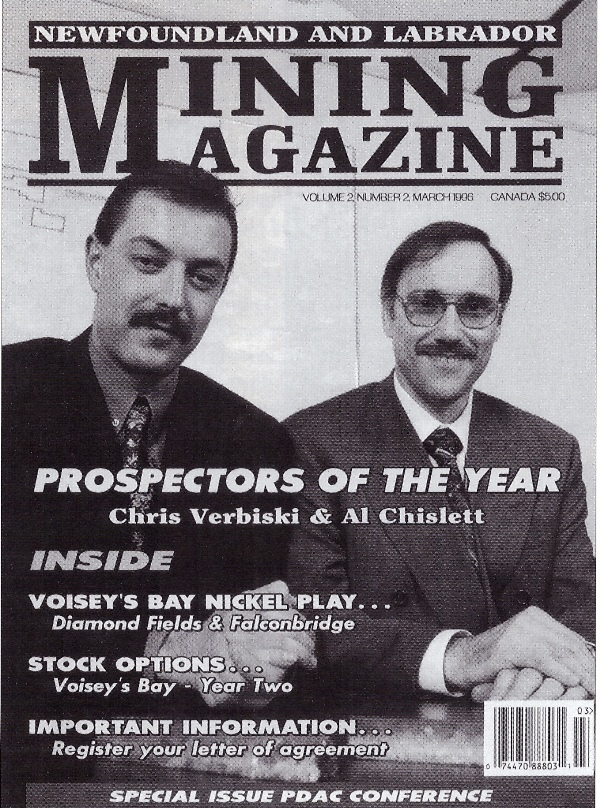 This excerpt is from the 2007 PDAC 75th anniversary publication.
Originally looking for diamonds in 1993, Albert Chislett and Chris Verbiski instead discovered one of the world's major nickel sulphide deposits near Nain, Labrador. The Voisey's Bay deposit was eventually bought and developed by Inco Limited. Most experts agree that the deposit will be a major source of nickel and regional prosperity for generations to come.
Chislett was born in Islington, Trinity Bay Nfld. in 1949. After studying business administration at Ryerson Polytechnical Institute in Toronto and working in the accounting department at Swift Premium in Ontario for five years, he established a successful construction company in St. John's Nfld., and operated it for fifteen years.
His interest in geology and mineral exploration began in the late 1980s, stemming in part from his love of the outdoors. In 1988 he started operating an independent mineral exploration company and began prospecting full time. He was soon one of the most active prospectors in the province and was the first to receive a provincial prospector's assistant grant.
Verbiski was born in 1968 in the mining town of Buchans, Nfld., and has spent most of his life working in the mining industry. During his summers as a student in Springdale, he worked with numerous contractors, and in 1986 he began carrying out geophysical, geochemical and sampling work for the Newfoundland office of Noranda Inc.
For the next three years he combined his work with studies at Memorial University, and then formed his own independent contracting company in 1989. After the Voisey's Bay discovery, he became the youngest person ever to receive an honorary degree from Memorial University.
Chislett and Verbiski received several honors for their accomplishments, including being named Mining Men of the Year by The Northern Miner.
The discovery of the Voisey's Bay deposit on the coast of Labrador has been heralded as one of the most significant discoveries made in Canada in the last 30 years. In 2003, Inco released mining figures indicating that Voisey's Bay is the sixth largest nickel magmatic sulphide deposit in the world and is also a major resource for copper and cobalt.
The mining complex, which went into production in 2006, is a tremendous economic asset for the Labrador coast and is a significant employer for the region's aboriginal communities.