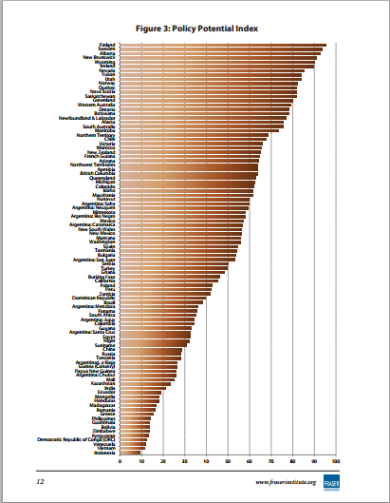 February 28, 2013 06:32 ET
Click Here for the 2012/2013 Survey: http://www.fraserinstitute.org/uploadedFiles/fraser-ca/Content/research-news/research/publications/mining-survey-2012-2013.pdf
MONTREAL, QUEBEC–(Marketwire – Feb. 28, 2013) – Quebec, once considered the best place on Earth for mining investment, has lost the confidence of the international mining community and fallen out of the world's top 10 mining jurisdictions, according to the annual global survey of mining executives released today by the Fraser Institute.
La belle province ranked 11th out of 96 jurisdictions this year, down from fifth in 2012. Quebec was the world's No. 1 mining jurisdiction from 2007 to 2010.
By comparison, Finland and Sweden, two countries often held up as paragons of environmental protection, are ranked first and second globally.
"Falling from No. 1 to 11th in just three years tells us that the mining policies of the Quebec government, particularly uncertainty around changes to the provincial mining act and proposed royalty hikes, are a serious concern to the global mining community," said Kenneth Green, Fraser Institute senior director of energy and natural resources and director of the Survey of Mining Companies: 2012/2013.
"The confidence miners have in Finland and Sweden proves that it's possible to enact sound environmental protections and still maintain a successful mining industry. Quebec's political leaders should take note."
Among Canadian provinces, Alberta ranked first in this year's survey followed by New Brunswick, which topped the global rankings in 2012.
The Fraser Institute's Survey of Mining Companies: 2012/2013 is based on the opinions of mining executives representing 742 mineral exploration and development companies on the investment climate of 96 jurisdictions around the world (new additions this year include French Guiana, Greece, Serbia, and the subnational jurisdictions of La Rioja and Neuquen in Argentina). The companies participating in the survey reported exploration spending of $6.2 billion US in 2012 and $5.4 billion US in 2011. The complete survey is available as a free PDF download at www.fraserinstitute.org.
Canadian jurisdictions claimed three of the top 10 spots this year, with Alberta unchanged at third overall, New Brunswick falling to fourth from first, and the Yukon climbing to eighth from 10th.
The remaining provinces and territories generally fared well in the view of the global mining sector, with Nova Scotia placing 12th, Saskatchewan 13th, Ontario 16th, Newfoundland and Labrador 18th, Manitoba 21st, Northwest Territories 29th, British Columbia 31st, and Nunavut 37th out of 96 jurisdictions.
Worldwide, the top 10 mining destinations are Finland, Sweden, Alberta, New Brunswick, Wyoming, Ireland, Nevada, Yukon, Utah, and Norway.
Ranking as the world's worst mining jurisdictions are Indonesia, Vietnam, Venezuela, Democratic Republic of Congo (DRC), Kyrgyzstan, Zimbabwe, Bolivia, Guatemala, Philippines, and Greece.
The report also notes that miners are pessimistic about short term commodity prices, reporting that they expect nearly level or reduced prices for silver, copper, diamonds, coal, zinc, nickel, potash, and platinum with only gold expected to increase in value significantly. In the longer term, miners expect stable or moderate price increases.
Miners' investment intentions reflect a cautious outlook: 46 per cent of respondents said they plan to increase their exploration budgets in 2013, compared to 68 per cent in 2012.
"In order to compete for investment on the global mining stage, jurisdictions need not only stellar resource potential but also a stable, certain, straightforward mining policy framework," Green said.
"Reduce red tape, minimize risk with regard to policy changes and tax increases, respect negotiated contracts: that's how Quebec can woo the global mining sector."
Follow the Fraser Institute on Twitter
Like us on Facebook
The Fraser Institute is an independent Canadian public policy research and educational organization with offices in Vancouver, Calgary, Toronto, and Montreal and ties to a global network of 86 think-tanks. Its mission is to measure, study, and communicate the impact of competitive markets and government intervention on the welfare of individuals. To protect the Institute's independence, it does not accept grants from governments or contracts for research. Visit www.fraserinstitute.org.
Contact Information
The Fraser Institute – Media Contact
Dr. Kenneth P. Green
Senior Director, Energy and Natural Resources
(403) 216-7175 ext. 426
[email protected]
Twitter: @KennethPGreen
The Fraser Institute – Media Contact
Alana Wilson
Policy Analyst, Centre for Energy and
Natural Resource Studies
(604) 688-0221 ext. 547
[email protected]
The Fraser Institute
Kendal Egli
Communications Specialist
(416) 363-6575 ext. 235
[email protected]
www.fraserinstitute.org