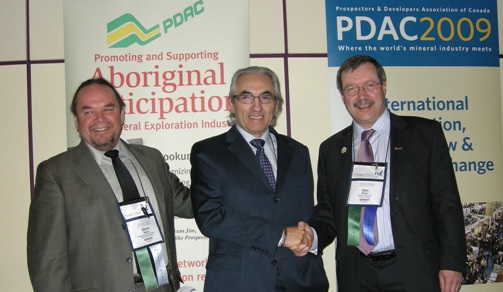 Metro Toronto Convention Centre
March 3, 2009
CHECK AGAINST DELIVERY
I want to thank the PDAC – in particular Chief Glenn Nolan and Don Bubar – for inviting me here to provide an update on the Corporate Challenge and our work with the mineral industry.
It was exactly one year ago tomorrow – March 4th, 2008 – that I attended this convention for the first time and signed an MOU with then President Patricia Dillon resulting in PDAC joining the AFN Corporate Challenge.
As I look back to that signing, I wonder who could have foreseen then that the global economy was in for the transformative change we are witnessing today?
As we gather today on this anniversary, I come in the spirit of friendship on behalf of the AFN.  Amongst my peoples these bonds are strongest when times are difficult when times are difficult for our friends.
Although, economic forecasters differ on the pace and timing of the rebound in the global economy, there is no uncertainty that prices and demand will recover and grow.
With this in mind, let us discuss our common purpose in fostering relationships of strength and common prosperity as between First Nations and the mining industry, now and for tomorrow.