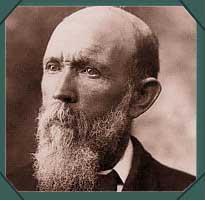 Patrick (Paddy) Hannan (1843 – 1925) was one of the prospectors whose discovery of gold in 1893 paved the way to mining in  Kalgoorlie-Boulder, Western Australia.
Kalgoorlie/Boulder's Golden Mile is recognised as the richest mile in the world. The gold mines and the nearby city owe their existence to the discovery of gold made by Patrick Hannan, Tom Flanagan and Dan Shea in the area in 1893.
Born in Ireland, Hannan, Flanagan and Shea had migrated to Australasia in the mid C19. Flanagan arrived in the early 1850s and went to the fields at Bendigo in Victoria; Hannan arrived in Melbourne in 1863 and most likely went to join relatives in Ballarat; and Shea probably arrived at the end of the 1860s.
By the time they came to the newly discovered fields to the east of Perth in Western Australia, all three had prospected or worked in mines in various colonies. In 1867, for instance, Hannan left for New Zealand and worked there for six years before returning to Australia. He arrived in WA in 1889, Flanagan probably in the same year, and Shea around 1892. Like many from the eastern colonies at that time, they found their way to the developing finds on the Yilgarn. Hannan's accounts of his time in the west report that in 1892 he was working at Parker Range, south-east of Southern Cross.