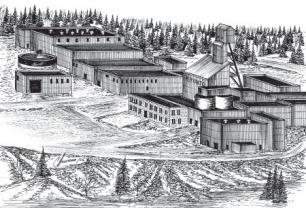 The World Wants Yellowcake (Uranium)
Among some people uranium gets a bad rap due to its use as the explosive material for atomic weapons and yet these folks tend to forget that it has most beneficial uses for mankind, principally as the fuel for nuclear reactors which deliver about 15% of the country's electricity. Canada is currently the largest producer of uranium in the world, although Australia has the larger proportion of the world's known deposits. In 2006 of the seventeen countries that mined the element, Canada produced 28%, followed by Australia with 23%. The term 'yellowcake' was originally given to uranium concentrate, although the colour and texture today can range from anything through dull yellow to almost black.
Early interest in uranium in Canada took a back seat to the work of Gilbert and Charles LaBine who discovered radium at Great Bear Lake in the Northwest Territories in 1930.