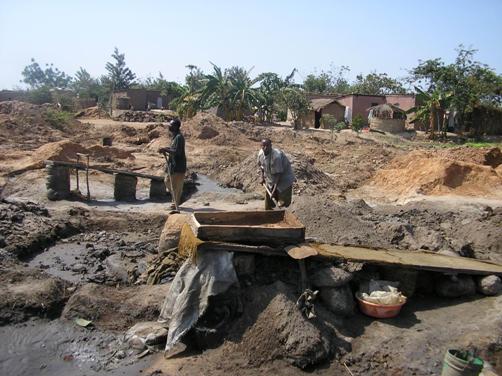 This article was first published in "Beyond Borders", a BARRICK GOLD quarterly report on responsible mining, edited by Nancy J. White, the company's communications director for responsible mining. "Beyond Borders" contains several other items highlighting Barrick's initiatives around the world. It will be posted soon at www.barrick.com.
At age 13, Alfaxad Chacha started digging. He never stopped. Seven days a week, 14 hours a day, he sifted through the red mud and rock of the Tanzanian landscape under an equatorial sun. With a little luck and a lot of backbreaking labour, Alfaxad and his friends eked out a meagre living on the miniscule bits of gold they uncovered.
It was difficult work, using dangerous explosives and toxic chemicals. But for 1.5 million Tanzanians, this primitive form of artisanal mining is a daily reality.
Today, Chacha is 50 years old. He lives in the village of Kerende in Tanzania's Mara region. A life of digging for gold under the ground has hardened him.
"I am an artisanal gold miner. I have been all my life and so were my parents before me, but I'm not too proud of what I do," Chacha says. "My work is barely able to support me, my family and my community. It is very hard work for very little money. This is not the life I dreamt of, but it is all I have."
Like many others, Chacha spends his days digging, crushing and grinding ore, to unlock the small particles of gold it contains. He sells his product for a fraction of its true value to gold dealers who pass through the village. It's part of an underground gold industry in Tanzania – one with no government regulation or oversight of any kind.