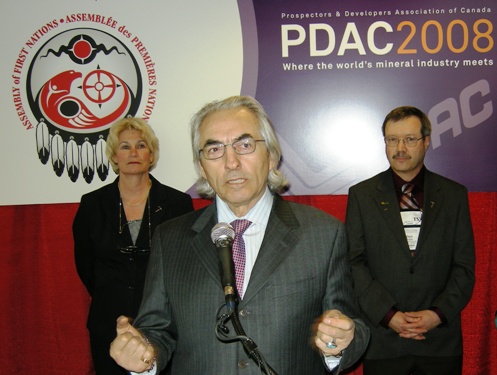 I would like to thank everyone for taking the time away from this very busy convention to come here to witness this Memorandum of Understanding in our Corporate Challenge between the Prospectors and Developers Association of Canada and the Assembly of First Nations.
I also want to sincerely thank PDAC President Patricia Dillon; Don Bubar, who is chair of the Aboriginal Affairs Committee, and Chief Glenn Nolan, who is a PDAC Vice President, for all of the hard work it took to get us to this important occasion.
I also want to thank all of the PDAC staff – particularly Philip Bousquet and Kim MacDonald – who have been in contact with the AFN since last May.
Some of you may be wondering why we want to work with the mining industry. It's pretty simple. First Nations want to work with all industries and corporations in order to achieve economic self- sufficiency.
By doing so, this will empower First Nations to break the chains of dependency and despair; empower us to revitalize our languages and cultures; and empower us to participate and prosper in the Canadian economy.