PDAC 2017 Bill Dennis Award: Val d'Or Exploration Division, Agnico Eagle Mines Limited from PDAC on Vimeo.
http://www.pendaproductions.com/ This video was produced by PENDA Productions, a full service production company specializing in Corporate Communications with a focus on Corporate Responsibility.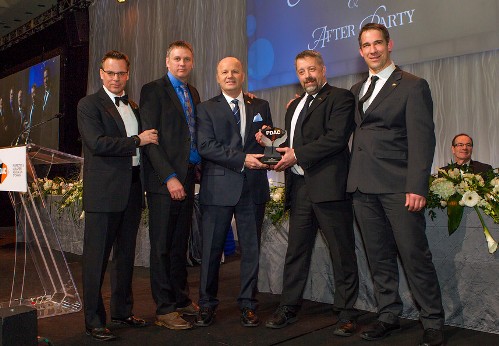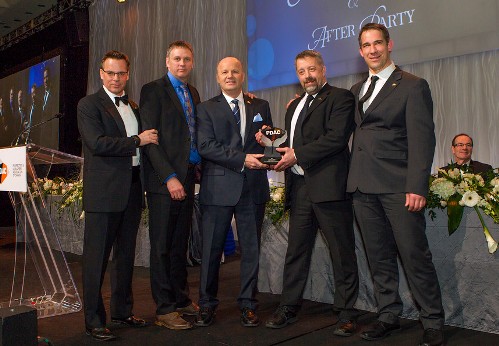 This award, named for a former president of the association, honours individuals who have accomplished one or both of the following: made a significant mineral discovery; made an important contribution to the prospecting and/or exploration industry.
Val d'Or Exploration Division, Agnico Eagle Mines Limited: For discovery of the Amaruq gold deposits in the Amer Lake Basin in Nunavut, Canada.
The high-grade Amaruq deposits represent a significant gold discovery in Nunavut and one of the few recent large gold discoveries in Canada. The robust Whale Tail mineralized system lies nearby the initial discovery, the IVR deposit. Agnico Eagle Mines Limited's (Agnico) Val d'Or Exploration Division made the discoveries between 2013 and 2016 while prospecting a virtually unexplored part of the Woodburn Lake Belt, 350 kilometres west of Hudson Bay. The division recognized that the type of mineralization at Amaruq was different from many typical gold occurrences.
The 1,167-square-kilometre Amaruq property includes the major Whale Tail deposit and three parallel gold zones named I, V, and R (the IVR deposit), between 100 and 800 metres north of Whale Tail. Inferred resources are estimated at 19.4 million tonnes grading 5.97 g/t gold for a total of 3.7 million ounces of gold (as at June 30, 2016).