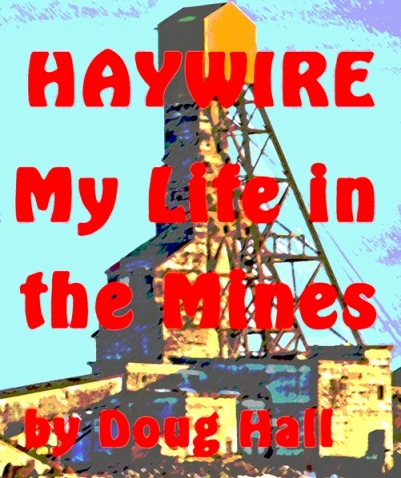 This autobiographical book describes the Doug Hall's family through war and depression, and goes on to relate his experiences underground in the late 1960′s and early 1970′s. It is written from the point of view of the average Joe who went underground when he was eighteen and didn't know what he was getting into. The author considers himself lucky to have survived those years.
Click here to order an e-book of "Haywire My Life in the Mines": http://www.smashwords.com/books/view/269905
Working on the Grizzly
So anyway there I was one day working in a gang of guys with Old Abel when the Shift Boss or Captain or some such dignitary came up to us and said, "I need a man with a safety belt to work on the grizzly". Now probably at that point I should have been a bit brighter and taken note of how all the other men in the crew were suddenly looking at the ground or the side of the drift or just about anyplace else except at this chap who needed a man for the grizzly. And to compound things I looked directly at this chap and said, "I've got a safety belt". I noticed then how some of the other men in the crew seemed to relax and some of them even looked the visiting dignitary right in the face as if to say, "Gee I was going to volunteer but that other guy beat me to it". And so that was how I became a grizzly man.
For the uninitiated perhaps I should explain what a grizzly is. It's basically a steel grating with various sized holes placed over the top of an ore-pass. Usually a scooptram driver but sometimes trammers on the railroad tracks would put rocks of varying sizes (i.e. muck) on top of the grizzly and then the grizzly men would have to put the rocks through the grizzly so that the rocks would be small enough to go through the chutes in the loading pocket down below. The grizzly men would do this using a scaling bar, a sledge hammer or by drilling and blasting the rocks, sometimes after dragging them to the back of the grizzly using a tugger hoist. Continue Reading →