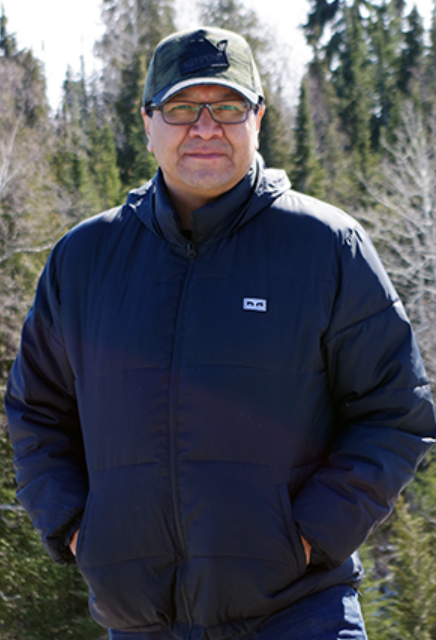 For as long as I can remember, Marten Falls First Nation (MFFN) has had a strong desire to develop a road that would connect our remote northern community to the Ontario provincial highway network and advance our vision of building a sustainable and thriving community in the north. I remember having conversations about the road with former Chief Eli Moonias and community Elders. Looking back, we discussed the prospects of the road and what it would mean for our community, but the path forward was unclear. There were also concerns that the road would bring more challenges than opportunities to our community.
When the Ring of Fire mineral deposits were discovered, we thought that there was an opportunity here to achieve our vision. Former Chief Eli Moonias always maintained that these minerals are part of MFFN's traditional territory, and therefore their development requires guidance and direction from MFFN. Nevertheless, he agreed to participate in the Regional Framework Agreement with the Government of Ontario, because he wanted to work with neighbouring First Nations on this opportunity to provide benefits to the region as a whole. Despite our combined efforts in that process, we were not successful in developing a common approach. Even when we collectively negotiated a united, single jurisdictional agreement, some participating First Nations refused to sign it despite being directly involved in the negotiations process.
We were at a loss. If we do not move forward as a collective unit, then do we not move forward at all? Does MFFN give up on its vision? Does MFFN leadership deny its members of ever having highway access that could yield important socio-economic benefits for the community? Why must MFFN members be denied access to critical infrastructure, goods, and services because of concerns about potential mining activities in connection to road development? The fact of the matter is that MFFN wants to provide a better future for its people, however neighbouring First Nations are making it very difficult for MFFN to lead development projects in its traditional territory. Yet, the same First Nations continue to develop their own projects, including mining projects, and prosper from such development.
MFFN feels that it is being subjected to a new form of paternalism, except this time it is coming from our Indigenous brothers and sisters and non-governmental organizations (NGOs). Our freedom and autonomy is restricted because our plans and ideas do not necessarily align with those of other First Nations or NGOs. We are constantly told that we should not proceed until we satisfy everyone else's requests. We essentially need to be granted permission to advance our own rights and interests.
It is ironic that First Nations and NGOs alike advocate for the advancement of Indigenous rights, yet continue to engage in activities that suppress MFFN's Indigenous rights.
All or nothing is the bar they set for us when those who run NGOs sit in their comfortable urban homes in Toronto and Montreal with all the amenities of modern life that are provided by industries like mining. I am glad to say that we do not suffer from the same cognitive dissonance.
We are clear minded in our resolve to build a prosperous future that is built on foundations of our traditional role as stewards of our land. At the same time, the entire world is suffering from climate change, and we face disproportionate climate injustice because our winter road access, which is a lifeline for critical supplies, has a shortened season and like other neighbouring communities we fight regular and frequent fires around us. We need to protect our community from this threat, and we also feel the responsibility of addressing climate change and our contribution will be the minerals in our territory, required to create batteries and other technology needed for the transition to net zero. Experts around the world agree that this is what is required to address the climate emergency and we are doing our productive part to respond to this emergency.
So, what are we doing?
The clearest answer is that we are leading our own future, our own prosperity, and making decisions in our own traditional territory. In short, we are exercising our Indigenous rights and our sovereignty over our land. We are getting our house in order and setting up the future of our seven generations. On journey is towards self-determination, prosperity and it is a fight against climate change. On this journey we have been challenged with 3 main critiques that I hear as we plan to build and develop roads to our community and the Ring of Fire. I want to address them here.
The first criticism is that we will destroy the peatland in our territory. This is classic propaganda and a complete fabrication. We have no such plan or intent. We are maximizing the use of eskers and other geographical features that keep us off the peat. Where we cannot avoid peatland, we will not excavate it. This means that we will not dig any peat out and we will minimize disturbance of peat. If it stays in place, then it can continue to act as a carbon store. We plan on using geo-textile and geogrid material that enables us to build on top of peatland. The result is the same as a bridge. When you build one, you go over a river. You don't close the river to cross it.
The second critique is that we have not engaged and consulted other First Nations. As a proponent of the road, we have certain procedural responsibilities. This includes sending out notices and providing information about our projects. No one else has this information or can speak in a more informed way about our projects. All of this information is now also available on the Marten Falls Community Access Road website (https://www.martenfallsaccessroad.ca) or the Northern Road Link website (https://northernroadlink.ca). This summer we were in court defending our work as a proponent and I was very glad to see the depth of our work, which was presented to the court in great detail, and I was there to witness the arguments. The duty to consult belongs to the Crown and we have our role as a proponent, just like any proponent does. We can be proud of the work we have done and continue to lead.
The third is that there will be unforeseen, large-scale development as a result of the roads and will add to what they call cumulative effects. We are currently building the road to Marten Falls and to the Ring of Fire. We are planning to work diligently to understand the development of Eagle's Nest at the Ring of Fire, which is a significant source of nickel that is a critical mineral required for net-zero transition. This does not mean that we support unchecked development. This is fear mongering. They want us to be afraid and to be paralysed by indecision. That is the opposite of what we have done and will continue to do. I am very proud of the work that our Community Based Land Use Planning (CBLUP) team has done under the leadership of elder Elizabeth Achneepineskum. The CBLUP process with the province of Ontario has enabled us to identify areas that our community wants to protect. We are going to go further and work in partnership with the province to further conserve our traditional territory so that we can be a significant part of meeting the United Nations Convention on Biological Diversity based 30 by 30 goal, which aims to protect 30 percent of Canada's land and water through conservation. We believe in this direct action that our nation needs to undertake.
In summary, what are we actually doing?
We are leading responsible and sustainable development through meaningful action and decisions made at the community level based on our own processes. Our road projects are also subject to the most comprehensive impact and environmental assessments available in Canada. These are some of the most robust processes available in the world and they will enable us to minimize the impact of our projects while we maximize the benefits.
We are also working on creating the first of its kind plan to manage the conservation of our traditional territory, so it's safeguarded for all future generations and for the planet we call home. The climate crisis is an urgent issue. We know we are doing something tangible to address it both through conservation and through the supply of battery metals without which we cannot complete the transition to net-zero and move away from fossil fuels.
We are also working with our tribal council and with Mushkegowuk on a regional assessment. This process helps understand impacts beyond single projects. This is an inclusive approach and is a continuation of our approach to reach out to communities to work for mutual benefit. We will continue to do that to the best of our ability while protecting the interests of our nation.
Where do we go from here?
The plan is ready, and we are clear in what we want. We are leading the planning, development, and conservation of our traditional territory. We do not waste our efforts complaining but we lead advocacy that is action and result oriented. We have results to show for that in our community with new housing, a new youth complex, and a number of new buildings planned as a result of our direct and proactive action. This community level development will continue in the coming year.
We are also setting the framework for our youth to get training and education that will enable employment through highly paid jobs and leadership of our territory.
As I provide this overview of what we have done recently, I close by asking you for your continued support on this journey. This is hard work, but the results are worth the effort. We will continue to be a shining light in the north for our youth and for a hopeful, prosperous future. We are a nation and as a nation we are pursuing our opportunities on our terms. We can all be proud of that. I know I am.
END
Contact:
Chief Bruce Achneepineskum
bruce.achneepineskum@gmail.com