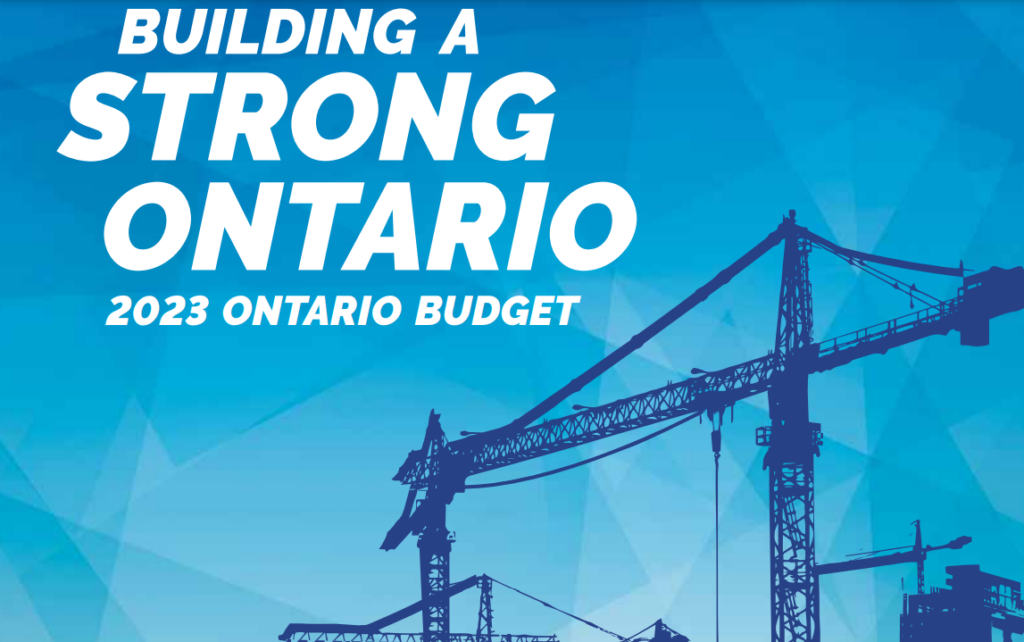 2023 Ontario Budget Papers Document
Building the Corridor to Prosperity
Critical minerals are key to the economy of the future. These important resources are critical to products that the people of Ontario rely on, including cell phones, electric vehicles (EVs), and the semiconductors in countless goods. Critical minerals are some of the most sought after commodities in the global economy and Ontario happens to be one of the rare places on earth with many of these natural resources available.
Ontario's endowment in critical minerals can be leveraged to encourage domestic mining and processing that support the high‐value downstream activities in the electric vehicle supply chain such as automotive and battery manufacturing. This is a competitive advantage that cannot be ignored.
Ontario is helping to build a strong critical minerals sector in the province. Through investments and support, the government is unlocking Northern Ontario's economic potential in critical minerals and connecting these resources to the world‐class manufacturing capabilities in Southern Ontario. Ontario has tremendous opportunities for critical minerals to support future economic prosperity.
The Ring of Fire is one of the most promising mineral deposits in Canada. It has the potential to play an important role in supporting innovative technologies for high‐growth sectors such as batteries, electronics, electric vehicles and cleantech and to bring multigenerational opportunities to Northern and First Nation communities. By working with First Nation partners, Ontario has a tremendous opportunity for a corridor to prosperity that can leverage health, economic and social benefits, while unlocking significant economic growth.
All‐season, dependable road access is a prerequisite to unlocking opportunities in the region and creating better supply chain connections between Ontario industries, resources, workers and communities in Northern Ontario and manufacturing in Southern Ontario. This is why Ontario is making investments to continue working with First Nations and industry on key Ring of Fire projects. These investments are part of Ontario's commitment of close to $1 billion to support critical legacy infrastructure such as all‐season roads, broadband connectivity and community supports for the Ring of Fire region. All‐season road access will also help bring prosperity to First Nation communities, improving access to education, health care, goods and services, and housing.
The government also continues to support the Environmental Assessments for the Marten Falls Community Access Road project, the Webequie Supply Road project and the Northern Road Link project, led by the Marten Falls First Nation and Webequie First Nation. The Terms of Reference for the provincial Environmental Assessments for the Marten Falls Community Access Road and the Webequie Supply Road were approved in 2021. The Terms of Reference for the Northern Road Link was approved in March 2023.
Ontario will continue to call on the Government of Canada to step up and match Ontario's funding commitments to getting the roads to the Ring of Fire built.
Advancing Ontario's Critical Minerals Strategy
The government is investing in exploration and innovation to support critical minerals including those in the Ring of Fire, and to help make Ontario a leading producer of critical minerals. Ontario has numerous competitive advantages, in addition to its vast mineral wealth, including a clean grid that allows for development of cleaner, lower‐emissions mining compared to other jurisdictions. The province is also a leading mining finance jurisdiction, with about 40 per cent of the world's public mining companies listed on the TSX and TSXV.
Ontario's Critical Minerals Strategy will help secure the province's position as a reliable global supplier and processor of responsibly sourced critical minerals. The Critical Minerals Strategy is a five‐year roadmap that focuses on six pillars that will support better supply chain connections between industries, resources and workers in Northern Ontario and manufacturing in Southern Ontario, including Ontario‐based EV and battery manufacturing.
The six pillars of the strategy are:
-Enhancing geoscience information and supporting critical minerals exploration;
-Growing domestic processing and creating resilient local supply chains;
-Improving Ontario's regulatory framework;
-Investing in critical minerals innovation, research and development;
-Building economic development opportunities with Indigenous partners; and
-Growing the labour supply and developing a skilled labour force.
Supporting Mineral Exploration in Ontario
The government is continuing to invest in its Critical Minerals Strategy through the Ontario Junior Exploration Program, which began in 2021. The Ontario Junior Exploration Program helps junior mining companies finance early exploration projects by covering up to $200,000 in eligible costs for critical and precious mineral exploration and development. The government is investing an additional $3 million in 2023–24 and $3 million in 2024–25 into this successful program, which will help more companies search for potential mineral deposits and attract further investment in this growing sector. With this new funding, the government is investing a total of $13 million in 2023–24 and $13 million in 2024–25 in the Ontario Junior Exploration Program. This includes $4 million per year for a Critical Minerals Stream.
The government also supports the mining industry through the tax system. This includes Personal Income Tax relief for investment in flow‐through shares, as well as the Ontario Focused Flow‐Through Share Tax Credit for investment in mineral exploration activity in Ontario. With the recent introduction of the federal Critical Mineral Exploration Tax Credit, Ontario expects to provide an estimated $25 million per year in additional relief to support investment for a competitive mining sector with good jobs.
Assisting Mining Projects Through Improvements to the Mining Act
To help seize the economic potential of the province's minerals, and to support the geopolitical need for secure access to resources, Ontario introduced legislation in March 2023 to amend the Mining Act. If passed, the Building More Mines Act, 2023 would ensure Ontario has a modern and competitive regime for mineral exploration and development. The proposed amendments aim to save companies time and money by reducing administrative burden, clarifying requirements for rehabilitation and creating regulatory efficiencies. These changes will help Ontario attract mining investments to support the unlocking of critical minerals and the Ring of Fire, while maintaining Ontario's strong standards for environmental protection and meeting the Duty to Consult with Indigenous communities.