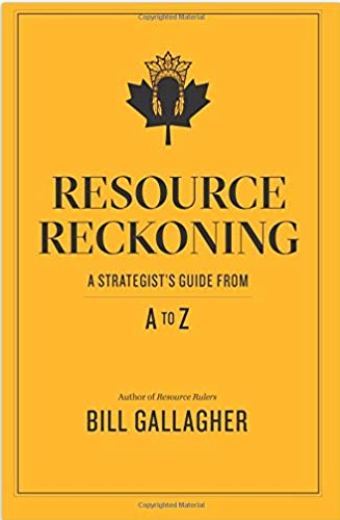 To order a copy of this informative book: http://billgallagher.ca/
Lawyer, strategist and author Bill Gallagher has followed up his earlier book entitled Resources Rulers: Fortune and Folly on Canada's Road to Resources with his new effort – Resource Reckoning.
It may seem strange that two books that just document court cases could be fascinating reading but some cases are as spellbinding as any John Grisham legal thriller. Resource Reckoning was written on the heels of an amazing 250 Canadian court victories by various Native bands across Canada. Many of the cases involved litigation against provincial and the federal government regarding both petroleum and mineral commodities.
Indigenous bands have learned that they do better in court than getting involved in lengthy treaty discussions. Some of the passages detail positions taken by governments that defy logic and were obviously destined to fail. Other cases are plain goofy: "Crazy as it may sound, the Lone Ranger and Tonto made it all the way to the highest court in Nova Scotia."
An unfortunate aspect of many of the court cases is that the federal government could have done better years ago to set up rules and regulations for mining and oil & gas companies to deal with First Nations. Basically, mineral explorers want to explore for minerals and have reasonable consultations with Indigenous groups.
They don't want prolonged, expensive and frustrating Indigenous negotiations. Yet that's what some explorers and miners have faced and continue to face. It doesn't help that there are about 600 Indigenous bands across Canada. The Trans Mountain pipeline project requires consultation with some 119 different bands, some of which disagree among themselves regarding project development.
Bill Gallagher brings up an important point in Resource Reckoning. While First Nations bands may have won court cases, they have not 'commercialized' or 'monetized' their wins in the sense of responsible mineral development on their traditional lands. Many bands could have developed mineral projects on their terms that could have resulted in jobs, job training, royalties, equity positions in mining companies and the building of local infrastructure but this has not happened.
It is a sad fact that many Canadian Indian reserves are scenes of poverty; some don't even have drinking water and other necessities that other Canadians take for granted. Being so isolated – some with no road access – besides mineral development, what can be done to make these destitute communities economically self-sufficient?
With today's very strict environmental regulations, there are a number of projects that band leaders would likely approve if they were treated as partners. Gallagher's book is a must read for any executive or government strategist in the mineral or petroleum sector.