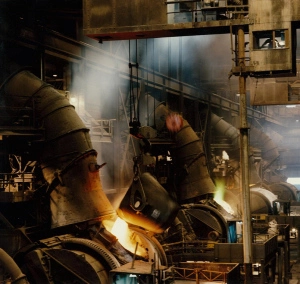 https://soundingsjohnbarker.wordpress.com/
The Sword of Damocles dangles no longer. Today is the day Tito Martins, then president and chief executive officer of Vale Canada and executive director of base metals for the Brazilian international parent company, told us was coming on Nov. 17, 2010 – 2,814 days ago, or expressed another way, seven years, eight months and 15 days ago.
The day the Thompson smelter and refinery officially cease production and Thompson ceases to be a fully integrated nickel operation for the first time since March 1961.
Mind you, July 31, 2018 – today – is something of an arbitrary bookkeeping sort of marker. At the time of Martins' 2010 announcement, the closing date was announced as 2015, so we've had about three extra years of nickel smelting and refining. As for the actual ramp down, the last furnace tap from the one remaining furnace in operation and anode cast from the smelter and the last cathode pulled from the refinery happened earlier this month.
The recently completed Thompson Concentrate Loadout Facility, a fully functioning de-watering and loadout facility, will continue to ship Manitoba-source nickel concentrate from the Thompson Mill for further processing to Vale's hydromet processing facility in Long Harbour in southeast Newfoundland on Placentia Bay on the western Avalon Peninsula, about 100 kilometres from St. John's.
Milling and mining will continue in Thompson, albeit with a much smaller economic, and employment footprint, with just under 600 unionized Steelworkers remaining at Vale here by the end of the year.
Nickel smelting and refining here in Thompson has been a long and glorious run of value-added jobs, producing some of the finest electrolytic nickel plating in the world since Sept. 10, 1960 when the Thompson Smelter produced its first Bessemer nickel matte, and about six months later on March 30, 1961, when the Thompson Refinery produced its first nickel cathodes.
For the rest of this column: https://soundingsjohnbarker.wordpress.com/2018/07/31/vales-long-goodbye-2814-days-adding-up-to-7-years-8-months-and-15-days/