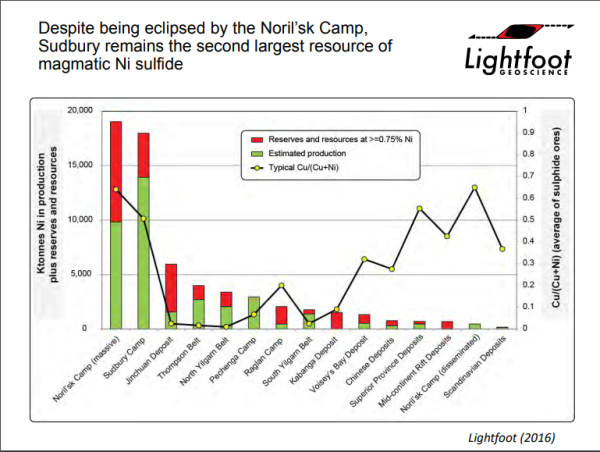 http://www.thesudburystar.com/
It's the type of metal needed for electric cars
In the first half of 2017, nickel was selling for an average price of US$4.43 a pound and there was an increasing glut of nickel in London Metal Exchange warehouses. On Aug. 31, that glut reached a whopping 389,154 tonnes. Fast-forward to today and it's a totally different picture.
Last week, LME nickel stockpiles had shrunk to 278,800 tonnes. The metal also broke through the US$7-a-pound mark last week — a gain of about $1.50 pound since last December. Nickel started the day Friday at $7.10 pound, but had dropped to $6.96/pound U.S. by the end of the day, and has dropped a bit more since then.
Terry Ortslan, mining analyst with TSO & Associates in Montreal, said a combination of the weakening of the U.S. dollar and hoarding by traders in anticipation of nickel needed for electric vehicles is causing rising prices and inventory drops.
"(A weaker U.S. dollar) makes commodities stronger," he said. "That's a huge influence in commodity prices." Ortslan added that Class 1 nickel, which is the type of nickel produced in the Sudbury Basin, is a high grade of nickel and the type required for electric vehicle batteries.
"People are positioning themselves for the electric vehicles," he said. "Nothing is going to happen in the short term, but three, four years down the road, there is going to be a serious electric vehicle industry. Four, five years in the mining business is like tomorrow."
Ortslan said the annual nickel demand for electric vehicle batteries could translate into some 200,000 tonnes of nickel or about 10 per cent of the world market. "It's a big value," he said.
Stan Sudol, a Greater Sudbury native who now lives in Toronto and has a strong interest in mining, including being the owner/editor of a mining-themed website entitled The Republic of Mining, also feels the price surge is due to the growing need for nickel in electric vehicle batteries.
"With the enormous potential of electric vehicles whose batteries use significant quantities of nickel, the pressure on global nickel inventories is increasing," he said. "The significant decrease in London Metal Exchange Class One nickel – a very pure form of the metal – is causing concern about whether there will be a return to the nickel shortages of the past century."
For the rest of this article: http://www.thesudburystar.com/2018/06/13/sudburys-nickel-in-demand-again