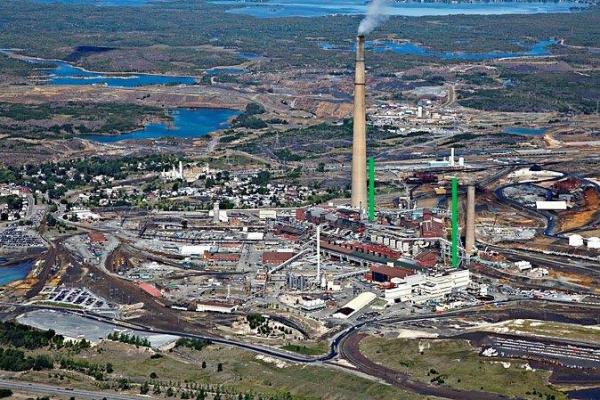 SUDBURY, June 5, 2018 – Residents of Greater Sudbury may have noticed that the plume from Vale's iconic Superstack has been much less frequent lately and that two new stacks are now emerging from the company's Copper Cliff Smelter Complex.
Although the Smelter is in full production, a new Wet Gas Cleaning Plant has been commissioned and is capturing process gases and sulphur dioxide emissions previously emitted by the Superstack.
"The commissioning of the Wet Gas Cleaning Plant and construction of two new stacks signals that we are nearing completion of our Clean AER Project," said Dave Stefanuto, Vice President of North Atlantic Projects and Base Metals Technology. "This historic milestone reflects years of dedicated effort from both our project and operations teams and is something all of us at Vale and in the City of Greater Sudbury can be proud of as we significantly reduce our environmental footprint in the community."
Vale's $1 billion Clean AER (Atmospheric Emissions Reduction) Project began construction in 2012. Once fully commissioned in September of this year, the project will reduce current SO2 emissions by 85% and metal particulate emissions by 40%. The two new stacks will require far less energy to operate than the Superstack, which will reduce greenhouse gas emissions from Vale's Copper Cliff Smelter by approximately 40%.
"By decommissioning the Superstack, the Smelter's natural gas consumption is estimated to drop by nearly half," said Stefanuto. "The reduction is equivalent to the average fuel consumption of approximately 17,500 homes, or approximately 1/3 of all the households in Greater Sudbury."
Concrete shells for two smaller and more efficient 137 metre (450 foot stacks) will soon be visible to residents of Sudbury as they emerge from Vale's Copper Cliff Smelter Complex. Construction of the shells is expected to conclude in late summer of this year.
Following construction of the concrete shells, steel liners will be installed in the new stacks in 2019. In 2020, the Superstack's steel liner will be removed and the Superstack will be decommissioned and placed into care and maintenance. It is expected that demolition of the concrete shell will begin thereafter and continue over several years.
-30-
Contact:
Angie Robson
Manager, Corporate & Indigenous Affairs
Vale Canada Limited
[email protected]
705-682-5202