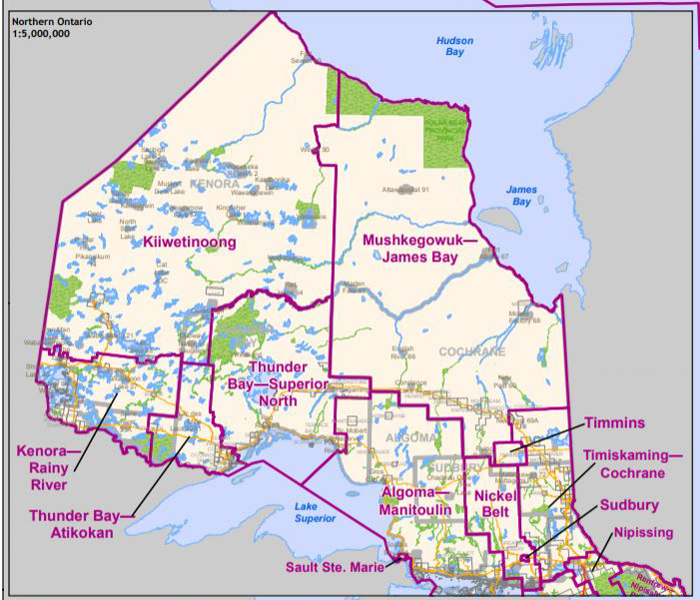 Northern Ontario Being Strangled
On June 7th, the people of Ontario will be going to the polls in one of the most pivotal elections in the province's history. While Northern Ontario – north of the French and Mattawa Rivers, as I have never recognized the Parry Sound and Muskoka ridings as being part of the North – encompasses roughly 90 per cent of the province's land mass, its population has been steadily declining to slightly over five per cent of Ontario's total.
Unfortunately, our impact on provincial policies is almost negligible.
A buck a beer, cheaper gas, tax breaks combined with unaffordable infrastructure and social commitments, twinning the trans-Canada in Northern Ontario, buying back Hydro One, and jumping on a bulldozer to start building the road into the Ring of Fire are part of a bevy of mostly worthy but unsustainable promises Conservative Doug Ford, Liberal Kathleen Wynne and NDP Andrea Horwath have made.
However, I seldom hear any actual policy initiatives to grow the economy and create wealth so we can afford all these election initiatives and perhaps, just perhaps put a little money on our provincial debt which has more than doubled during the past 15 years under the McGuinty/Wynne Liberal era from about $138 billion in 2003/04 to $325 billion currently and growing. By the way, this is the largest sub-national debt in the world and twice as large as California which has a population of almost 40 million. We are paying roughly $1 billion a month to service that debt. That will surely rise when interest rates, which are at historic lows, eventually start going up!
Needless to say, in last Sunday's final leader's debate to a wide Ontario audience, there was not one mention about Northern Ontario or policies that could significantly increase this region's prosperity with positive impacts on the south.
If I could borrow a lyric from Timmins-born international music star Shania Twain, "that don't impress me much!"
First, I need to mention some geographic context for our largely uninformed fellow Ontarians who live in the south. Northern Ontario is astonishingly huge. Northwestern Ontario encompasses 526,417 square kilometers with a population of about 231,000 people. (All population stats are from 2016.) Northeastern Ontario has 280,290 square kilometers with a population of roughly 505,625. In contrast, the size of southern Ontario is 140,000 square kilometers and holds the vast majority of the approximate 14 million who call this province home. Spain's 50 million people have to make due with 505,370 square kilometers, just a bit smaller that northwestern Ontario alone.
The population of First Nations who belong to Nishnawbe Aski Nation (NAN) – both on and off reserve – across the entire north is about 45,000 people. NAN is an Aboriginal political organization representing 49 First Nation communities that encompass James Bay Treaty Number 9, Treaty Number 3 and Ontario's portion of Treaty Number 5 territories.
Many of the communities are isolated and only accessible by air or winter roads which are becoming less useful because of shorter seasons due to global warming. In the northwest, most of these FNs are near some of the most promising mineral-rich geology on the planet.
A recent National Post article highlighted the perennial issue of Northern Ontario separation.
As usual, the southern media view political separation in a somewhat amusing and simplified manner and rarely look beyond the declining resources issue and investigate the enormous opposition to well-paying, middle-class jobs in forestry and mining by well-funded media-savvy environmental movements who lobby to turn much of the north into provincial parks. A few years ago at a Northwestern Ontario Prospectors Association conference in Thunder Bay, I remember a popular button slogan that stated "Develop the North and Park the South!"
While I am very sympathetic to the idea of a separate province which would be much larger or comparable in size to Canada's three territories and the much smaller Atlantic jurisdictions, the political reality would make this very difficult – though the separation of the Northwest Territories (44,600 people) and Nunavut (36,000 people) and their tiny populations, does give some hope! Sudbury, the largest city in Northern Ontario has 165,000 inhabitants!
And I do want to point out that historically, the good citizens of the North were never allowed to vote on the issue of joining southern Ontario and still feel it was a massive resource grab by southern politicians – a provincial version of "manifest destiny"! One can easily understand the resentment and bitterness at being treated as a resource colony or a preserved green summer playground for southerners, still to this very day!
In the not-widely-seen premiers northern policy debate held in Parry Sound, Conservative Doug Ford did strike a resonating chord by repeating the term "fanatical environmentalists" and variations on that term. It is an issue that resonates with all northerners and is the most divisive issue between the entire north and the two Queen's Park ministries that have an enormous, and I may say "largely negative" impact on the region's economy, the Ministry Natural Resources and Forestry and the Ministry of Environment and Climate Change.
In addition, Ford highlighted the NDP candidate for Lanark-Frontenac and Kingston, Ramsey Hart who worked for Mining Watch Canada – an organization that has never supported mineral development anywhere in the world.
And the 2010 Liberal Far North Act – promoted by the environmental movement – which mandated half of the far north to be set aside as parks was bitterly, bitterly opposed by most of the First Nations and non-Aboriginals throughout northern Ontario, and has been a major impediment to resource development.
The legislation intends to protect 225,000 square kilometres of boreal forest – significantly larger than all of southern Ontario – from development. An unintended consequence of all this "green ideology" is continued First Nations poverty and an epidemic of child suicides unmatched anywhere else in the world.
A quick tangent on my background might be in order to give a bit of relevancy to my strong opinions and policy proposals. I previously worked in a number of ministries in Queen's Park in the late 1990s and early 2000s – always in the bureaucracy, not on the political staff as a communications consultant – that included the Ontario Native Affairs Secretariat and ministries of Northern Development and Mines and Finance, just to name a few.
I am originally from Sudbury and worked in the summer of 1980 underground at Inco's Frood-Stobie Mine and a few years before at the company's Clarabell Mill for a year. Like many of my generation, I moved south to Toronto but have always followed northern issues and politics. As the old saying goes, "you can take the boy out of the North, but you can't take the North out of the boy."
That "political chip on my shoulder" is based on decades of dealing with the North's substandard roads and services and seeing my region's vast resource potential being held back by "fanatical southern environmentalists and feckless politicians" – overrun by "politically correct green/carbon politics" that is only impoverishing the people – especially the marginalized First Nations of the Far North.
All for what?
Ontario contributes an insignificant 0.48% of global carbon emissions. The entire country emits roughly 1.8%! You could wipe Canada off the map and there would be an absolutely insignificant impact on reducing global carbon emissions!
I am not suggesting we do nothing however, the economic impact of our actions MUST be in relation to our very tiny global contributions, not strangle the economy, diminish our ability to pay for our social services like health care and education, threaten our high standard of living or deficit-finance ourselves into financial insolvency. This is also a message for the green zealots in the Prime Minister's office as well.
To date the economic damage done by our carbon reducing schemes – Green Energy Act and Far North Act – and the continued opposition to northern resource development in the name of green ideology is far, far out of proportion to our global emissions.
The best example of how "out-of-control" and "drunk on power" the Ministry of Environment and Climate Change has become is their requirement that during the construction of new mines the owners must estimate the amount of carbon emissions that will be produced from their portable toilets! I am not kidding! Fifteen years of Liberal over regulation and carbon obsession has come down to measuring the amount of intestinal gas produced by construction workers on northern mine sites. It is to weep!
Since the none of the leaders debates really covered the needs of Northern Ontario in a substantive way – I understand the time limits of television – I have decided to present a somewhat brief outline of some of the more important policy issues that the new premier might consider in helping this extraordinary region meet its enormous economic potential. I thank in advance the many people who shared their terrific ideas with me and please forgive me for not being able to include all of your very worthy ideas due to time and space.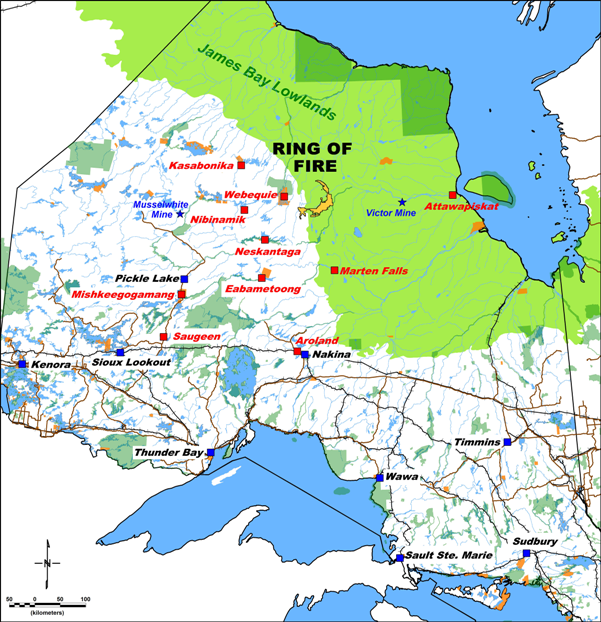 Ring of Fire – Focus on "Entire" North South Road in First Hundred Days
Let's be brutally honest and frank, Liberal Premier Wynne and her Mines Minister Michael Gravelle have utterly failed in moving the Ring of Fire forward, which is located in the isolated James Bay lowlands about 500 kilometres northeast of Thunder Bay. For slightly over five years they have not been able to get shovels in the ground for an essential road into the most promising mineral discoveries in Canada since the Sudbury Basin in 1883, which was found during the construction of the Canadian Pacific Railway (CPR).
By coincidence, it took a bit less than five years to build the entire CPR in the early 1880s from Ontario to Vancouver – a distance of roughly 4,200 kilometres. The distance between the Ring and the provincial highway system is about 280 kilometres.
But to cut both of these politicians some political slack, enormous blame must also be given to the previous Harper and current Trudeau governments as well. First Nations are primarily a federal responsibility – though that doesn't prevent the Province from stepping in if there is a dire need of some sort.
For the past decade, even with the enormous mineral values beneath the ground, the federal level has not done near as much as it should have to provide clean water, upgrade homes, other infrastructure as well as social services, especially health and education in the five isolated First Nations communities – Webequie (850 people), Nibinamik (400), Neskantaga (250), Eabametoong (1,500) and Marten Falls (400 on and 400 off-reserve). Except for Marten Falls, these are general on-reserve population figures and each community has an off-reserve population as well.
Currently, it is estimated that the value of mineral deposits – primarily chromite, nickel and copper – are worth about $60 billion in economic activity over a 30 year period. Jim Franklin, the former chief geoscientist at the Geological Survey of Canada, predicted at least $140 billion worth of chromite and base metals will be discovered in the Ring of Fire, and an additional $140 to $190 billion of gold are lying in the many greenstone belts to the west of the camp.
Cliffs Natural Resources abandoned the project on Wynne's watch in 2013. Luckily, junior miner Noront Resources bought the resource and wants to build a nickel copper mine – the Eagle's Nest – and develop one of the largest chromite deposits in the world as well as build a ferrochrome processing facility somewhere in Northern Ontario (Thunder Bay, Timmins, Sudbury or Sault Ste. Marie), yet to be decided. None of this can happen without road access into the camp.
The United States has declared chromite on a list of 35 key minerals that are "vital to the nation's security and economic prosperity." In some years, up to 70 per cent of chromite production – a critical metal used for stainless steel, chemicals, corrosion resistant super alloys and a host of other manufactured products including vital military weapons applications – comes from South Africa, a country with political stability issues. It would be a tremendous benefit for the huge American and global stainless steel industry to have significant chromite production based in a western jurisdiction.
Considering the billions of dollars in economic development opportunities and high paying middle-class jobs in a depressed part of the province as well as the impoverished living conditions of the surrounding First Nations communities, you would have thought that the Cliffs abandonment would have given the Liberal government a sense of urgency?
Last August, the Wynne government inked an agreement with Marten Falls, Webequie and Nibinamik to build an east/west and a north/south road into this isolated mining camp. I have been told that Nibinamik has gotten cold feet so the east/west road is on hold for now. We should focus all of our energies on the north/south road.
Currently environmental assessments are about to start on the section of road to be built between Marten Falls and the provincial highway near Nakina. These environmental assessments – which really need to be fast forwarded – take two years. The section of proposed road between Marten Falls and the Ring of Fire has had some baseline studies but currently no environmental assessment is being done.
In the first 100 days in office the new premier needs to ensure that the Terms of Reference be written immediately and that an environmental assessment on the northern section towards the Ring of Fire starts in the next few months.
One other issue must be highlighted. The vast majority of the known mineral deposits are on the ancestral territories of Marten Falls. This is based on Marten Falls member's family trap lines and other traditional uses that might also include fishing and other pursuits. However, some other parts of this mineral region are also on the traditional trap lines of Webequie and Attawapiskat.
Trap lines are the major way the Ministry of Natural Resources defines all First Nations traditional territories. These maps are highly confidential and really should be made public so junior explorers can clearly see on whose traditional territory they are working.
Under the Far North Act, First Nations communities are supposed to develop land use planning guidelines, but overlapping claims over traditional territory are occurring in some cases. The new government might need to set up some sort of court or commission, possibly associated with NAN, to finally sort out these competing claims. However, the north/south road is clearly on the ancestral territories of Marten Falls.
Like non-Aboriginal communities, the isolated First Nations reserves of the Ring of Fire are all very distinct, individualistic and have quite different histories. The new premier and the media need to recognize these issues and differences. No one individual community represents all of NAN's 49 members. Should the opposition of one or two communities with very tiny populations – and a more controversial "political agenda" – be enough to slow down or stop multiple mine projects worth billions of dollars to both the regional and provincial economies?
We don't expect total agreement on controversial projects in non-Aboriginal communities. We base decisions on the greater good for the majority of people. The same political yardstick should be used in the Ring of Fire.
One final issue that must be addressed in Marten Falls is the need for a community centre which they have been lobbying for without success for many years. The cost of about $6 to $8 million is a pittance and could be easily funded from the Ontario Heritage Fund. Considering the provincial government spent $47 million to subsidize electric vehicles in 2017 – none of which are built in this province – that included the $150,000 Tesla and the $1.1 million Porsche 918 Spyder, I am absolutely appalled at the "tone deafness" of the Wynne Liberals. That proposed centre would be a tremendous boost of morale for Marten Falls, a community that could become a gateway into the Ring of Fire and which has been under a Boil Water alert for many years.
The Ring of Fire mineral deposit was discovered in 2007 and there has been no mine development. In contrast, the equally isolated territory of Nunavut has built two gold mines (Agnico-Eagle's Meadowbank and TMAX Resoures' Doris) and one iron ore operation (Baffinland's Mary River) in some of the most hostile terrain on the planet. A fourth gold mine (Agnico Eagle) should be in operation in 2019 and junior miner Sabina Gold and Silver Corp. has been given continued development approvals by the Nunavut Impact Review Board.
Agnico Eagle's Meadowbank gold mine which started production in 2010, has made a considerable impact on the territory's economy. A study reported that the mine contributes about 15 per cent to the territory's GDP and employs slightly over 300 Inuit at an average wage of $107,000 a year – the foundation of an Inuit middle-class.
Agnico Eagle annually spends about $5 million on extensive internal skill training programs to help Inuit advance in the workforce and generates $280 million yearly in local business procurement. And royalties will be flowing to the Inuit through their umbrella organization, the Nunavut Iunngavik Inc.
Patrick Tagoona, president of Nunavut Investments Ltd., stated in a Nunatsiaq News article, that people have trouble finding parking spaces in Baker Lake, the closest community to the Meadowbank mine, due to all of the new trucks bought by mine workers. Workers are taking vacations in southern Canada and giving their children a strong reason to stay in school. Sustainable mining operations in northern Canada have, in effect, created an Indigenous middle-class and that is the most powerful form of reconciliation there is – economic.
Transfer 10,000 Civil Service Jobs to Northern Ontario
Without a doubt the provincial economy overall is doing great. Growth rates of 2.8% in 2017 and a slightly lower rate of 2.4% predicted for this year has allowed Ontario to gain 335,000 new jobs and lowered unemployment to 5.5% in March. However, the vast majority of that prosperity is focused in the Greater Toronto Area (GTA). In fact, over the past decade roughly 80% of new jobs created in Ontario went to the GTA, 10% to Ottawa and the rest of the province had to make do with the remaining 10%. Is it any wonder why the GTA is drowning in prosperity, with crowded subways, congested highways and an over-inflated housing market?
In the 1980s, former Liberal Premier David Peterson had an innovative vision of sharing the job wealth with the rest of the Province. Since as the government is a major employer, he transferred 1,600 civil service jobs from a number of ministries to northern Ontario. Thousands of other jobs were also moved to various cities in southern Ontario like Kingston, Peterborough, Orillia and Guelph. Peterson helped grow the Sudbury Mining Cluster by transferring the Ontario Geological Survey, the Ministry of Northern Development and Mines and mines section of the Ministry of Labour to the city.
There are an estimated 120,000 Ontario civil service jobs in the Toronto area spread over the Queen's Park ministries and a wide variety of government agencies, boards and commissions (ABCs). With the impending retirement of the baby boomers, plus advanced communications technologies, it's time to revisit Peterson's terrific vision to share the wealth and stability that government jobs provide and transfer 10,000 civil servant positions to Northern Ontario. And for good measure, another 15,000 government jobs should be transferred to the cities of the southwest, the Niagara region and the southeast.
The booming GTA can more than withstand this job transfer and it might even help reduce some of the congestion. The new government should hire an outside accounting firm to make recommendations on what jobs should be transferred and to where. In a brief telephone conversation, well over a decade ago, I recall Peterson telling me that there was tremendous "pushback" from the bureaucrats as they didn't agree with his policy. In the Ontario of the 21st Century, Toronto can afford to and should share the wealth of civil servant jobs with the rest of the struggling province.
Need to Educate Ontario Children about Resources
Our natural resource sector – energy, mining, forestry and agriculture – provide about 52% of Canada's exports. And yet the disconnect between where the materials to build our cell phones and cars come from or how the lights stay on has never been greater. Even, global food production would significantly decrease, leading to mass starvation, if phosphate and potash fertilizers were not used to sustain crop yields.
Ontario needs to implement one mandatory resource course in the high school curriculum to educate all kids about the basic building blocks of modern society. I am not looking for a propaganda tool. We need to include legitimate environmental concerns, water and pollution issues as well as the realistic and costly limits of renewable energy proposals and the poverty elimination aspects of resource development in northern or less developed regions and countries.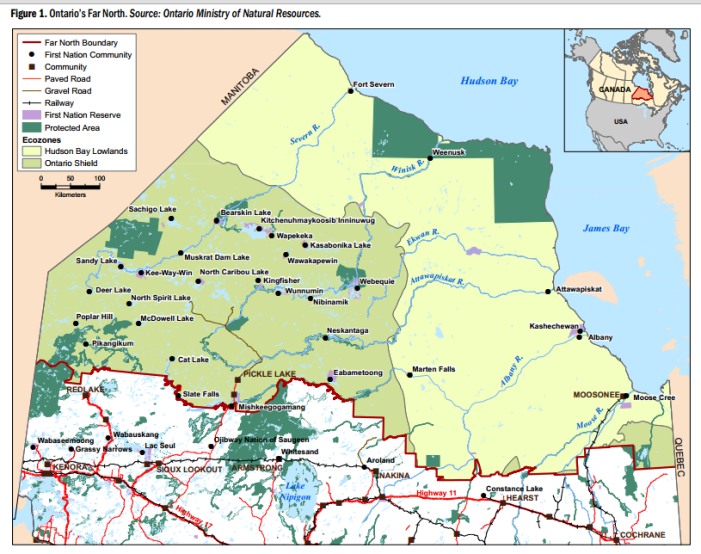 Roads to Riches Connecting Isolated First Nations
Aside from Webequie and Marten Falls which will hopefully be connected by the Ring of Fire north/south road, there are 30 other isolated First Nations communities scattered throughout the Far North. Seven of these communities are on the James Bay coast. Connecting them will be costly due to the prevailing muskeg that is difficult to build on. I am only going to focus on the 23 communities in the far northwest that are located on the same Canadian Shield geography that Sudbury is on.
Due to global warming, the usefulness of the winter roads that are constructed every year are becoming much less dependable for the transport of bulk commodities that would be very costly to fly-in.
A very economical solution that northerners could do themselves – as opposed to hiring high-priced southern engineering firms – is building forestry roads that are commonly used in the forest industry to economically haul-out timber.
Hartley Multamaki, Vice President of Green Forest Management, who has been directly involved in planning and constructing of a substantial amount of these types of roads in Northern Ontario said a rough estimate for primary forestry road construction, which is solid enough for huge trucks, would be around $250,000 per kilometre. The ultimate cost could be higher because of obstacles like river crossings, swamps and access to aggregates.
So taking that estimate, the cost of building 1,100 kilometres of forestry road through standard Canadian Shield geography in northwestern Ontario would be about $275 million. This "proposed" route would start north of Red Lake and include the communities of Pikangikum, Poplar Hill, Deer Lake, Sandy Lake, Keewaywin, Muskrat Dam, Sachigo Lake and sharply veer east to include Bearskin Lake, Big Trout Lake (KI), Wapekeka and end up in Kasabonika.
Add-in an additional $125 million for the previously mentioned obstacles. So for $400 million, you could economically connect a large number of isolated communities. Not an earth-shattering sum!
Obviously, the First Nations would be thoroughly consulted on the best routes and during the two-year Environmental Assessment period, the government must provide training programs to ensure the local communities would benefit from the road construction, bridge-building and long-term road maintenance contracts.
The other isolated Aboriginal communities could eventually be linked to this "proposed" road for an additional estimate of about $500 million – I am factoring in some inflation and possible slightly longer distances.
In addition, road connection would significantly lower the cost of food, building materials and other supplies as well as open-up some the richest unexplored geology in the province. There are many promising gold exploration sites along the numerous east/west greenstone belts between the Manitoba border and the Ring of Fire.
A project that gives a "taste" of the mineral potential outside of the Ring of Fire is Northern Superior's TPK property which is adjacent to Neskantaga. CEO Tom Morris has excellent relations with the First Nation community. One historic drill core indicated 25 g/t over 13.5 meters which is a great showing.
Geologist David Beilhartz, who has over 30 years experience and currently freelances for various clients including Eric Sprott, a well-known mining investor, and is on the board of directors for the junior feels the TPK property is one best grassroot exploration properties in Canada today.
As most junior explorers and prospectors will say, "the best way to find a mine is build a road." A modern Aboriginal version of former Prime Minister John Diefenbaker's (1957-1963) Road to Resources program to construct both vital infrastructure to connect isolated communities as well as enable easier access for the exploration and development of mineral resources and the ensuing economic prosperity.
Twinning Trans-Canada and Passing Lanes
In a last minute political reprieve, the Liberals committed to twinning the trans-Canada highway throughout northern Ontario with no timelines or financial commitments. Aside from the collective eye-rolling I suspect most Northerners were doing, it probably lowered the Liberals standing in the polls a point or two – given their desperation of saying anything to get re-elected. Aside from the cynicism that announcement brought on, this really is an issue that we need to start tackling.
Road and bridge infrastructure is a critical component of the North and that strategic choke point at Nipigon needs to be resolved in some economic manner. In January 2016, a brand new $100 million bridge failed due to some problem with the bolts holding it together, effectively cutting the country in half. We need to have an alternate route, preferably in this country, as traffic had to re-route through the United States to get to southern Canada. Obviously, we need to start twinning the Trans-Canada. After all, we are a high-tech supposedly near $2 trillion economy! We should be able to afford it if the Prime Minister stops spending $4.5 billion on pipelines the private sector should be building.
And there are two secondary highways I really need to complain about. Highway 144 was probably designed by the devil himself. I am not calling for its twinning, but we certainly could afford to place some longer passing lanes in 10 key places as the construction of IAMGOLD's new Côté open pit gold mine near Gogama will be employing hundreds and the traffic volume will expand accordingly. And Red Lake is doing very well. But Highway 105 into the community could also use around 10 lengthy passing lanes strategically placed.
Power Issues
Before the breakup of the old Ontario Hydro by the Mike Harris Conservatives – into Ontario Power Corporation (generation) and Hydro One (transmission) the construction of transmission lines to new resource projects was paid for by the utility. Now the mining or forestry company must foot the bill even though their economic activity will create hundreds or thousands of jobs (direct/indirect) and contribute enormous amounts of tax revenue, especially in northern regions. We need to go back to the old system.
The Green Energy Act and its absurd long-term high-priced contracts have caused excessive increases in both residential and industrial power rates. While the Liberal Northern Industrial Electricity Rate Program does lower power rates for industry, there is a limited amount of money in the program and it is not a permanent fixture. It is dependent on the whims of politics. Ontario needs to implement a permanent industrial power rate for all northern industries that is within a "reasonable" range compared to Manitoba and Quebec. I don't expect that we could afford to be at their impressively low rates, but somewhat competitive to retain those high-paying, middle-class jobs associated with mining and forestry.
Regulated by the Ontario Energy Board, Wataynikaneyap (Watay) Power is a licensed transmission company, 51% owned by 22 First Nation communities in partnership with Fortis Ontario Inc. which owns the remainder. The federal government gave $1.6 billion to this great initiative to link 16 isolated Aboriginal communities to the grid and wean them off of costly diesel power generation. I have to give the Trudeau government credit for this terrific investment that will benefit more than 14,000 people and is the "most expansive Indigenous-led transmission project in Canada's history."
There are also extensive training programs for FNs and the ability to expand and grow businesses in these communities which was severely limited with diesel generation, can now happen.
Here is the small problem. Two key Ring of Fire communities are not part of the plan – Nibinamik and Webequie. Wunnumin Lake FN is a partner. This community is only about 60 kilometres west of Nibinamik and 135 kilometres west of Webequie. It would be very easy to run a line to both of these communities and into the Ring of Fire. The government needs to convince both communities to join the Watay initiative.
The last power issue I want to highlight is the need for a critical upgrade to two transmission lines in northwestern Ontario between Dryden and Red Lake and between Nipigon and Greenstone. Both Greenstone and Red Lake are experiencing significant growth in their gold mining industries.
The current transmission lines are extremely old and need to be upgraded to a 230 KV circuit or it will significantly hold back mineral sector expansion. The Watay power project should have its first Aboriginal community – Pikangikum – connected at the end of the year which is north of Red Lake putting more pressure on that transmission corridor. It is appalling that the business sector has been constantly lobbying and fighting with Hydro One, the Independent Electricity System Operator and the Ministry of Energy about this vital issue to no avail. Both these projects involve many FNs communities that will benefit as well. This basic piece of infrastructure needs to be upgraded NOW!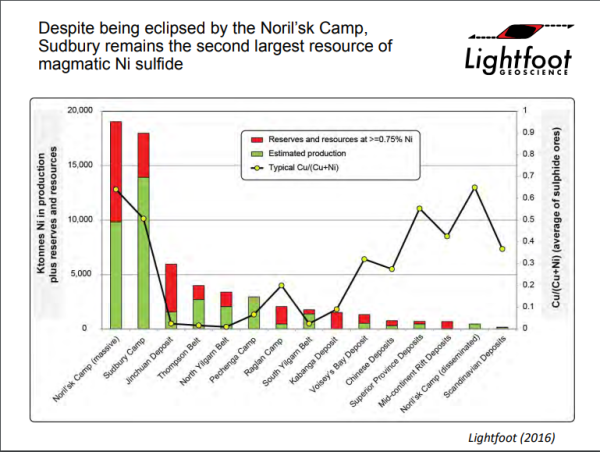 Sudbury's World Class Mining Camp
The Sudbury Basin is Ontario's metallic equivalent to the Alberta oils sands without the massive open pits as most of the mines historically have been underground. For 135 years the region's unique polymetallic ore-bodies have produced nickel, copper and significant quantities of cobalt, gold, silver and platinum group metals (PGMs). It is the third largest source of PGMs after South Africa and Russia. Many multi-generational families earn good middle-class salaries in the many mines, two mills, two smelters and one refinery. Roughly 30% of provincial mining activity takes place in Sudbury according to the Ontario Mining Association.
Glencore's recent C$900 million investment in the development of its Onaping Dept project and Vale's C$760 million Phase One development of its Copper Cliff Deep mine are indications of growing confidence in the future of the region.
Vale has spent a little over one billion dollars on its Clean AER Copper Cliff Smelter project to lower sulphur dioxide emissions which will be completed later this year while Glencore is spending $300 million to further reduce its sulphur output. Before these projects were started sulphur dioxide emissions had already gone down about 95% from 1970 levels – an astonishing success story of pollution abatement.
KGHM's has still not committed to developing its Victoria deposit and rumors suggest it might be sold to an outside buyer while junior explorers like Wallbridge Mining Company continue to search the Basin for new deposits.
Geologist Dr. Peter Lightfoot is one of the most respected and internationally renowned experts on nickel. He has written the "quintessential bible" – a 680-page book titled "Origin of the Sudbury Igneous Complex" – on Sudbury's globally unique geology!
As Dr. Lightfoot's graph on global nickel deposits shows, Sudbury and Russia's Norilsk's nickel deposits in Siberia are the two global nickel sulphide giants on the planet. All of the other sulphide deposits dwarf these "gigantic sumo wrestlers of the nickel world." He feels that only 20% of the ore has been found in the Sudbury Basin. The Sudbury mineralized deposits are widely thought to extend 10 kilometres below the surface. The deepest mine in the Basin is Creighton which is exploring the potential to eventually mine at the 10,000-foot level (3.04kms). They are currently mining around the 8,000-foot mark.
The Sudbury Basin is the richest mining region in Canada and depending how you measure the astonishingly rich gold deposits in Nevada's Carlin Trend – could be the number one or two mining region in North America. We certainly have legitimate bragging rights.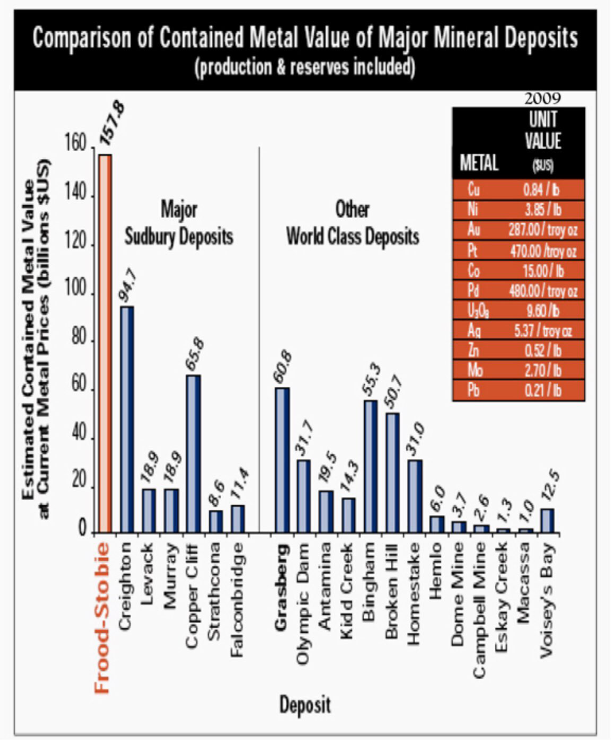 (Courtesy Wallbridge Mining Company)
The Sudbury mining ecosystem also includes a sophisticated mining supply and service sector with 350 local companies, a number of them exporting to global markets as well as supplying mines across the country.
Two colleges (Cambrian and Boreal) and Laurentian University provide post-secondary mining programs and a significant amount of research is being conducted primarily at the university (Mineral Exploration Research Centre (MERC); Vale Living With Lakes Centre, Mirarco Mining Innovation), Centre for Research in Occupational Safety and Health (CROSH) and the independently-run Centre for Mining Excellence (CEMI) and Norcat.
In addition, the Bharti School of Engineering, the Harquail School of Earth Sciences and the Goodman School of Mines faculties provide a world-class post-secondary education for mining professionals allowing students to tap-into Sudbury's supercluster of mining production and innovation.
Of significant note, last year, the Metal Earth research program led by MERC was funded $104 million. This is the largest geoscience research initiative in the world.
Provincial Research Funding for Silicon Valley of Mining
California's Silicon Valley – south of San Francisco – is the most famous high-technology cluster in the world. Houston, Texas has established itself as the leading cluster of oil and gas industries, services, research and educational institutes related to that sector.
Clusters are geographic concentrations of related companies in a specific field. They compete with each other resulting in global innovation and the jobs of the future. Internationally- known Harvard Professor, Michael Porter, has traveled the world advising many nations about the benefits of industrial clusters. In fact, almost 25 years ago, in a document for the Government of Canada, Professor Porter noticed Sudbury's emerging mining cluster – it's been years since I read the document but seem to recall that it suggested the feds help it grow.
The Wynne government shamefully gave no financial support to the recently-ignored Sudbury supercluster proposal which was rejected by the federal government, purely on regional politics and probably a little prejudice – thinking that mining is a low-tech industry. Nothing can be further from the truth. Miners at Vale's Tottem Mine carry Apple iPads in their lunch buckets. Many mines are transitioning to battery-driven equipment to eliminate unhealthy diesel fumes.
Laurentian Professor Michael Lesher, Research Chair in Mineral Exploration, says, "mining is now one of the most technologically-advanced industries in the world, utilizing state-of-the-art geophysical, geochemical, and satellite imaging techniques in exploration.
In addition, telerobotics in mining, advanced motion-sensor technologies in mineral processing, sophisticated extraction technologies in metallurgical treatment, and state-of-the-art biological methods in remediation clearly show the extraordinary advances in this sector."
The downtown Toronto Bank of Montreal building –the tallest skyscraper in Canada – is 72 stories high. The deepest mines in northeastern Ontario and northwestern Quebec are roughly equal to 650 stories underground! It takes an amazing amount of advanced technology to safely bring workers to those depths. A tidal wave of innovation is engulfing a new era of the digital underground.
The rejected supercluster proposal was going to improve environmental outcomes and increase productivity by tackling the challenges of water use, energy intensity and the environmental footprint of mining operations and position the country as a leader in mining and clean-tech solutions.
Considering the enormous benefits that mining research can provide the northern Ontario economy, the new Premier should adequately fund the following three research initiatives – perhaps from the Northern Ontario Heritage Fund Corporation:
$40 million over four years for Centre for Mining Excellence (CEMI): For the past five years CEMI's Ultra Deep Mining Network has been working on the development and commercialization of projects dealing with the challenges of deep mining. They focused on rock stress reduction, energy reductions and optimization, material transport and productivity and improved human health and effectiveness.
Ninety-three partners have worked on 25 projects that delivered 17 prototypes, eight products, nine IP protected patents, eight brokered deals resulting in 146 jobs. They are looking for more funding to continue their innovative research focusing on excavation stability and reliability, energy management for sustainable deep mining, mine production systems and the interplay of digital technologies and employee productivity.
$40 million over four years for Centre for Mine Waste Biotechnology: Biomining allows industry to economically extract valuable minerals from mine waste while bioremediation can mitigate the environmental damage from mining activity by eliminating acid mine drainage or removing arsenic from old tailings. Molecular technology has advance so that specific microbes will be able to eliminate waste or mine certain minerals, some even in cold climates.
This proposed research institution would be the first in Canada and could potentially resolve the legacy issue of thousands of abandoned mines and tailings areas across the country. It could possibly even be used by industry in the milling process to prevent acid material from reaching the environment in the first place. By commercializing these technologies Ontario could become a world leader in clean mining.
$40 million over four years for Mirarco Mining Innovation: For over 20 years, MIRARCO's five core research centres, safety research, geomechanics research, decision support software, sustainable energy solutions, and climate adaptation, have provided the industry with quality-applied research to manage risks in the mining sector.
Last April, Bruce Power donated $1 million to create an Industrial Chair position at Miraraco which will highlight opportunities in sustainable clean energy solutions. One specific opportunity is for the development of Small Modular Reactors to generate clean, low-cost and reliable electricity in rural/remote regions.
Since 2013, the Northern Ontario Heritage Fund has provided more than $103 million for the growth of film and television production in Northern Ontario. These are largely short-term projects that pay most of their staff lower wages. Ontario must start funding cutting-edge mineral sector research that will create new technologies and innovation for the mines of the future that will lead to potential export markets.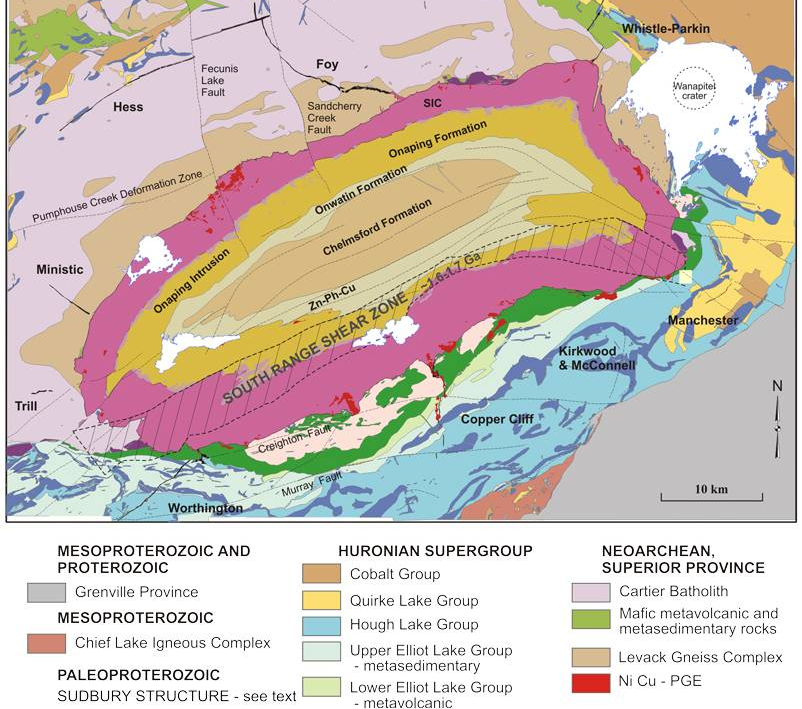 Creating the Harvard of Hardrock Mining at Laurentian
One of the best initiatives the provincial government ever did to develop the mining cluster in Sudbury was by transferring the Ministry of Northern Development and Mines and the Ontario Geological Survey to the city in the late 1980s.
During the Wynne era, a government report basically stated that "all universities can't be all things to all people" and that they should start focusing on specializations which will enhance their global standing and further entice international students who pay much higher tuition fees. Considering the deficit-financing of the past decade some merging or rationalization of duplicate university course was clearly needed. Nothing seemed to happen.
The new premier needs to revisit this issue and start with the consolidation and relocation – but not reduce the number of students or faculty – of all post-secondary mining engineering and geology programs to Laurentian University and establish a Harvard of Hardrock Mining. That would entail the relocation of both the mining engineering and geology faculties of Queens and University of Toronto. In addition, there are currently 10 Earth Sciences/Geology departments – aside from Laurentian – in Ontario's 22 publicly-funded universities.
Except for geology departments at Thunder Bay's Lakehead University – closest to the Ring of Fire – and the one at the University of Windsor which is focused on southern Ontario's unique geology, the rest should be relocated to Laurentian. This would create a global centre of excellence in mining education due to the size and large number of academic experts in the mineral sector field.
One of the biggest problems that will prevent this from happening is that powerful university presidents will not easily give up faculties. The only way this will ever occur is if the premier intervenes and creates a taskforce of industry experts to start the transition in a non-disruptive manner.
The economic stimulus to the city of Sudbury, the significant enhancement of Laurentian's reputation in the global mineral sector and the strategic enrichment of the city's cluster of mining expertise all highlight the reasons for this consolidation to happen.
On a similar note, from the Federal government, all mining research initiatives and staff from the Canmet research facilities and the mining section of the Geological Survey of Canada – both located in Ottawa – should also be transferred to Sudbury to enhance the economically significant mining cluster that already exists here.
Leveraging Northern Ontario's Strategic Minerals to Grow Auto Sector
Australia is the world's largest producers of lithium, a key ingredient in the manufacturing of electric vehicle batteries. The state of Western Australia recently established a task force to investigate how that state can take full economic advantage of its strategic deposits.
Most industry analysts are predicting a massive conversion from gas-powered automobiles to electric vehicles over the next few decades.
No one is exactly sure of how fast this transition will take place but it is coming. Electric vehicle batteries have huge amounts of nickel as well as cobalt, copper, lithium and graphite.
There are basically two types of nickel deposits – sulphides and laterites. Sudbury, Thompson, northern Quebec, Voisey's Bay and the future mines in the Ring of Fire all produce sulphide nickel.
Nickel laterites are subdivided into limonite and saprolite deposits. Electric vehicle batteries can only use the refined pure Class 1 nickel that comes from sulphides and limonites. Refined saprolite nickel (ferronickel) contains iron making them perfect for stainless steel production – which is the main use for nickel today – but not for car batteries. And the very low-grade nickel pig iron, also used for stainless steel production is not suitable for these batteries as well.
There are relatively few very huge nickel sulphide deposits in the world and battery makers are very worried there will be critical shortages of pure Class 1 nickel in the near future as the manufacturing of electric vehicles continues to increase.
The three of the five critical metals needed for the electric vehicle batteries – nickel, cobalt and copper are mined in the Sudbury Basin. The other two metals – lithium and graphite – are also found in various undeveloped deposits in northern Ontario. Noront's proposed Eagle's Nest mine will produce nickel and copper. Nickel mines are generally found in clusters, so there is enormous potential to find more sulphide nickel deposits in the Ring of Fire.
A quick tangent about cobalt is also in order. Roughly 70 per cent of cobalt comes from the Democratic Republic of Congo, a very politically insecure country with no rule of law, rampant corruption, very poor environmental standards and routinely use child miners.
All of the car manufacturers of electric vehicles fear a shortage of all these materials. The new Ontario government should establish another industry task force made up of mining companies and car manufacturers to see how the Province can leverage this strategic and politically-secure source of raw materials, through security of supply, to ensure that the auto assembly plants stay in the province when they transition to the electric vehicle future.
The current U.S. president is vigorously lobbying for more vehicle manufacturing to be moved back to the U.S. In addition, the task force should analyze how Ontario can entice other car manufacturers to locate here like Nissan, Volkswagen and BMW with the possible security of supply of critical raw materials?
How Do We Pay For All Of This?
The gulf between northern Ontario's needs and the ability of politicians and bureaucrats to address them has never been wider. There was time, so very long ago, when a northern politician like the legendary Leo Bernier could impress the premier to resolve the region's many unique issues. Those times are long gone and northern Ontario's MPPs seem to play second fiddle to a very powerful and media savvy environmental movement, who have no problems riding rough-shot over the region's needs or just don't have the political clout at Queen's Park to address their issues. The Ministry of Northern Development and Mines is a very small ministry.
Half in jest, I often wonder if the North needs to establish an embassy somewhere adjacent to the legislature – the disconnection really is that bad.
When Canada hit the debt wall in the mid-1990s and global financial markets were basically calling our currency a "northern peso" then-Prime Minister Jean Chretien made the shockingly brave political choice to treat the voters like intelligent adults and talk honestly about the need to address the nation's critical financial state.
It worked and Chretien and his finance minister Paul Martin are lauded in our history books as the men who slayed the deficit and returned the country to fiscal sanity.
It's time the new Premier of Ontario, regardless of his/her ideology, have a similar adult conversation with the people of Ontario about the tough choices we need to make in regards to infrastructure and valued social services and how we can realistically pay for them.
Continued deficit financing alongside unaffordable tax cuts and cheaper gasoline is unsustainable. The provincial credit card (deficit-financing) does have a limit and what do we do if interest rates rise or a recession hits us.
For years, the Association of Municipalities of Ontario (AMO) have been lobbying Queen's Park to raise the HST one cent. That would bring in about $2.5 billion a year and should be equally distributed among the province's municipalities for local roads, bridges, arenas and other local infrastructure. According to the AMO, their polling shows that around three-quarters of the population understand the issues and would support it. Prime Minister Harper actually reduced the HST by two cents back in 2006.
I would go one step further and raise the HST one more cent, back to the pre-Harper levels and split the proceeds between northern Ontario to start twinning the Trans-Canada highway and the other half to Toronto to build the desperately needed relief lines for the overcrowded subway system. Before all of the "Toronto bashers" have a fit, we should remember that the Toronto census metropolitan area is responsible for about 20 per cent of the country's GDP and about half of Ontario's GDP. If Toronto is not healthy, not only Ontario but the entire country suffers.
The Mowat Centre is an "independent public policy think tank located at the School of Public Policy & Governance at the University of Toronto and Ontario's non-partisan, evidence-based voice on public policy" according to their website. They state that Ontario sends $12 billion more into Ottawa than we get back despite being statistically a "have not province."
The new premier is also going to have to claw back more of the tax revenue that Ontario gives to Ottawa. The Province is seriously hurting with its continual deficit-financing and it makes no economic sense to bleed $12 billion more to Ottawa than it gets back while deficit-financing to make ends meet, especially when enormous infrastructure projects like the twinning of northern Ontario's Trans-Canada highway and the construction of relief lines for Toronto's subway system need to be funded.
As the electrification of the auto industry clearly shows, the possible shortages of key mineral resources that are sustainably-mined and located in northern Ontario can not only benefit the regional economy but play a significantly vital role in keeping and growing the south's very important auto sector.
Opening up the Ring of Fire and building the critical infrastructure throughout the north can, not only alleviate the impoverished living conditions of the region's First Nations and create enormous economic wealth throughout the entire province but, also play a key role in the south's manufacturing economy. It is a win-win for both the north and the south if Queen's Park has the vision to act.
Stan Sudol is a Toronto-based communications consultant, freelance mining columnist and owner/editor of https://republicofmining.com/
He can be reached at stan.sudol@republicofmining.com