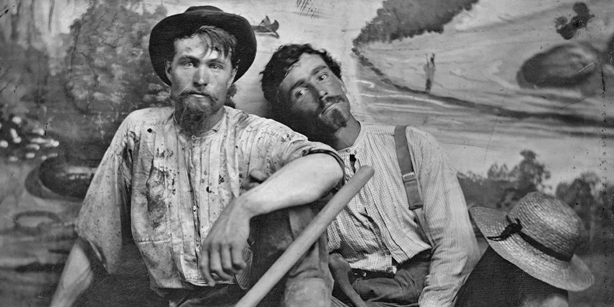 Coinciding with the early years of photography, the California Gold Rush left a lasting mark on image making.
"Gold! Gold from the American River!" So cried the carpenter James W. Marshall on January 24, 1848, as the story goes, when he found flakes of the precious metal at Coloma, California, thus ushering into the region a wave of steely-eyed prospectors.
As word of the California Gold Rush spread around the world, photographers, too, arrived, and themselves struck metaphorical gold. They set up studios in wagons and captured the historic frenzy around them, making the Gold Rush the first major event in the country to be documented extensively through the then-new medium.
Portraits of individual miners and scenes of men crowded on the rocky landscape are currently on view in an ongoing exhibition at the Canadian Photography Institute at the National Gallery of Canada, organized in collaboration with Library and Archive Canada.
Curated by the Institute's director Luce Lebart, Gold and Silver: Images and Illusions of the Gold Rush features over 70 photographs from the late '40s and '50s — mostly daguerreotypes, but also a number of tintypes and ambrotypes.
It was only a decade prior to Marshall's cry that Louis Daguerre invented the daguerreotype, and the French government purchased the patent rights to place the process in the public domain. The fever for photography, as Lebart notes, fortuitously overlapped with the fever for gold.
For the rest of this article and many photographs: https://hyperallergic.com/417336/daguerreotypes-of-the-california-gold-rush/