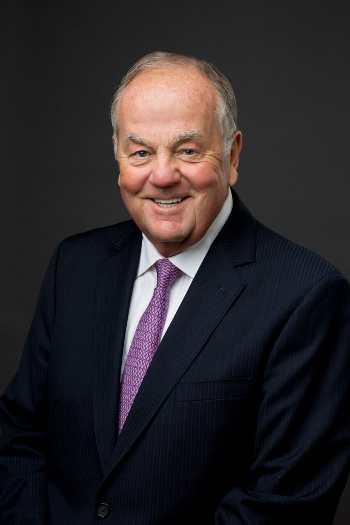 The Canadian Mining Hall of Fame was conceived by the late Maurice R. Brown, former editor and publisher of The Northern Miner, as a way to recognize and honour the legendary mine finders and builders of a great Canadian industry. The Hall was established in 1988. For more information about the extraordinary individuals who have been inducted into the Hall of Fame, please go to their home website: http://mininghalloffame.ca/
Few modern-era exploration geologists have made the transition to company builder and mine developer as successfully as Terry MacGibbon. He applied the expertise and experience gained over a 30-year career with nickel giant Inco to build four substantial mining companies: FNX Mining, Torex Gold Resources, TMAC Resources and INV Metals.
He acquired non-core assets from major producers for each of his companies — starting with past-producing properties in Ontario's Sudbury Basin for FNX — and made a series of discoveries later developed into seven mines. Along the way, he earned a reputation as a financially astute entrepreneur, innovator, and allround positive role model for the Canadian mining industry.
Born in New Waterford, Nova Scotia, MacGibbon earned a BSc (Geology) from St. Francis Xavier University in 1968, before joining Inco's exploration department. He was an early advocate of the Voisey's Bay discovery in Labrador, later acquired by Inco, and supported other discoveries as he climbed the ranks culminating in him directing global exploration.
http://www.pendaproductions.com/ This video was produced by PENDA Productions, a full service production company specializing in Corporate Communications with a focus on Corporate Responsibility.
After leaving Inco in 1997, MacGibbon acquired five "non-core" pastproducing properties in the Sudbury Basin from his former employer for FNX, which went on to make eight discoveries and place five deposits into production. FNX was the best performer on the Toronto Stock Exchange from 2000 to 2010, when it merged with Quadra Mining to form Quadra FNX Mining. In 2012, Quadra FNX was sold to KGHM, a Polish copper mining giant, for $3.5 billion.
MacGibbon used the same strategy to acquire projects for Torex, TMAC and INV, respectively: the Morelos gold project in Mexico from Teck Resources; the Hope Bay gold project in Nunavut from Newmont Mining; and the Loma Larga gold property in Ecuador from IAMGOLD.
These projects all faced challenges such as escalating costs, lack of community support, and political and taxation issues. MacGibbon applied his "three Ps of Success" — perseverance, patience and passion — and built teams of like-minded professionals to help overcome these challenges.
Torex Gold grew to become a mid-size gold producer at Morelos, with estimated gold production of 345,000 ounces for 2017. TMAC achieved commercial production at Hope Bay in May 2017, with a market value of over $1.5 billion, while INV has advanced Loma Larga to the development stage and expects to be in production in 2020.
MacGibbon's strategic approach to project acquisition, disciplined capital spending, and integrity helped him raise billions of dollars of capital, often in difficult market conditions. He assembled strong management and operating teams, notable for their high percentage of women.
MacGibbon is also an exemplary role model for corporate social responsibility. His ability to build respectful relationships with stakeholders has generated employment and economic benefits for local,
regional and national economies. For these and other accomplishments, MacGibbon received the 2004 Viola MacMillan "Developer of the Year" award from PDAC, and Ernst & Young's "Entrepreneur of the Year" award in 2005.