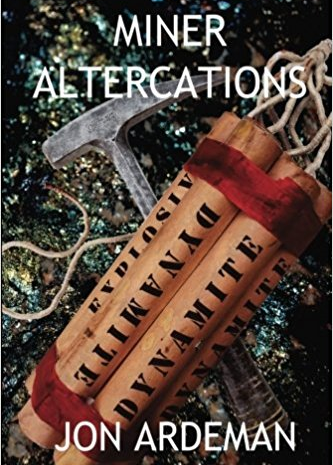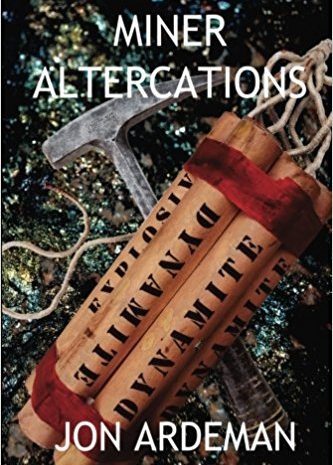 To order a copy of "Miner Altercations" which would make an excellent Christmas gift for any Geologist/ Mining/Explorationist: http://amzn.to/2Ap0Zo3
Since graduating Jon Ardeman's geological career has been in many guises; in exploration, mining, consultancy, conservation and research. He has worked as a National Park guide, a nature warden looking after tadpoles and orchids, as a researcher digging up cow shed floors looking for Ordovician brachiopods and preparing dinosaur bones for a museum display. Enthused by these experiences, Jon sought further adventures, and headed to Africa where he worked as a geologist on various mines for more than a decade.
He returned to university and after a few years of academic research and consultancy, Jon went back to mining and precious metal exploration. His travels have taken him from the Arctic to the Equator, from North America and Siberia, to Europe, Australia, Asia and back to Africa.
During this time, Jon wrote several "mystery and imagination" short stories for magazines and competitions, but his inspiration for a first novel 'Miner Indiscretions' came from get-togethers with fellow prospectors and miners; with the story embellished by imagination, cold beer, a hint of the supernatural and – of course – dreams of African gold! The author is married with several children and now resides in Hertfordshire, England.
Overview
The second in the MINER series of the picaresque adventures of Timothy, a young mining geologist working on the remote Yellow Snake Gold Mine in Southern Africa. After staving off the closure of the ageing Mine with the discovery of a rich new gold deposit, Timothy and the Mine's eccentric employees look forward to returning to their devious old ways. And yet success, even in the mining industry, can bring its own challenges. Just as their luck seemed to have changed, the Yellow Snake Mine team are forced to dig deep again.
This time they must fight off the multinational Heyt Corporation's attempts to take over the revitalised mine and use its wily employees to perpetrate a major international mining scam. From the hills of Kwa-Zulu Natal, to Zanzibar's ancient streets and Indonesia's tropical island forests; big troubles are stirring. It might mean more violence, skulduggery, sex and supernatural interference than before, but can Timothy still manage to come out on top?
EXCERPT 4
After landing in Zanzibar, Timothy disembarked and headed to join the immigration queue in the new airport building.
The smartly dressed official studied Timothy's passport suspiciously. He handed Timothy an additional form and asked him the purpose of his visit. Timothy examined the form. There was no tick box that said, "Thwart multi-billionaire business mogul", or "Rescue girlfriend" or even "Look at rocks", so he ticked the box next to "Leisure".
This was not enough to satisfy the immigration official. 'And what kind of leisure activities do you intend to pursue during your stay in Zanzibar, Mr Fewel?'
Timothy tried to think of some plausible activity: 'Cycling and looking at wildlife. But not at the same time; obviously, because I might fall off the bike; ha ha!'
The immigration official was not amused. He scrutinised Timothy more carefully. 'And what kind of wildlife would that be?' Timothy dredged his memory of the conversation he'd had with Flora.
'Um, I've always wanted to see the Zanzibar giant land snails and the Red Colobus monkeys. They have a flatulence problem, you know.' 'I find it difficult to believe one would visit Zanzibar to see farting snails and monkeys.'
'I don't think the snails fart that much…' The official drew in a deep breath, 'Are you carrying any narcotics, Mr Fewel? Or perhaps you self-medicate on occasion?' Timothy denied it, but the immigration official refused to accept his explanation and marched him over to the small, grim-looking Customs Office.
Timothy was asked to open his rucksack and turn out his pockets. As he did so, one of his new Heyt Corporation business cards fluttered to the floor. The official pickled it up and read the description. 'Are you an employee of Mr Heyt's organisation, Sir? On your immigration form you said you were employed by the Yellow Snake Gold Mining Company.'
'Yes, Mr Heyt's organisation has taken over our gold mine recently…' 'Why didn't you say before, Sir? Mr Heyt is a well-known benefactor to Zanzibar,' the official said, breaking into a broad smile. He lowered his voice and added, 'and a valued friend to certain employees of this modest customs service.'
The official helped Timothy repack his rucksack. 'I am sorry for the delay to your journey, Sir. And may I express the hope that you find the farting monkeys of Zanzibar both educational and entertaining.' He gave a knowing wink and escorted Timothy to the taxi rank.
Ten minutes later, the taxi turned off the main road and into Stone Town. The talkative taxi driver gave Timothy a commentary on the history of the area. The driver turned down a side street that was little more than a narrow alley and stopped outside a coral limestone archway with a medieval-looking wooden door.
'Are you sure this is the right place?' Timothy asked the driver. The driver assured him it was. Timothy paid the fare and squeezed out of the taxi. He prised open the massive hotel door and slid inside.
In the foyer, shabby furniture stood on uneven white marble floor tiles. The reception was panelled in dark stained plywood. The "discrete" description of his accommodation was obviously a Yellow Snake Mine euphemism for "cheap".
A very short person scurried out from behind the reception counter and welcomed Timothy effusively. 'Good evening, Sir! You arrive at very good hotel! I tell charming lady who making booking, you will be very happy here! And special cheap rate, too.'
'Yes, thank you…' 'And tomorrow, your colleagues will arrive. I provide special Zanzibar curry for you. You South Africans like beer?'  Timothy admitted the miners did enjoy the odd beer. He followed the excitable little man up to his room.
'Did you know, Sir, that famous Doctor Livingstone stayed in this establishment?' 'Did he? The taxi driver said he stayed on the other side of Stone Town.'
'Indeed he did. But first, the doctor stayed here one night; before he went to that fine building.' Timothy could understand why Dr Livingston had decided to move his quarters. Looking around his room, something caught his eye.
'What's this?' he said, pointing to a small roll of paper hanging from the rafters. 'Ah! Yes, that is lucky charm. It is protection from the terrible shetani.' 'Shetani?'
'The shetani are spirits, demons that cause great misfortune. I hardly believe in them myself, but some guests are superstitious. I know that you Westerners don't believe in spirits…'
Timothy thought about his visits from Lazyboy Malinga; 'I try and keep an open mind,' he said. 'And what are these shetani like?'
'They take many forms, a horrible mixture of animals and people. They can be small and cunning, others large and powerful. Sometimes they steal souls!' The owner shuddered. 'Or like Popobawa, they come looking for sex, bringing terror in the night.'
'I read about that in the guide book.' 'Yes, Popobawa very famous! People say some powerful people have tame shetani as servants to do their evil bidding…' 'But you don't believe in them?'
'As you say, sir, I try and keep an open mind. Just in case, perhaps you would leave the paper spell where it is?' 'No problem,' said Timothy. 'I bid you good night, Sir,' he said, and without any irony added, 'Sleep well.'
It had been a long day and Timothy decided to take a shower. There was no en-suite bath, so he made his way along the narrow hall. The bathroom was small and rather grubby. Timothy turned on the shower taps – and waited. The green stained copper pipes rattled and banged against the wall. The gurgling sound in the plumbing increased until the water suddenly coughed through the showerhead – and stopped.
Puzzled, Timothy switched off the taps, turned them on again and waited. It was the same as before: it coughed out another cupful of water, and stopped.
He began to understand why Dr Livingston had risked his life in his search for the mighty Victoria Falls – he must have been desperate to find a source of running water.
To order a copy of Joh Ardeman's first book in this hilarious series "Miner Indiscretions": http://amzn.to/2hMreNl
Reproduced with permission of Jon Ardeman. For other information on Jon Ardeman's books, geology and odd observations: https://www.facebook.com/jon.t.ardeman